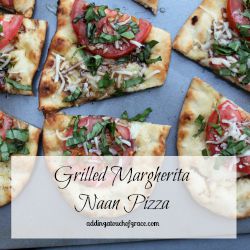 This grilled margherita naan pizza is so simple to make, and a definite crowd pleaser!
A few months ago my in-laws were in town for the week watching Little A. I always struggle with what to make for dinner while they're here, but had been dying to try naan pizzas. They seem to be all the rage right now. And I now understand why.
Homemade pizza is so simple. Pizza is always a go to for us when we don't know what to have for dinner. And with the pre-cooked naan crust it's a quick and fun way to make dinner for 4 adults plus a toddler. Naan bread is some of my favorite type of bread. Give me all the curry and naan and I'm a happy girl!
Ya know how your taste buds change as you get older? Mine have done somewhat of a 180 over the last few years. Growing up you would never catch me eating margherita pizza. I mean pizza yes, but never anything with tomatoes. I do not like tomatoes at all. Still don't. But for some reason on a margherita pizza I love them. Maybe it's the balsamic glaze that makes me savor each bite, but I cannot seem to get enough. No matter what the hubby wants, as long as he gets a margherita pizza for me as well I'm a happy wifey.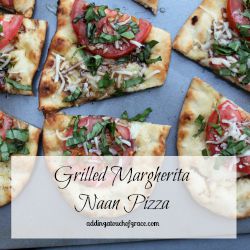 Grilled Margherita Naan Pizza
A yummy take on a classic margherita pizza.
Ingredients
2-3

pieces

of naan bread

4

garlic cloves

minced

2

tomatoes

sliced

10

basil leaves

chopped

3

tablespoons

EVOO

3

tablespoons

balsamic vinegar

6-9

slices

of mozzarella cheese

or 1 1/2 cups shredded mozzarella
Instructions
Warm up your grill to 400 degrees F.

In a small bowl, combine 1 1/2 tbsp EVOO with the balsamic vinegar. Set aside.

In a separate small bowl, combine the remaining 1 1/2 tbsp EVOO with the garlic and spread on the naan bread.

Cook bread on the grill for about 5 minutes, until crust starts to brown a bit. You're just trying to crisp it up a little.

Remove from grill, then layer cheese and tomato on top.

Place back on grill until cheese is melted, about 7-10 minutes.

Remove from grill, drizzle with balsamic vinegar mixture and top with chopped basil.
Notes
You can also do this in the oven at 350 degrees F for 5 minutes to brown crust, then another 5-10 minutes to melt the cheese.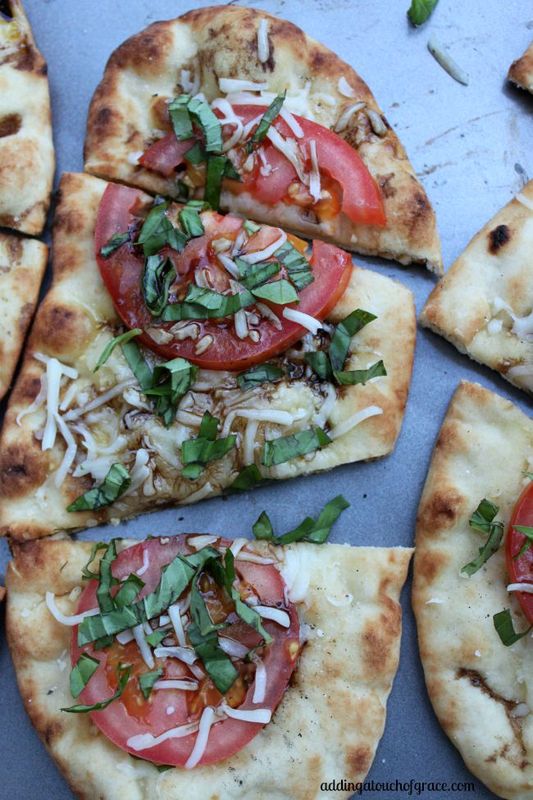 I wish naan didn't have so many calories because I could eat a margherita naan pizza daily. It is delicious.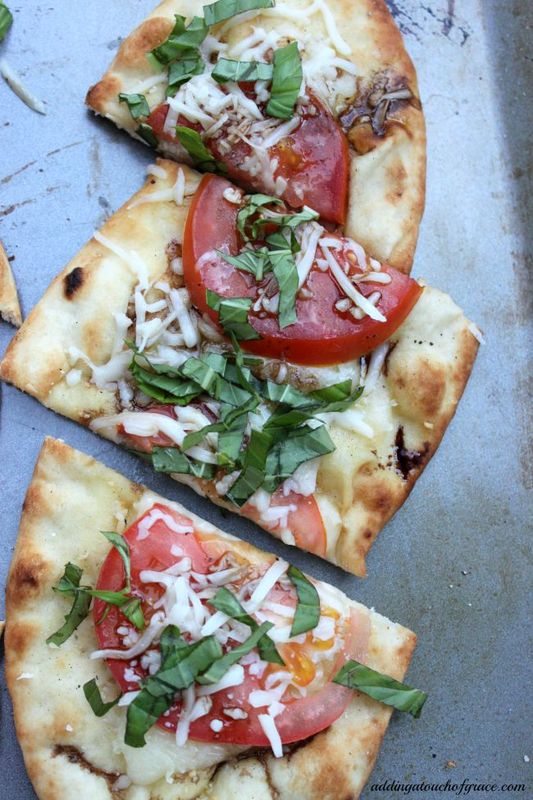 Have a great day love bugs!