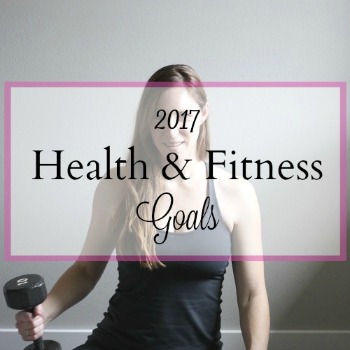 More goals! I feel like I'd be remiss without sharing my health and fitness goals for the year. I've never actually set health or fitness goals before. I mean, most of my goals have involved "get more fit," "look better in clothes," "fit into my skinny jeans again, "eat healthier." So I guess you could say those are goals, but not specific health nor fitness goals like I'd like to lay out this year.
I think setting both health and fitness goals is really important for everyone. Whether it be participate in 1 month of whole30, hold a plank for 1 minute, or bench press 100 pounds, setting specific goals when it comes to health and fitness is important if you actually want to make changes.
So here are my health and fitness goals for 2017.
-Run more // After my first half marathon a few years ago, running took a back seat to HIIT and other forms of training. I've still been running, but not like I have in the past. My goal for this year is to run at least twice a week, consistently, when the weather permits (i.e it's not a torrential downpour like it has been these last few days). I also want to get the new Mizuno Wave Rider 20s, since they just came out late last year. New shoes always make me want to run more.
-Build muscle in my back // My back is pretty strong, but not as strong as I'd like it to be. I've had back problems for about 12 years, so it's important for my health that I keep it strong. Carrying an almost 25 pound baby around will do a number on your back as well.
I'd also like to lose the last bit of love handles that are holding on for dear life. I'd say maybe half an inch around that part of my waist.
-Cut back on coffee // I know. You're probably thinking, "Why in the world would you cut back on coffee?!" Well, because I've developed a 2-3 cup a day habit. For years I had 1 cup of coffee a day. Then at my last job, where you're surrounded by coffee at all hours, I started drinking more. Then I cut back again when I started staying home. But over the last 3-4 months I've been drinking more. Some days I'll drink 2 cups, then get a Starbucks when I'm out. Ugh, so bad. I'd like to get back to 1 cup a day, with an occasional second cup every now and then. (PS. This is my favorite coffee mug right now).
-Get a 4-pack // A 6-pack would be nice, but I know that's probably not doable unless I'm training for something specific like a bikini competition (which is not one of my goals for the year). My diet will need to be on point at all times, so once Kellen is traveling less we'll be able to really dive in and focus on our compliance. I'm so much more compliant when we eat clean together.
Focus on my posture // I've always had nice posture, but carrying EJ around and rocking him the way he likes has killed my nice straight back. My mom's family has a genetic predisposition to an arched back, so I'm very conscious of making sure I don't start to acquire a "hump." Having a strong core will also help this as well.
Try one new clean recipe every two weeks // We tend to make the same things for lunch and dinner every week. And while that's not a bad thing, I'd like us to branch out and incorporate more clean eating recipes into our monthly rotation. I'm getting this cookbook, and I think it will help us branch out a bit. I'm also thinking about getting this cookbook as well, since lord knows we're always on the go so time is limited when it comes to cooking dinner.
I feel like these goals are all doable. Getting my abs in great shape will probably be the hardest one, but that just means I need to focus even more on my eating. I'm planning on checking in on these goals quarterly to see how I'm progressing. Y'all need to help hold me accountable. These will be the hardest goals I've set for myself this year!
Do you have any health or fitness goals for this year? I'd love to hear them!