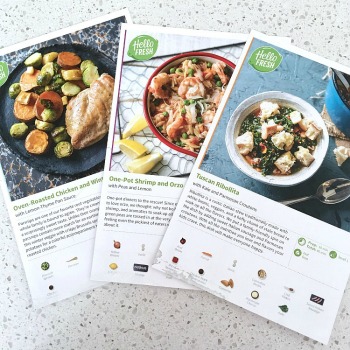 Happy Saturday! I hope everyone is enjoying their weekend! We have a big week ahead so make sure you're following along on Snapchat (@atouchgorace2) and Insta stories (@tiffanyatouchograce) to see all the adventure!
A few months ago HelloFresh reached out to see if I'd be interested in trying one of their boxes. I'd always been interested in their products, so it was a welcome communication. It was also perfect timing; the week of Thanksgiving. I was able to have the box delivered that Monday, so I didn't have to shop or meal plan for the days leading up to Thanksgiving! It was the easiest meal prep I've ever done, ha!
I was impressed with the options they had for meals. HelloFresh offers three meal plan options: classic, veggie and family. We chose to have a family box delivered.
We were able to try the Oven-Roasted Chicken and Winter Veggies, One-Pot Shrimp and Orzo and Tuscan Ribollita.
When the box arrived it was heavy. I was barely able to lift it, but I knew that meant that everything was packaged well. Everything was packaged individually, which was nice. We were able to toss the meat and necessary veggies in the fridge, and divide the rest of the items up into their respective meals. My only complaint was that one of the packages of shrimp leaked in the box. While it got on some of the paper and the lovely apron they sent me, it didn't seem to harm any of the other items.
We first made the Oven-Roasted Chicken and Winter Veggies. I absolutely loved the roasted veggies! Brussels sprouts and sweet potatoes are two of my favorite foods. They were so good I could have eaten the whole pan!
They also sent fresh herbs which was a nice added touch.
Little A was in one of those moods so she ate like 3 bites of chicken. Lucky for me because I got the rest. It was a nice, filling meal. It was also so healthy and compliant with our clean eating lifestyle.
The second night we made the One-Pot Shrimp and Orzo. This was probably my least favorite of the three meals.
Once again, super easy to make, but this shrimp was not my favorite. I was super bummed because I love shrimp, so this was the meal I was most looking forward to. The orzo was good, but the shrimp had a plastic-y taste to it. Not sure if that was from the way it was packaged, but it just wasn't my favorite. This recipe made the most amount of food of all three recipes, so we had a lot of leftovers.
The day before Thanksgiving we made the Tuscan Ribollita.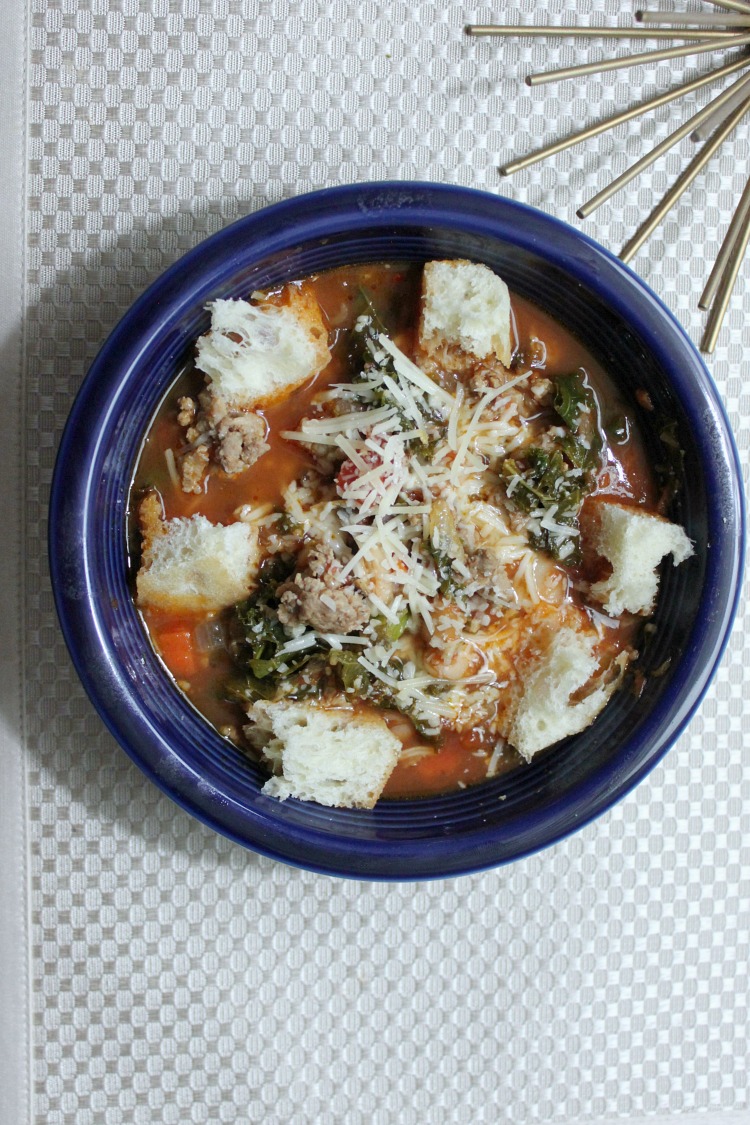 This stew was so good! Like I could have eaten 3 bowls good. The sausage was delicious and the kale was so tasty too. Once again we had leftovers from this as well.
Overall I was happy with HelloFresh and would definitely try them again, minus anything with shrimp. I love that their recipes are healthy so I feel good about feeding them to my family. I love the variety in meals they have, so you're able to try some new things. And the fact that most everything takes 30 minutes or less is a huge bonus for busy families like ours.
Have you tried HelloFresh? What was your favorite meal?
*Thanks HelloFresh for providing us with these delicious meals. As usual, all opinions are mine and mine alone.