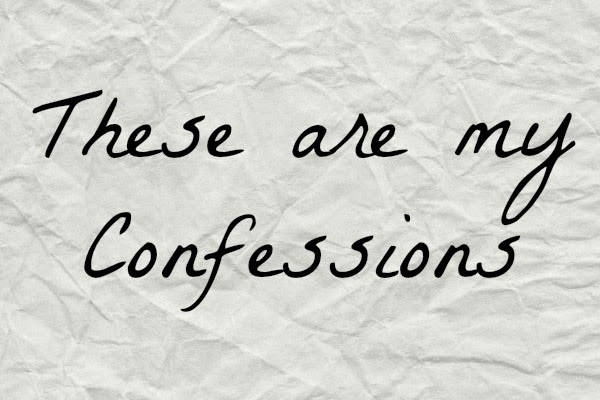 I did my first confessions post back in May, so I figured it was a good time for round 2. I have a lot to confess this week.
I confess….
…That I just want to quit my job so I don't have to drive an hour to and from work every day. And that I'm bored with the job. I'm not a techie person so working IT has been a challenge for me. I've learned a lot, but it's time for me to move on. At this point it's just a job for me and not something I'm passionate about.
…That I've barely cooked over the last month. I have recipe ideas, but we've been gone, or it's just been Little A and I so no sense in making a big meal when we'll both eat meat, cheese, crackers and carrots for dinner and be perfectly content.
…That all I want to do is wear my workout gear all day every day.
…That my hubby and I watched all 4 seasons of Game of Thrones in 3 months this summer. It is addicting!
…And that all I want to do right now is sit on the couch with a cup of hot cocoa and watch more TV. After the kitchen remodel and Little A's party, this mama needs a break.
…That I'm so happy for my hubby's new job, but super concerned at the same time. The program he's working on is a top priority for his company and I have a feeling he may be traveling a ton more over the next 15 months. He will have taken 15 trips in 10 months for his last job (he has one more to go on next week, even though he started his new job today) and it was a hard year for us. I pray that he can hire a great team that will be taking a lot of the trips for him. 🙂
…That I hoard gift bags. I have around 100 gift bags and no, I will not just throw them away. I've had some since before Little A was born and I still have a ton from her baby showers. We got about 10-12 more from her party over the weekend and you better believe I'm adding them all to my collection.
…That I really want these boots, in cognac, but the hubs put the kibosh on them. I have a $40 note and we still have triple points days left, so really it would be of benefit for me to get them. Who's with me ladies?!
…That I just need a week off to finish all the chores I need to do around the house. I have tons of Little A's clothes to sort through to take to consignment, cleaning to do and pictures to hang. An office and play room to organize. There just aren't enough hours in the day.
…That I want to bake a new treat every day. I have tons of recipes to try and not enough mouths to eat them though.
…That I'm thinking about keeping my blog with blogger and just getting a new theme. I don't have the $$ to invest in the blog like I would like to right now, so I may just do an update. We shall see what the next month or two brings.
…That I called in sick today and even though I really didn't feel well, I still took Little A on her first field trip! And we had a great time.
And tomorrow is back to the grind. But at least I only have to go into the office 2 days this week. 🙂
Happy Monday! What do you have to confess today?