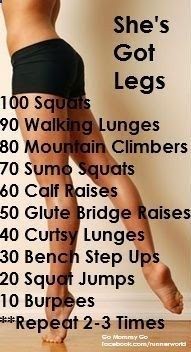 I have been a little off my game with my workouts lately. Well ok….by lately I mean like the last month…or two. Ugh, I know terrible. Right now I'm missing my trainers who did all the thinking and planning for me!! With everything we've had going on these last few months I've been so tired at the end of the day I haven't wanted to do much of anything besides plop my behind on the couch and veg. We've all been there right?! Even though I've been tired, I still try to do at least something most days of the week. It may not be pretty, or organized, but it gets my body moving and that, to me, is a win.
Here are some of the things I've been doing lately to stay active:
– Lunges, push ups, squat jumps, sumo squats and jumping jacks. This has been my go to. When I don't feel like working out but need to do something, this is what I do. I'll do walking lunges, front lunges and lots of jumping lunges. I'll usually end up doing about 20-25 minutes of work. And I can do it in our family room. In front of the TV. 2 birds with one stone!
– I've done this leg workout a few times, but it is a KILLER! Like you may not be able to get through it one time killer. Two times through and I'm spent.
I can't find the original source, so if you know please email it to me so I can give credit. 🙂
– Another go to is my tight and tone full body workout:
– And when all else fails, I'll go back to my 6 exercises you'll always see me doing.
Even though I still feel like I'm in somewhat of a "rut," I always try to do some sort of activity at least 3-4 days a week…or more on a good week. If I can keep that up, I usually get my mojo back quickly and start pushing harder during my workouts.
Question of the day: What do you do to get out of a workout rut? Any go to exercises you do when you just don't feel like doing anything?