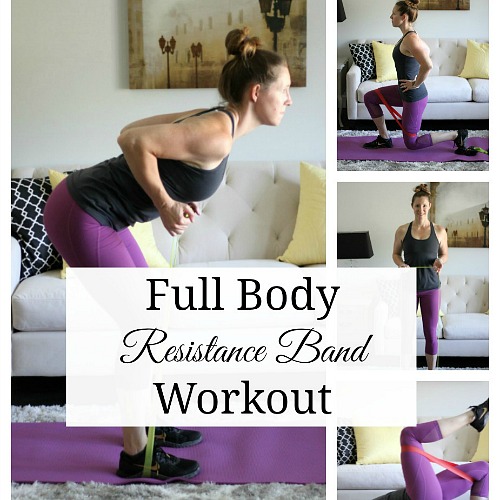 This full body resistance band workout makes working out on the go a breeze! Whether it's at the gym, at home or on travel, bands take the excuse out of not working out.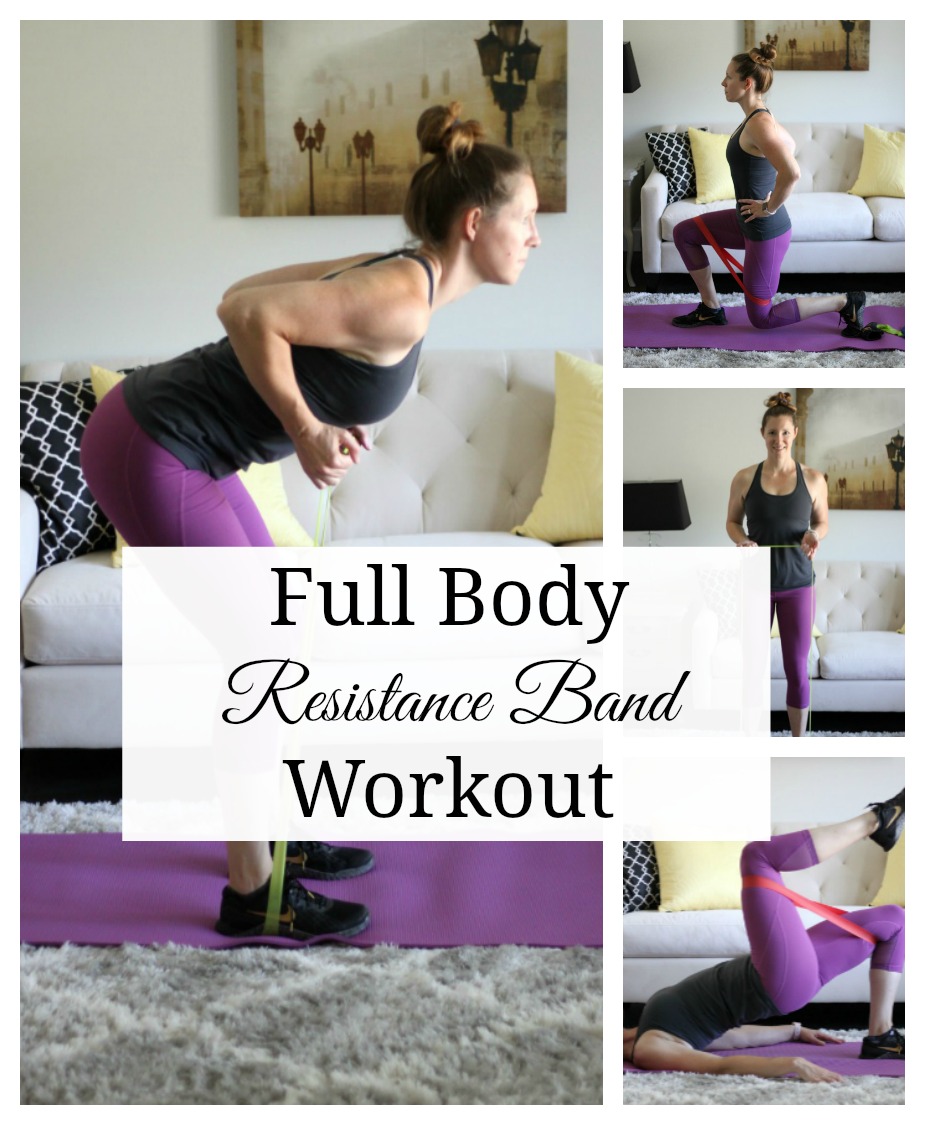 Oh this post as been a long time coming. I'm talking months. I have had multiple requests for resistance band workouts, after I started posting videos of me using them to my Instagram stories.
I LOVE using resistance bands. I use them alone, and in conjunction with other exercises (think weighted squats with a band around your knees). The resistance that bands provide when you're doing different movements really targets those smaller muscles.
If I had to have just one piece of equipment for the rest of my life, it would be a set of resistance bands.
I use two types of bands:
The Fit Simply bands for all my leg exercises and some upper body exercises. They come in a set of 5 of varying strengths, which makes them easy to customize your band workouts.
I also use the WODFitters Pull Up Assistance Bands. I use these for push presses and to help with pull ups. For this post, though, I'm just going to focus on using the Fit Simply bands.
Full Body Resistance Band Workout
For this resistance band workout you're going to do 10-15 reps of each exercise. Once you complete the circuit, repeat it two more times.
You want the band to provide a good amount of resistance, so if the move seems too easy, move to a heavier strength resistance band.
Squat with side leg lift
Knee lifts
Band pull aparts
Bent over rows
Lunges
Glute bridges
Arm Curls
Ab bikes with the band on your feet for resistance
Squat with side leg lift
For this move, you'll want to do a half squat then come up and lift one leg out to the side.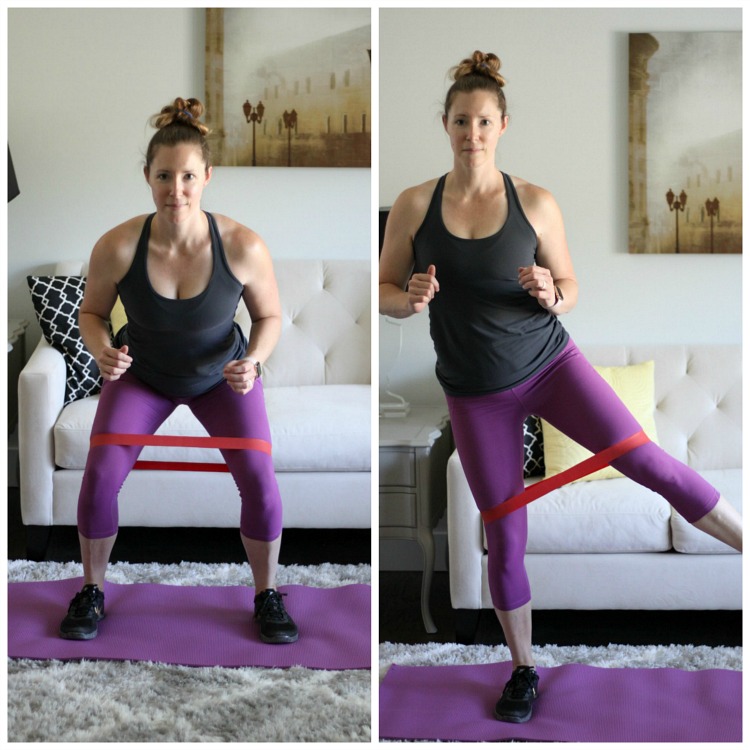 Knee Lifts
The first time I did this exercise, my hubby was like, "Does that even work?" And holy cow yes it does! Alternate legs and lift them as high as you can. Keep your toes flexed to keep the band on your feet.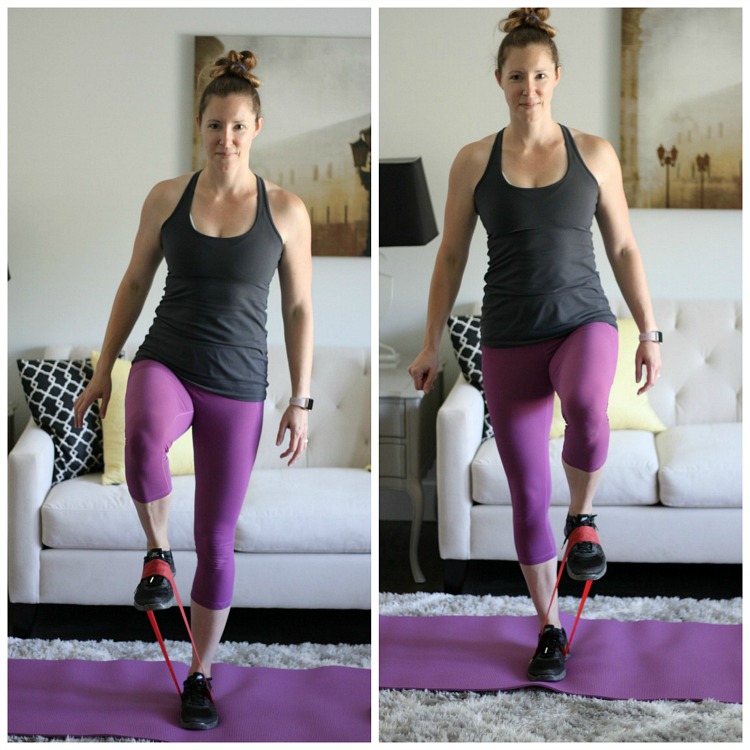 Band Pull Aparts
Hold the band taught, shoulders down, then pull apart until the band goes tight.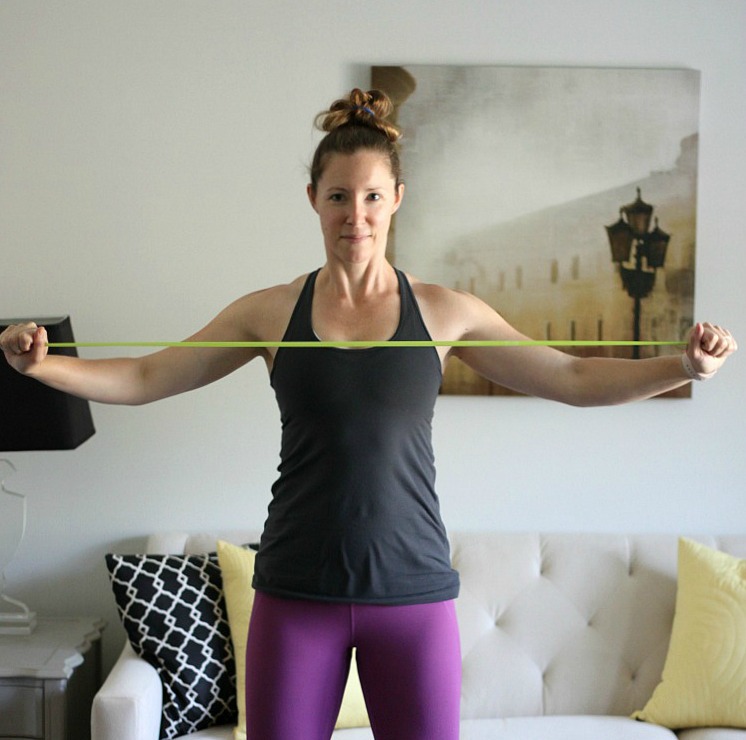 Bent Over Rows
Hold your core and keep your back straight. When you row up, squeeze your shoulder blades.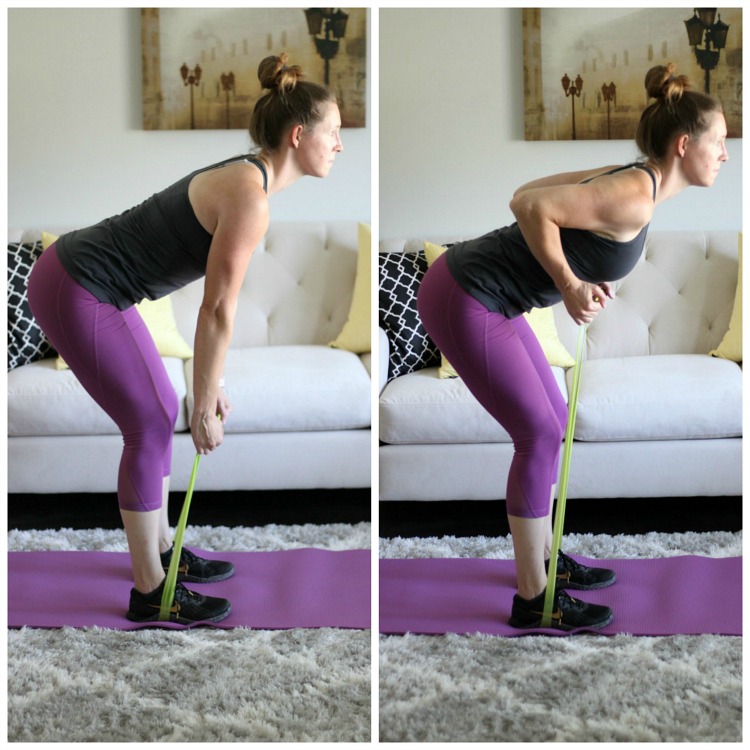 Lunges
Self explanatory, just make sure you keep your knees behind your toes.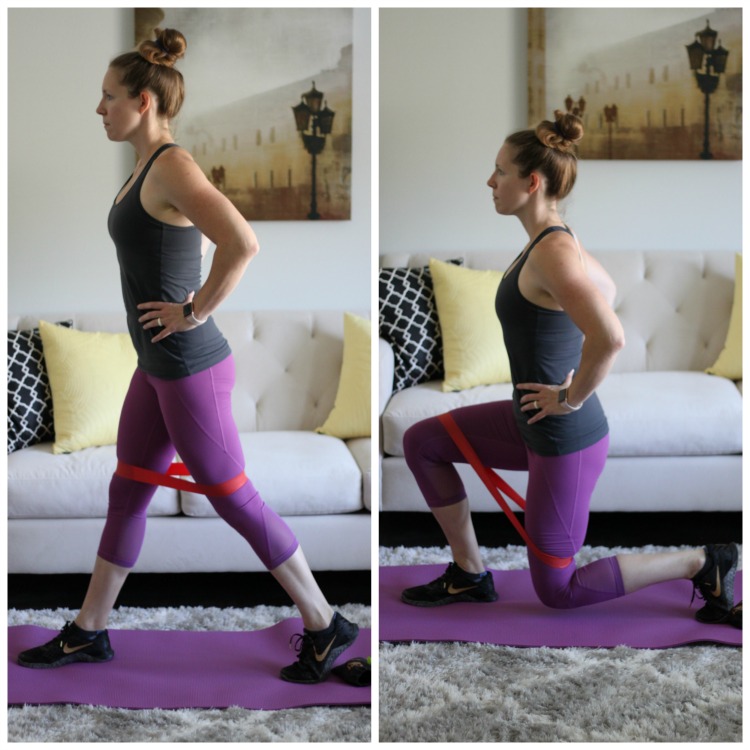 Glute Bridges
Squeeze your glutes and press your hips high. Keep your hips up while you lift one leg at a time. Alternate legs for 10-15 reps/per leg.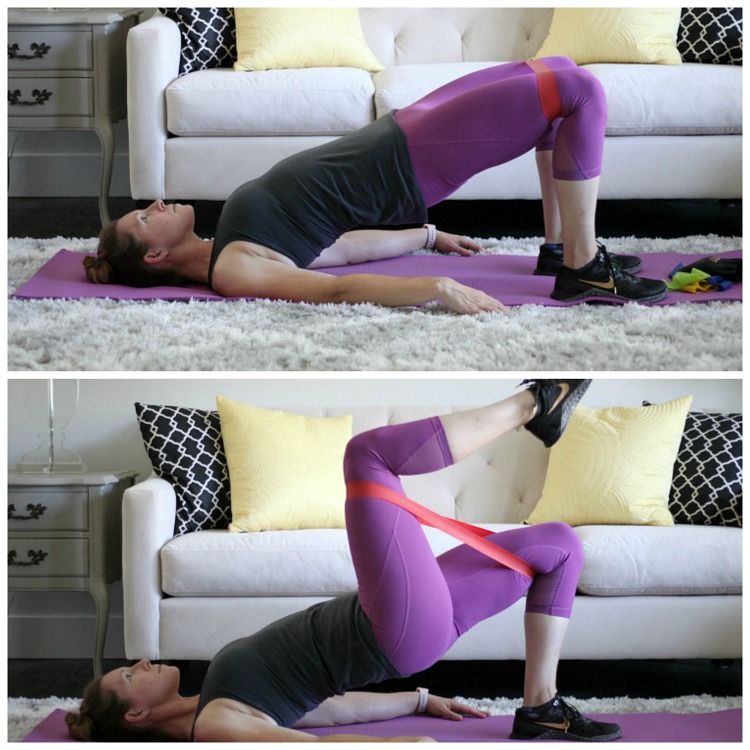 Arm Curls
Start with your arms down, then curl up like a barbell curl. Hold for 2 seconds, then curl back down.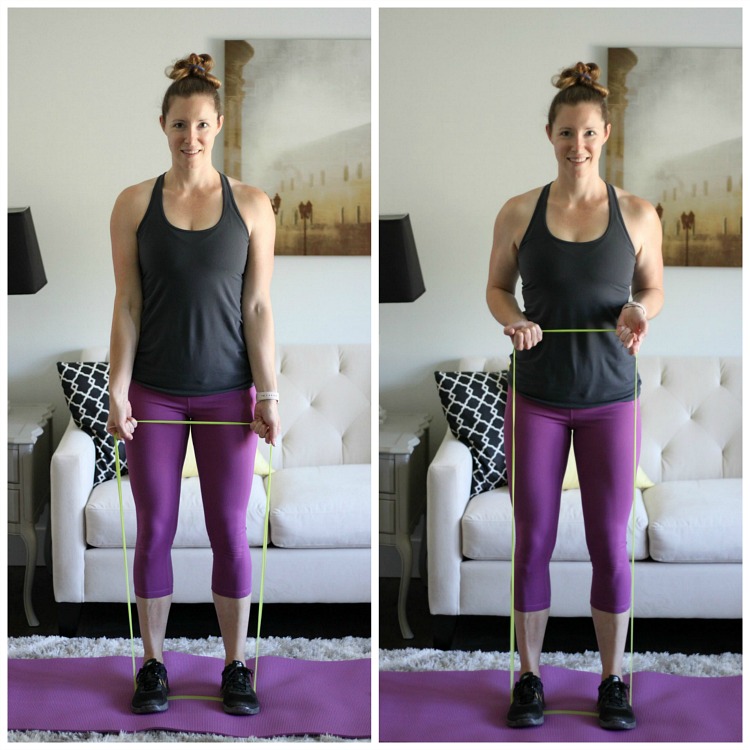 Ab Bikes
Put the band around your feet. Alternate sides as you bike, doing 10-15 reps per side.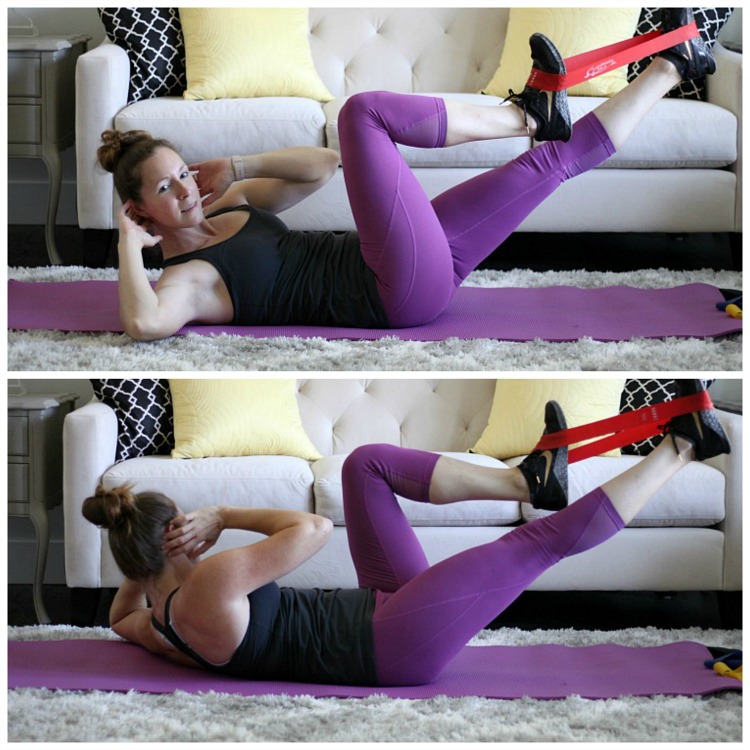 Don't forget to do a warm up before you start. Even though you aren't lifting heavy, it's always important to warm up before any workout. Not sure what to do for a warm up? Check out my 10 minute warm up that I do before almost all my workouts.
For more at-home workouts, check out the workout section here!