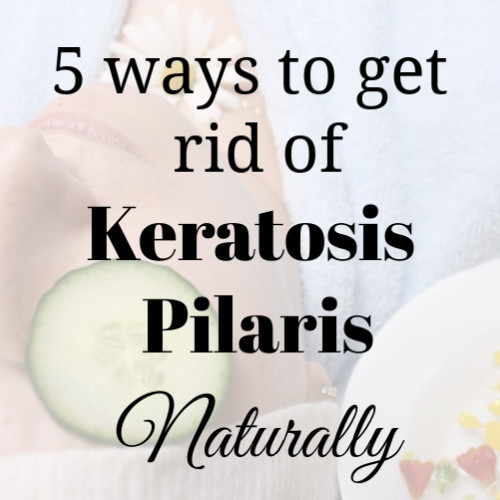 5 ways to get rid of Keratosis Pilaris naturally that will leave your skin smooth and bump-free.
If you don't know what Keratosis Pilaris (KP) is then you were most likely blessed with smooth skin all over your body. I was not one of those people. My whole life I have struggled with those annoying little bumps on my upper arms. They were embarrassing and I was always self-conscious about the way my arms looked.
Let me back up a second, though. Keratosis Pilaris is a common skin condition that forms small, rough bumps on the skin. It is caused by keratin build up on the skin, leading to plugged hair follicles. It can look like goosebumps, or even small pimples. It's not harmful or painful, but can be unsightly and can cause someone to feel self-conscious. KP is most prevalent in children and usually lessens or disappears with age.
I have suffered with KP on my upper arms for as long as I can remember. As a kid, I was so self-conscious about it, but couldn't figure out how to make it go away. It wasn't until I saw a dermatologist 5 years ago that I was informed there is no cure. My daughter also has KP, on both her arms and legs, and a little on her cheeks. Knowing how much it affected my self-image growing up, I worry so much about the impact it could have on her as well.
Over the years I've found different ways to lessen the appearance of my Keratosis Pilaris. Since there is no cure, the goal is to minimize the appearance of the bumps. There are prescriptions you can get, which are expensive, but I prefer natural remedies.
Here are a few ways to help get rid of Keratosis Pilaris.
Apple Cider Vinegar
Mix equal parts ACV and water. Apply to the affected area for a few minutes then wash it off. I usually do this before I take a shower so I can easily rinse it off.
Exfoliate & Moisturize
Moisturizing is a key part of treating KP. Dry skin makes it worse, so keeping skin hydrated is important. Exfoliate 2-3 times a week with a sugar scrub to begin. Scrubbing too hard can worsen the KP, so be gentle on your skin, and if you think it's getting worse, reduce exfoliating to once a week. Rinse and follow up with a moisturizer that won't clog pores.
I like this recipe for a natural scrub:
-4 tablespoons granulated sugar
-4 tablespoons coconut oil
-Mix until it is thick in consistency
-Mix in 8 drops geranium and 5 drops of helichrysum essential oils
I use my scrub in the shower twice a week, then follow up with this moisturizer recipe:
Natural DIY Keratosis Pilaris Moisturizer:
-1/4 cup cocoa or shea butter
-1/4 cup coconut oil
-10 drops lavender oil
-5 drops tea tree oil
Directions:
-Soften cocoa or shea butter in the microwave for 30 seconds.
-Mix in coconut oil with a hand or stand mixer until light and fluffy (about 5-8 minutes)
-Add in essential oils and transfer to 8 oz mason jar.
Coconut oil
You can see that I used coconut oil in my moisturizer recipe. Coconut oil is a great moisturizer and doesn't clog pores. If you don't want to make your own moisturizer, you can apply coconut oil directly to the affected areas daily. It can leave a residue, so you could try applying it for 15-20 minutes prior to getting in the shower, then rinse it off with warm water.
Baking Soda
Baking soda is a great remedy for skin on the face. It exfoliates and doesn't clog pores. Mix 2 teaspoons of baking soda with water to make a thick paste. Apply it to the affected areas of the face and scrub for a few minutes, then rinse with warm water. You may need to repeat this remedy twice a day for a week or more, then reduce the frequency.
Oatmeal
Oatmeal has long been known as a natural remedy for the skin. It is soothing and helps dry, itchy skin. Make a paste of 1 tablespoon oatmeal and warm water. Apply to the affected areas and leave on for 10-15 minutes. Wash it off and apply a moisturizer. You can do this a few times a week.
Nutrition
Diet can play a role in how prevalent your KP is. Keeping our skin healthy from the inside is one of the best ways to help manage Keratosis Pilaris.
Make sure your diet is rich in the following areas:
Omega-3s
Omega-3 fats help manage oil production and maintain moisturize in the skin. Think wild-caught salmon, sardines, oysters, chia seeds and walnuts.
Vitamin A
Vitamin A not only helps fight free radicals and inflammation, it promotes cell growth and tissue repair. Spinach, carrots, sweet potatoes, and liver from grass fed animals are all rich sources of vitamin A.
Vitamin E
Vitamin E helps protect skin from damage caused by free radicals and UV rays. Almonds, spinach and broccoli are a few sources.
Foods to avoid if you have Keratosis Pilaris include:
Sugar
Refined carbohydrates
High-fructose corn syrup
Artificial flavors and colors
Gluten is also a trigger for KP. I, specifically, noticed when I reduced the amount of gluten in my diet, my KP improved drastically.
These are just a few of the natural remedies to help get rid of Keratosis Pilaris. If you are one of the many living with KP, know that you aren't alone, and there are ways you can help reduce it's appearance.