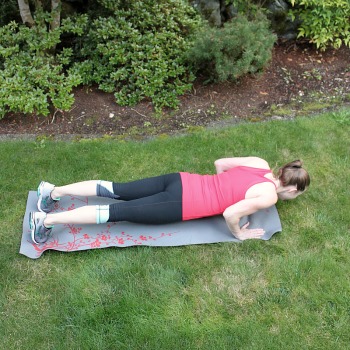 If you're here looking for a "rah rah I birthed 2 babies and should be okay with the extra weight, blah blah blah" you might as well click away now. Because that isn't what this post is all about.
This post is about why women need to stop making moms feel bad for wanting to look good after having a baby. The fit shaming needs to stop!
As of today, I am 4 months postpartum. I've lost all the baby weight and then some. I still have a long way to go to reach the fitness level I want to be at, but overall I'm happy with how far I've come. I'm hoping in the next 4 weeks I'll see a major change from where I was when I started my postpartum fitness journey.
But here's the thing.
I work HARD. My priorities are my family, followed closely by my health. I eat clean and work my butt off and it has paid off in spades. I stayed active during both my pregnancies and was able to lose the baby weight within weeks. Yes, part of that is due to genetics and a relatively high metabolism, but part of that is also due to the fact that I made it a point to focus on my eating and exercise.
I don't spend hours a day working out, usually around 30 minutes. I make those 30 minutes count and usually I have my little workout buddies (the kids) with me. My daughter loves to workout with mama and I love that I'm setting a good example for her on how to be healthy and fit.
I see a lot of posts from women saying they are embracing their postpartum bodies. That they wish they could lose the extra 10 or 15 pounds they have left, but they are okay with the extra weight and are just focusing on being happy in their new bodies.
And you know what? Good for them! If you are okay being a bit heavier than you used to be that is totally fine with me.
But what I don't like is when women are chastised for working hard and looking good after having a baby. A year or so ago a well known fitness blogger posted a photo of herself 6 months postpartum. She looked amazing! But when I read the comments on the photo I was appalled. Women were criticizing her for the way she looked, saying she probably didn't spend any time with her kids and posting terrible comments not only about her body, but also about her character. She was sharing her postpartum journey as inspiration for other mothers in her position; to show them that if you work hard and eat right you can achieve your goals! I was disgusted with the women who were so mean and thoughtless with their comments. I can only hope to look as good as she did 2 months from now!
When all of us moms should be building one another up, so many tear down the moms who seem to care about how they look. And that does not sit well with me. I've made no qualms in saying that I don't enjoy being pregnant. I have never embraced my growing belly; it's just not in me. I like being fit and healthy. I like working out and fueling my body with whole foods. And I don't think there's anything wrong with that.
Read about why this mom is calling for the fit shaming to stop!
Click To Tweet
So enough with the fit shaming! If you want me to cheer you on as you embrace your new body, then I hope you'll cheer me on as I work hard to get mine back to where it used to be. Yes, it will never look the same. I have the badge of honor written all across my stomach to prove that. But that doesn't mean I can't be lean and have muscle behind those stripes instead of fat. And I should never be made to feel bad about wanting that!
So yes, you'll see posts from me talking about how I don't have as much time to blog, or shower, or put on makeup. But you'll never see a post from me saying I don't have time to be healthy. Because for me, there are not many things more important than that. And I hope you'll cheer me on as I work hard to get to the shape I want to be in. And I'll continue to cheer you on as you focus on loving yourself. Because that's what it's all about; being happy in our own skin.