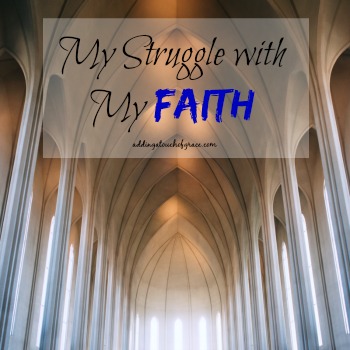 ** Disclaimer: This is an honest, open-hearted post about how I've been feeling for some time now. This isn't a post for anyone to make hateful comments because you may not agree with me. So if you don't think this is something you want to read just x out and come back on Wednesday. Please and thank you.
Now. I thought a long time about whether I wanted to publish this post or not. It sat in my draft folder for over 6 months. There are so many people out there who can be judgmental and hurtful. But this has been on my mind recently and something that K and I talk about often, so if I'm being 100% me on this blog I figured I ought to share. And yes I do find it ironic (sort of) that I'm posting this during Lent. Just a coincidence really.
Since my brother died almost 4 years ago, I've struggled with my faith. Actually, let me back up even further.
I didn't grow up with a "religion." My dad is Baptist (not practicing) and my mom isn't baptized, so we never went to church or had a religion we identified with when I was a kid. My parents wanted me to choose my own faith/religion. On the one hand that's so thoughtful of them. But on the other, that left me with no religion to identify with growing up. I mostly went to Catholic church with one of my best friends, so "traditional" religion or church is what I have always identified with the most.
Before K and I were married I was baptized Lutheran because that's what he is and I finally felt like I had found my faith. We were avid church goers, I read my Bible, I was 100% a believer. And then when my brother got sick and passed away something in me changed. I knew he was in a better place, but I started to really think about God and the Bible and the words I was reading.
If a god is supposed to be all knowing, all powerful and all loving, why would our God let such terrible things happen? Why would God let babies die. Why would God let school shootings happen? Why wouldn't God stop those things from happening if he's truly all powerful and all loving? He brought plagues of blood and frogs and gnats and locusts upon Pharaoh and the Egyptians, so if he could do that surely he can stop a kid from bringing a gun to school. Is it because Adam and Eve sinned and we need to be reminded every day of our sins? That just seems silly to me to let the young, innocent die for Him to teach us mortals a lesson.
In my Old Testament readings, there are things I just question. Some things just seem ridiculous to me. I had numerous talks with Little A's former nanny, who is one of the most spiritual people I know. She told me it's good that I question things and don't just follow the Bible blindly. But you see, I think that's what so many people do. They follow this "book" that someone wrote thousands of years ago. I struggle to understand why people do not question some of the obvious philosophical issues within the Bible, and instead take everything as 100% fact. Especially the Old Testament….we can't just disregard the Old Testament. That's God's work, isn't it?! And if Jesus is God's son, well then shouldn't we still look to the Old Testament for guidance?
And what about Jews and people of other religions, like Buddhism? Who are we to say that Jewish people are wrong because they don't believe in Jesus and the New Testament? Who are we, as Christians, to judge someone else for their beliefs just because they are different from ours? What if the Jews are right and there was no Jesus? What if the Muslims are right….?
I mean, what about evolution? Do Christians not believe in that? What about dinosaurs? Did God create those bones so we would think these mammoth animals lived millions of years ago? Hello carbon dating! You can't argue that.
I think a lot of my frustration and questioning comes from the fact that I've never felt God's presence. I've tried to talk to God. I've read books on how to talk to God. But I've never felt like God was answering my prayers, or that he was talking to me and telling me exactly what I needed to hear. Choices I've made in my life have never felt like God working in me. I've never had that spiritual encounter with God that I've so wanted to have.
I do think the Bible has some really great life lessons. I believe it can teach our kids to be responsible, kind people, which is what I want my daughter to learn. I want her to be a kind, loving and caring person, and if the Bible can teach her that then I'm all for it.
I know this was sort of a stream of consciousness post, but that's just how I had to get it out. And I couldn't think of a better way than to just type.
At this point, we're still going to church, Little A is still going to Sunday school, and I'm off and on reading my Bible. I love our church; it's such a welcoming place. It's where I was baptized, where K and I were married and where Little A was baptized. But it does lack education for people my age, outside of Sundays. One of my girlfriends told me about Community Bible Study, a non-denominational organization that has Bible studies for all ages. She's in a similar boat as I am (but never really went to church) and just wants to learn more. I'm thinking about looking into this as somewhere for me to go to connect with people and get my questions answered. I still have a lot to learn and discover and who knows, a year from now I could be singing a completely different tune. But this is where I am at this moment on my spiritual journey and that is okay with me.