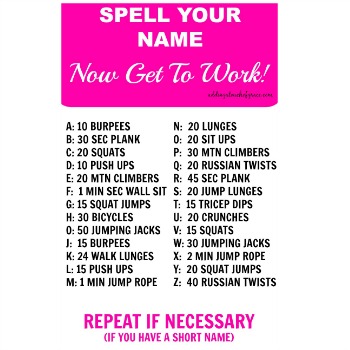 A spell your name workout changes things up a bit and makes for a fun way to try something a little different.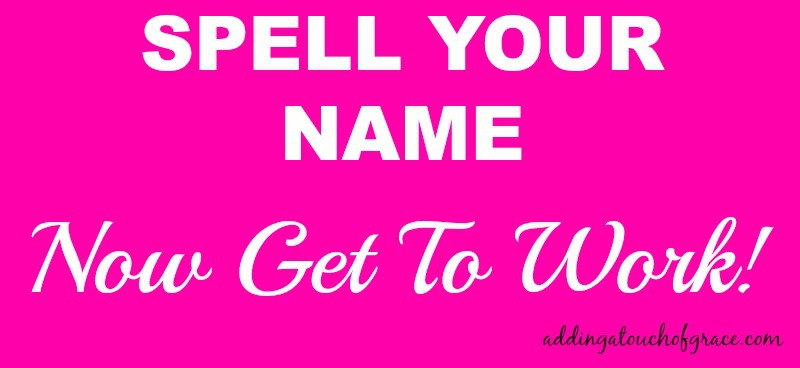 Sometimes Monday's come around I could just use another day or two off. If you follow me on Snapchat (@atouchofgrace2) you saw that we had a pipe burst in our master bathroom on Saturday so we basically spent the entire weekend dealing with plumbers, our insurance, and a clean up crew. Not how I'd expected it to go but we're in the process of getting everything dried out and then we'll be able to assess the damage and see what needs to be fixed and replaced.
Onto today's post!
There's something fun about finding new ways to incorporate fitness into your life. Even though I'm following the bikini body guide pretty religiously right now, there are days when I want to add a little something extra to my workout. Have you ever heard of the deck of cards workout? Basically, you assign each suit in the deck an exercise (hearts are burpees, spades are lunges, etc.) and do that move as you flip through the deck. If you draw a 5 of hearts you do 5 burpees. Aces are 1, Jacks, Queens and Kings are all 10 or 15. It's so fun to do and an easy way to take your workout on the road.
The spell your name workout incorporates the same principals, just using your name.
LIKE IT? PIN IT!
These are all body-weight moves so you can do them anywhere. No equipment necessary! If you have a longer name like myself (Tiffany Breann Huebner) you can go through the workout two or three times (or more! It's up to you.). But for those with a much shorter name (Betty Jo Grable for example) you should do it 3 or 4 times through. Rest for 60 seconds between circuits.
A fun body-weight workout you can do anywhere. And it comes with a twist! Click To Tweet
I also made it a printable so you can print and take this with you when you travel, or for easy access at home. You can download it HERE.
Have a great week!