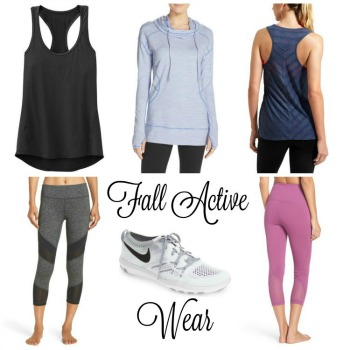 Happy Monday! How was the weekend?! We spent Saturday around the house moving in more furniture from the garage (we'd moved it out there while the hardwood floors were put in) and hanging out while our contractor finished trimming in the windows. Sunday was EJ's first Seahawks game! He was an angel! Slept most of the time and people watched. Our Hawks came out victorious so we're starting the season off on a good note!
I started this post last week, and worked quite a bit on it on Saturday, only to come back to it Sunday and nothing had saved. Ugh. I just didn't have it in me to finish it on Sunday night after a long day so once again no Monday post for me. But yay for Tuesday posts! 🙂
If you've been around here for more than a second, than you know that my health is the second most important thing in my life, behind my family. I'm active almost every day of the week, which means that I'm wearing workout gear almost every day of the week (some weeks every day). This also means that I'm washing said workout gear frequently. So quality is of utmost importance to me. One question I get asked often is about where I shop for my active wear. So I'm here today to answer that question for you! And while I always love trying new brands, I always come back to my tried and true brands: Athleta and Zella.
I've worn both brands for years and the quality is something that's always stuck out to me about these brands. I used to be a pretty big Lulu fan as well and still have some of their pieces, but they are so expensive and you can find pieces that are as good or better quality with Athleta and Zella. And the prices are better too.
As we head into the cooler months, I'm looking forward to getting outdoors for more hiking and running. If you know me you also know that I hate running outdoors in the summer. I do it, but it's not enjoyable and I end up looking like I just took a sweat shower afterwards. So when the temps start to cool down a bit and the leaves are falling I get that itch to get outdoors for my cardio again.
For my birthday last week the hubs took me on a mini shopping trip for new active wear for the fall! #heknowsmesowell #ilovethatman My in-laws also got me an Athleta gift card that is burning a hole in my pocket!
Whether you are a gym rat, cardio maven or at home workout mama like myself, these pieces will carry you into fall and winter; and some will even work when the temps warm back up as well. If you're looking to invest in some good active wear this fall, here's what I recommend.
What I'm Wearing This Fall

*This post contains affiliate links. Making a purchase through the links will provide me with a few cents to run this blog at no extra cost to you!
The first piece that caught my eye at Nordstrom was the Zella high waist crops. I'd seen high waisted workout pants before but wasn't so sure. Well I tried them on and actually really love them! They provide you with a little extra shape and help prevent the dreaded muffin top.
I almost picked up these crop leggings as well. I really love the mesh detailing so I may still end up getting them. The Let's Explore hoodie though. I am in love. I try so hard not to wear it every day, but it's just so comfy and I feel like I'm being wrapped in a soft, light weight blanket. Plus it has thumb holes, which is like my active wear love language. I got it in a medium for a bit of roominess, but if you like your tops a bit more form fitting size down.
Another thing you may not know about me is that I do not like working out in t-shirts. It must be tank tops. I think I have 2 workout tees that I rarely wear; mostly for walks with the kids. The Chi Tank from Athleta will forever be my favorite tank. It comes in loads of styles and colors and is so comfortable I could wear it all day long (and often do). It's similar to the Cool Racerback tank at Lululemon, but cheaper and I think a bit better quality. I currently have the Kettlebella Tank in my shopping cart as well.
When it comes to shoes, most people don't realize that cross-training in running shoes isn't good for your feet. Running shoes provide more cushion and are designed to specifically protect your feet when you're running. Cross-training shoes provide your foot room for lateral movements and better contact with the ground, so the soles are very different than a running shoe. I have tried doing my HIIT workouts in my running shoes and it's actually harder for me than in my training shoes. So I also recommend getting a pair of minimus training shoes, if you don't already have some. The Nike Free TR Focus trainers have me intrigued. I have the older version of the New Balance Minimus shoes and LOVE THEM!
What I'll Be Wearing This Winter
Keeping your body warm is key during the winter, especially if you'll be taking taking to the streets for some cold weather running. I love running in the winter. I get all bundled up with my gloves, vest or jacket, and headband that covers my ears and head out for long runs, right as it's starting to get dark. The hubs and I used to take Little A for runs in the stroller in the winter. We'd bundle her up, grab a blanket and push her through the streets of our town. She loved it!
I'm especially particular about what I wear if I'm going out running in 40 degree weather. My favorite purchase thus far has been my lined pants that keep my legs warm. The Polartec Tights from Athleta are soft and comfortable and perfect for those cold winter days. I also added a vest to my winter running gear awhile back. The Rock Springs Vest provides good insulation but isn't bulky. No one wants to run with a bulky vest on.
I love all things white so these gloves are a must for me. They have reflectors on them (for when it's dark), keep my hands warm while I'm running and I can use my phone. For the days I'm not pounding the pavement but will be working out in our cold garage I grabbed another pair of Live In leggings. THEY ARE SO COMFORTABLE! If it were appropriate to wear them every day I totally would. I also have this pair that I picked up during the Anniversary Sale. Having only ever owned black or gray workout pants I like the fun color of them.
And for the days I'm out running, I will be wearing my trusted Mizuno's. I have purchased 5 generations of Wave Riders and I love them so much I'll keep coming back for more. I highly recommend getting fitted for running shoes as well. I had no idea I was wearing the wrong style shoe for how I run. It has made such a difference in my running since getting fitted. And of course a jacket. I heart eyes emoji love the Stronger Hoodie. Love the shoulders, love the thumb holes, love the warmth. The Strength Hoodie is another great option for those cold days; even just to and from the gym.
So now you know what workout gear I love, and what I'll be wearing this fall and winter. I love active wear like Donald Trump loves the sound of his own voice. Even as I sit here typing this I've changed out of my high waisted crops and into my PJ pants, but I'm still rockin' a sports bra and tank. #activewearforlife
What is your go to brand of active wear?