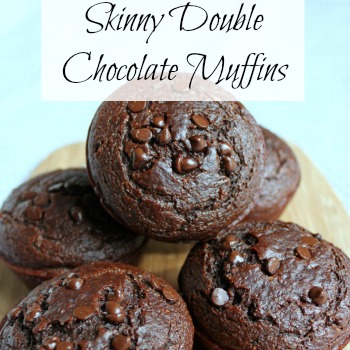 These skinny double chocolate muffins use healthy ingredients but still maintain that delicious chocolate flavor.
You guys. I keep finding recipes that blow my mind and this….this recipe. Oh my word. I ate 2 1/2 muffins the first day. I wanted to eat the whole damn batch they were so good. But I refrained…..barely. The chocolate-y goodness kept calling my name. I was even planning a second batch for the hubs to take to work the following day but we were short one egg.
In my quest for an amazing chocolate muffin recipe I had many failures along the way. My last failure was way too dry and just soaked up all the moisture in your mouth. No one wants an overly dry muffin. Yuck! I knew I wanted something a bit healthier for my chocolate muffin and this recipe does not disappoint. It's super easy to make (read: no mixer required) and combines some of my favorite healthy baking ingredients.
I love when I can take a recipe and make it a bit healthier. I honestly love baking with applesauce and Greek yogurt. They help keep the muffins moist and light. With these muffins you don't feel gluttonous having more than one. And they are so gooey with the chocolate chips. MMMM…..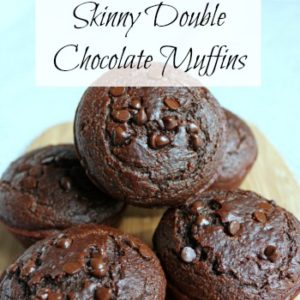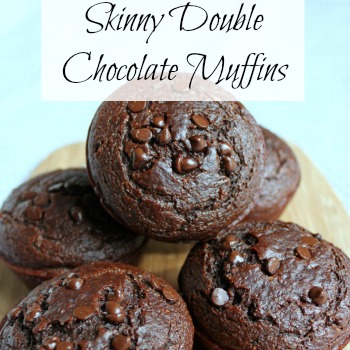 Skinny Double Chocolate Muffins
Ingredients
1/2

cup

all purpose flour

1/2

cup

whole wheat flour

1/2

cup

unsweetened cocoa powder

1

teaspoon

baking soda

1

teaspoon

baking powder

1/2

teaspoon

salt

3/4

cup

applesauce

1/2

cup

granulated sugar

1/4

agave syrup

can also use honey

2

egg whites

3/4

cup

plain Greek yogurt

2

teaspoons

vanilla

1/2

cup

dark chocolate chips

can use regular or mini
Instructions
Preheat oven to 425 degrees. Spray muffin tin with non-stick spray and set aside.

In medium bowl, combine flours, cocoa powder, baking soda, powder and salt. Set aside.

In large bowl, whisk applesauce, sugar, agave, egg whites, yogurt and vanilla until smooth.

Add dry ingredients to wet ingredients in 2 parts, making sure dry ingredients are fully mixed in after each incorporation.

Fold in chocolate chips.

Divide batter evenly among muffin cups. The batter should fill each cup most of the way.

Bake for 5 minutes at 425 degrees, then lower temperature to 375 degrees and bake an additional 10-13 minutes, or until toothpick comes out clean.

Let muffins cool in pan for 10 minutes, then remove to wire rack to cool completely.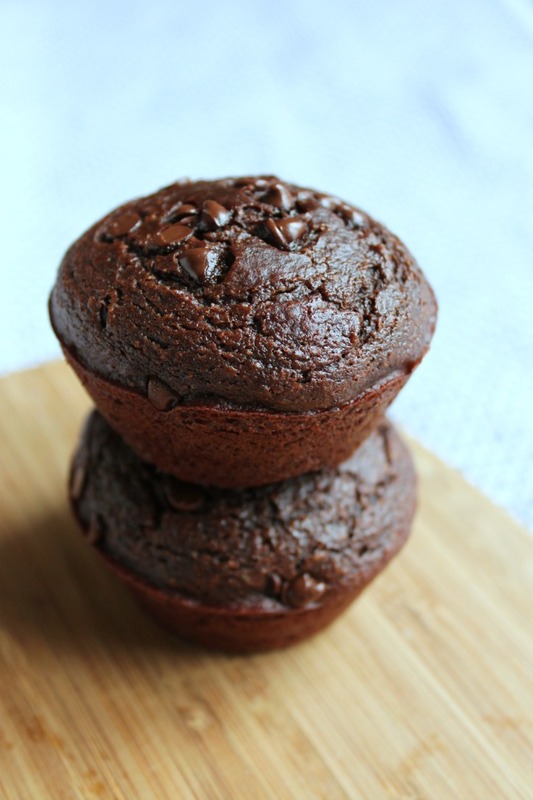 So much chocolate goodness and about as healthy as you can make a muffin, without it being bland.
What was that Lays potato chips saying? Bet you can't eat just one! Well, same goes for these double chocolate muffins. Bet you can't eat just one! Enjoy!