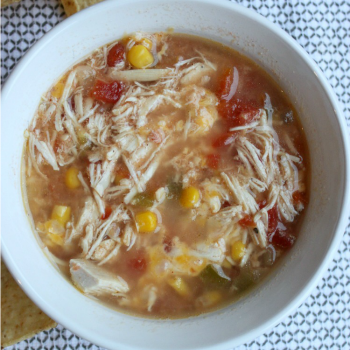 This chicken tortilla soup recipe is so simple and delicious. Made in the Crock Pot, it's bursting with flavor and perfect for these cool fall evenings.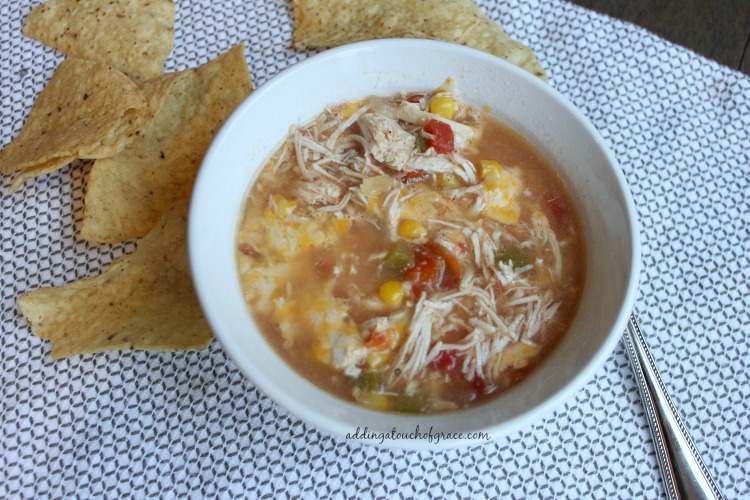 It's fall, which means all the cool weather recipes! I love breaking out the Crock Pot to make ALL THE SOUPS this time of year. Days like yesterday make living in the Pacific Northwest worth all the rainy days. A cool, crisp 60 degrees, sunny skies and leaves on the ground. That is one of the many reasons I love this season. Bundling up in cozy sweaters, sitting in front of the fire with a hot cocoa, or in my case, a glass of wine (just being honest). I love getting snuggly under the blankets with the kiddos and the hubs during those story fall evenings.
And nothing brings it all home like something yummy cooking in the Crock Pot. When August hits, I start longing to bring my Crock Pot out. I use it year round, but it gets so much more love once fall hits. I start looking up all the slow cooker recipes and every year I vow to make at least one Crock Pot meal a week. That doesn't always happen, but just knowing that I can quickly throw a few ingredients in and have it ready by dinner time makes my heart happy. Not to mention all the amazing smells that emanate while the meal is cooking. Yes, I do love me a good slow cooker recipe.
This Crock Pot chicken tortilla soup is perfect for the busy nights.
Click To Tweet
Crock Pot meals are perfect for those busy evenings when the kids have a million activities and you know you won't be home until at least 6:00. And by that point who has time to prepare a meal.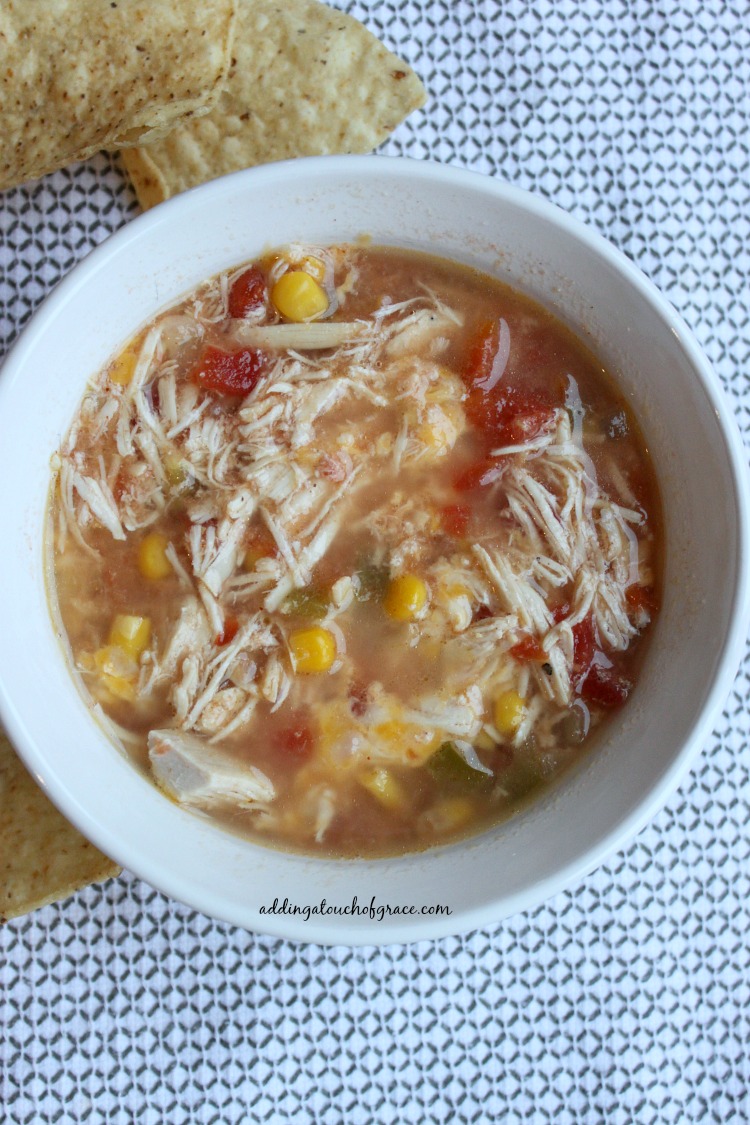 I've been working on the perfect chicken tortilla soup recipe for a few years; and it just never clicked. I think because a friend of mine had the most amazing chicken tortilla soup recipe that I just wasn't finding a combination that compared.
Until now. This Crock Pot chicken tortilla soup is so simple and has just the right amount of spice to please everyone. It's not too runny and not too thick; it has the perfect balance.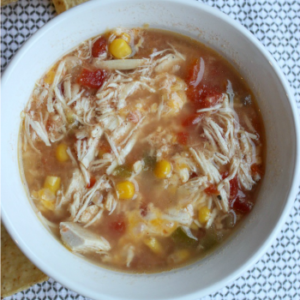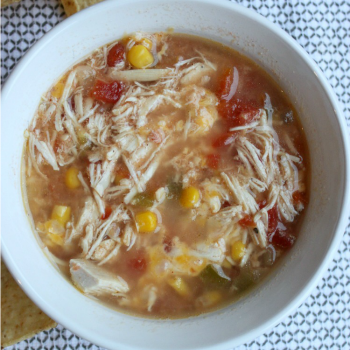 Crock Pot Chicken Tortilla Soup
A simple tortilla soup with just the right amount of spice and loaded with flavor.
Ingredients
1

pound

chicken breast

1

can small diced tomatoes

drained

1

can sweet corn

drained

4 1/2

cups

chicken stock

3/4

cup

onion

finely diced

1

cup

green bell pepper

finely diced

2

garlic cloves

minced (or 2 teaspoons garlic powder)

1/4

teaspoon

chili powder

1/8

teaspoon

Cayanne pepper

1 1/4

teaspoons

salt

1

teaspoon

ground pepper

Shredded cheese for garnish

Optional Tortilla chips or strips
Instructions
All all ingredients except cheese and tortilla chips to Crock Pot.

Cook on high for 4 hours, or low for 8 hours.

When the timer goes off, either remove the chicken and shred in a stand mixer with paddle attachment, or shred by hand.

Return chicken to Crock Pot and stir gently.

When serving, top with a generous amount of shredded cheese and tortilla chips.
Notes
Soup may be stored in the fridge for up to a week, in an air tight container.

Enjoy!