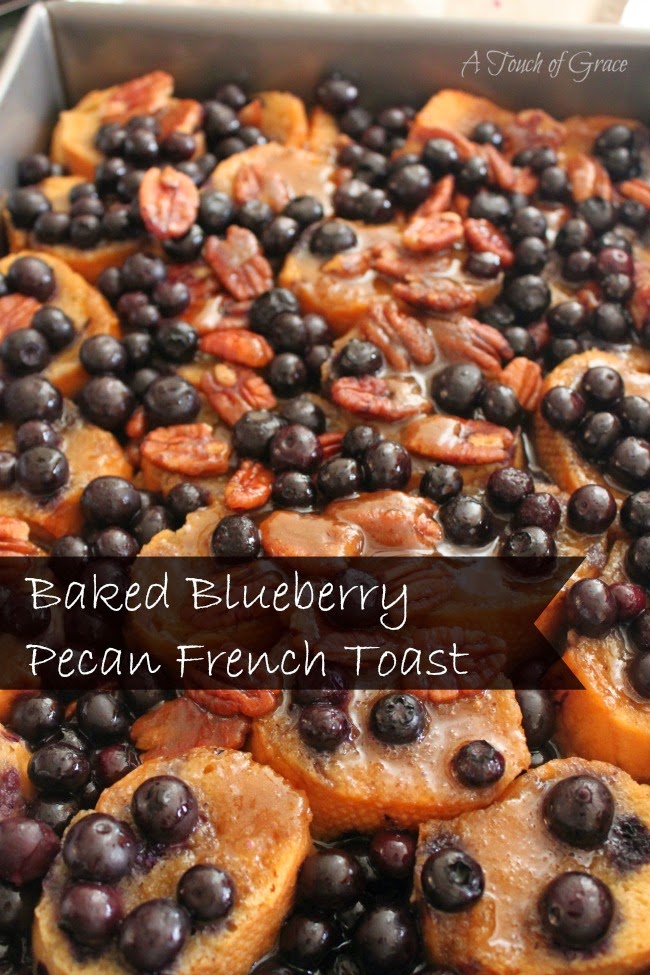 Happy Monday! How was everyone's Easter? We had a lovely day. We attended church in the morning where our pastor gave a fantastic sermon. I always feel inspired after his sermons. Then my family came to our house for brunch.
Holidays with our family are always a joint effort where the food is concerned. I made the ham as well as this recipe for brunch yesterday.
This blueberry french toast is by far my favorite dish to make for brunch. A friend of mine gave it to me years ago, and I make it often. It's easy to put together and so delicious. French toast is one of those dishes that reminds me of my childhood. We didn't have it often, but I remember how I always liked help make the batter, then dip the bread before putting it in the pan to cook. And I always added too much cinnamon.
This baked recipe is like a sophisticated french toast. We are huge blueberry lovers in this house, so we always have them around.
You can use fresh or frozen. If you choose to use frozen, I'd recommend letting them thaw overnight in the refrigerator before adding them to the dish. Either way, this french toast will turn out divine.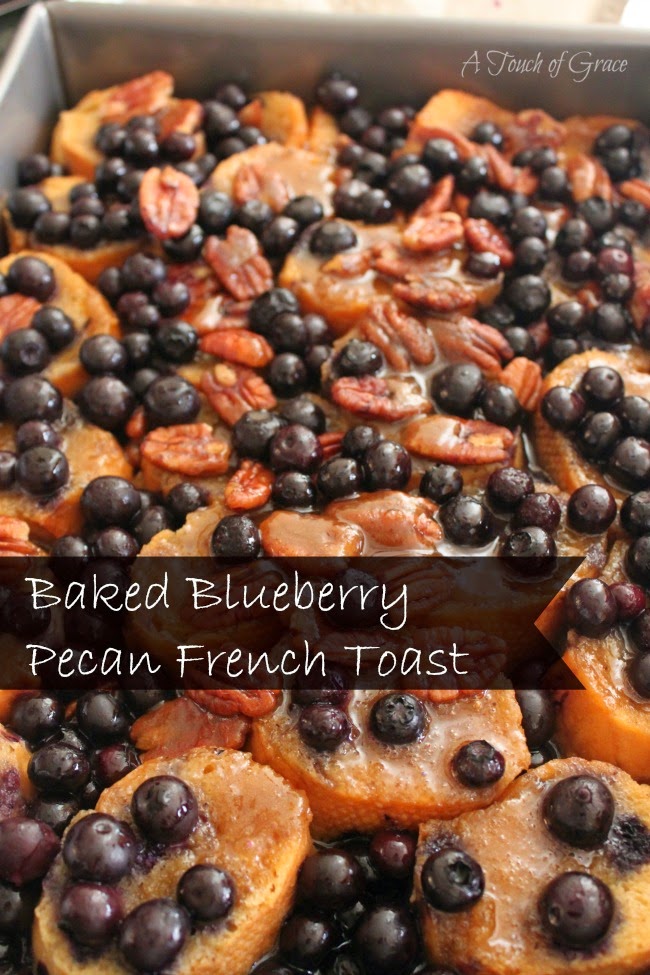 Ingredients:
* 1 cup pecan halves
* 1/4 teaspoon salt
* 1 baguette (day old)
* 5 eggs
* 1 1/2 cups milk
* 1 teaspoon salt
* 1/2 teaspoon nutmeg
* 3/4 cup packed brown sugar
* 4 tablespoons unsalted butter, in pieces
* 2 cups blueberries
For the syrup:
* 1 cup blueberries
* 1/2 cup maple syrup
* 1 tablespoon lemon juice
Directions:
** Make the french toast the night before.
* Butter 9×13 baking dish.
* Cut the baguette into 1 inch slices and arrange evenly in the dish.
* Wisk eggs, milk, 1/2 cup brown sugar, vanilla and nutmeg in a bowl. Pour over the bread.
* Turn the slices over to coat.
* Chill overnight if possible, or approximately 8 hours.
** Toast the pecans. (This is optional. I've done it both ways and it tastes great whether toasted or not.)
* Preheat oven to 350 degrees.
* Spread the pecans on a baking sheet.
* Toast about 8 minutes.
* Sprinkle salt over pecans and toss.
* Set aside.
* Preheat oven to 400 degrees.
* Let bread dish set out about 30 minutes before baking.
* Sprinkle the toasted pecans and blueberries over the bread.
* In a small sauce pan, combine butter and 1/4 cup brown sugar over medium heat until melted.
* Drizzle over the bread.
* Bake ~20-25 minutes.
**For the syrup:
* Cook blueberries and syrup in a small saucepan on medium heat until the blueberries burst, ~8-10 minutes.
* Pour the syrup through a sieve (or very fine strainer), pressing the berries to extract the juice.
* Stir in lemon juice.
* Pour the syrup over the bread, or serve alongside and let others pour themselves.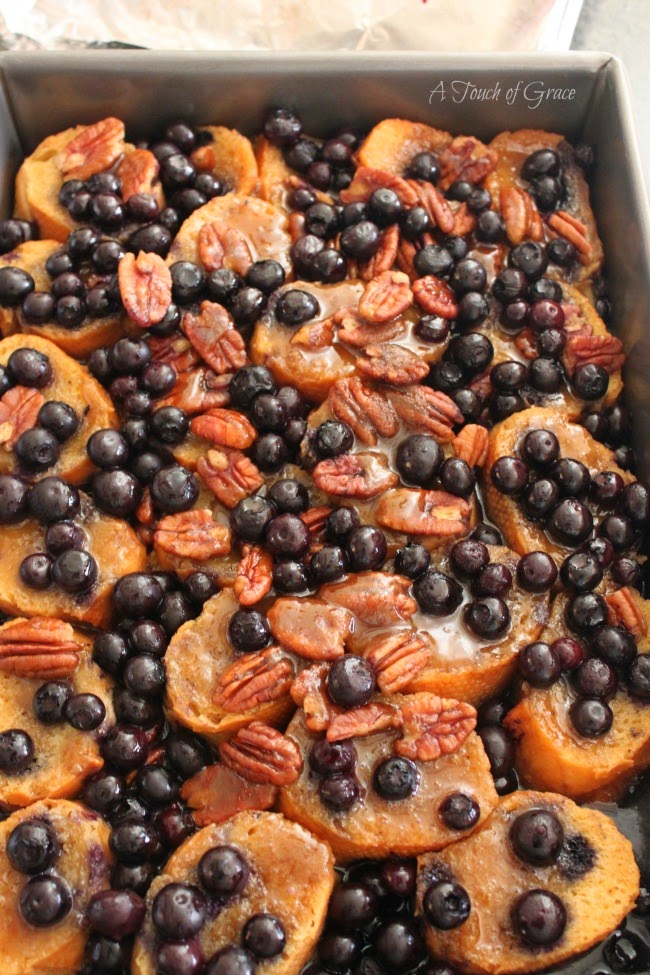 It was a hit yesterday. I may have eaten a bit more for dinner last night as well.
Enjoy!