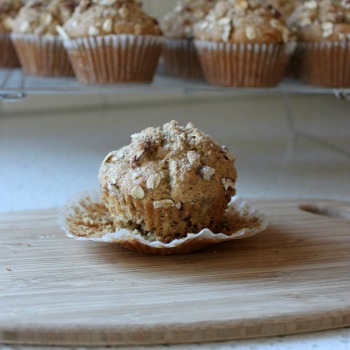 So I think I eluded to this recipe coming to the blog on Instagram…oh, back in November perhaps? Yep, I just checked, November 17th to be exact. But then I realized that holiday baking was beginning and banana nut muffins are about as far from holiday baking as you can get. So I figured I'd wait until the new year. And here we are with my latest muffin creation!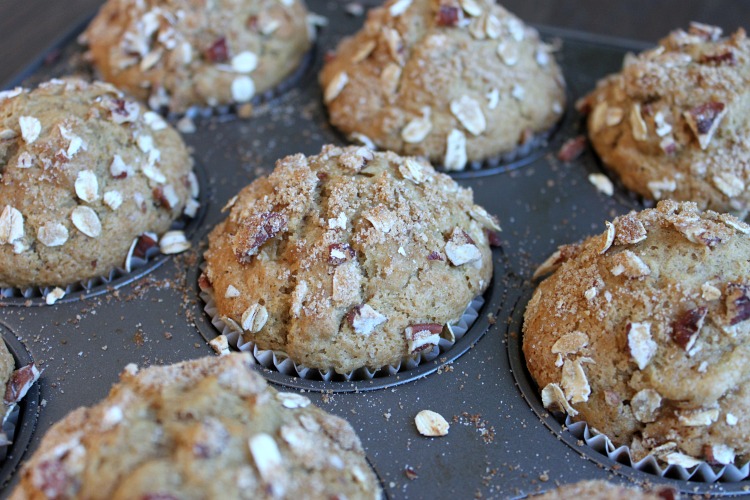 These banana nut muffins have a fun little twist with the streusel topping. And the fact that the recipe calls for pecans instead of walnuts, like most banana nut muffin recipes, gives them a little different flavor; one that I much prefer.
Usually Little A will eat about a half of any muffin I make. But she was all about these banana nut muffins! And honestly, I was pretty surprised. She has a love/hate relationship with bananas. I must have caught her at a good time with this recipe.
I love having them on hand as a quick, grab and go snack. Even EJ has gotten in on the action! He is a muffin eatin' machine! But let's be honest, I have yet to find a food (besides plain Greek yogurt) that that kid doesn't enjoy.
It took me a while to figure it out, but I think that the reason I enjoy making muffins so much is that they are so easy. There's no frosting involved, like cupcakes. They aren't overly terrible for you, like homemade candy or some cookie recipes. They are just so simple and tasty.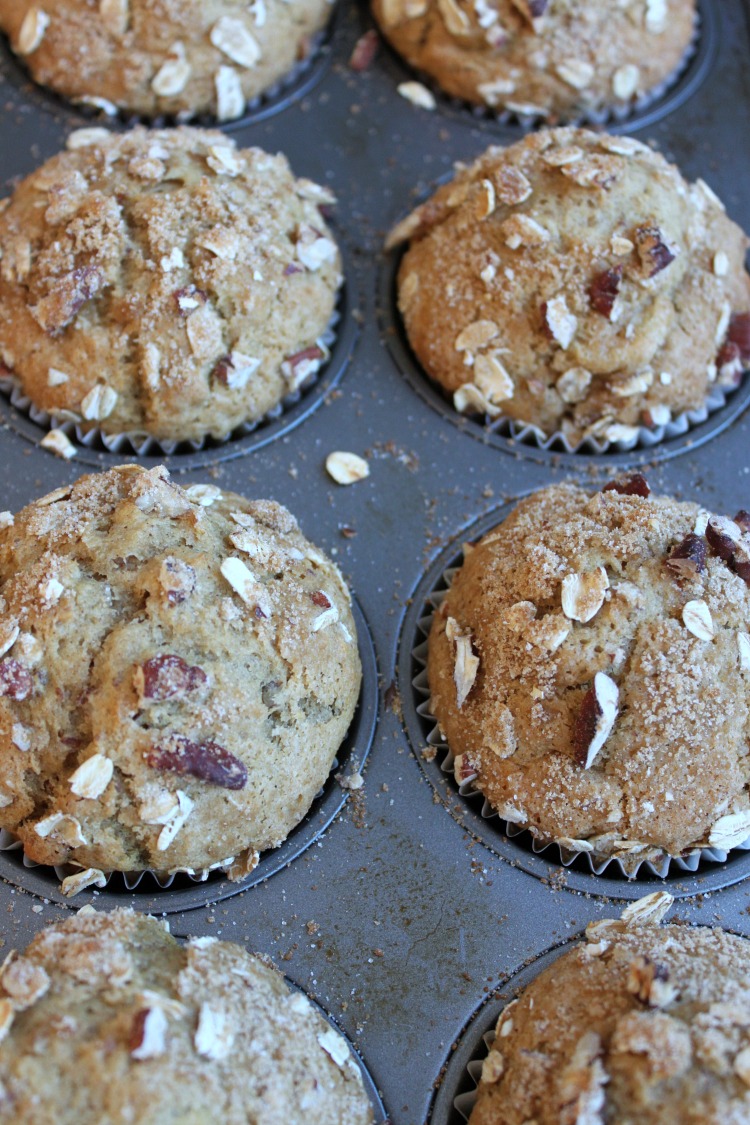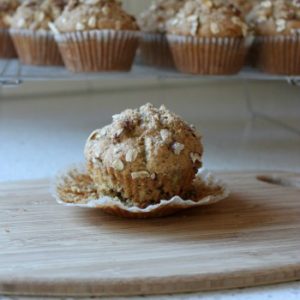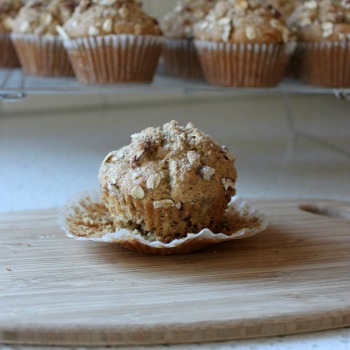 Banana Nut Muffins
Ingredients
2 1/2

cups

flour

1

tablespoon

baking powder

1

teaspoon

baking soda

1 1/4

teaspoons

cinnamon

1/2

teaspoon

salt

1/3

cup

butter

melted

2

eggs

room temperature

1/4

cup

sugar

1/2

cup

packed brown sugar

1/2

cup

milk

I use unsweetened almond milk

1 1/2

teaspoons

vanilla

3

ripe bananas

mashed

3/4

cup

chopped pecans
For the topping
1/3

cup

packed brown sugar

2

tablespoons

flour

2

tablespoons

butter

2

tablespoons

oats

1/2

cup

chopped pecans
Instructions
Preheat oven to 425 degrees. Line muffin tin with cupcake liners.

In a large bowl, combine flour, baking powder, baking soda, cinnamon and salt.

In a medium bowl, whisk together the melted butter, eggs, both sugars, milk and vanilla. Mix in the mashed bananas.

Pour the wet ingredients into the dry ingredients. Mix until all the dry ingredients are incorporated. Do not overmix.

Add in the chopped pecans.

Divide evenly amongst the 12 cupcake liners.
Topping
In a small bowl, combine sugar, flour and butter. Use your fingers or a fork to break apart the butter. Stir in oats and pecans.

Sprinkle topping over divided muffins.

Bake for 5 minutes at 425 degrees, then lower the oven temp to 375 degrees and bake for an additional 12-15 minutes, or until a toothpick inserted comes out clean.

Allow to cool in pan 5 minutes, then remove to wire rack to cool complete.
Notes
Baking the muffins at an initial high temperature makes them rise quickly, leading to the bakery-style muffin tops.
Store in airtight container at room temp for up to 3 days.
I love that these muffins aren't overly sweet. They have just the right amount of banana flavor. And the struesel topping gives the muffins a nice crunch.
Like it, Pin it!
Enjoy!