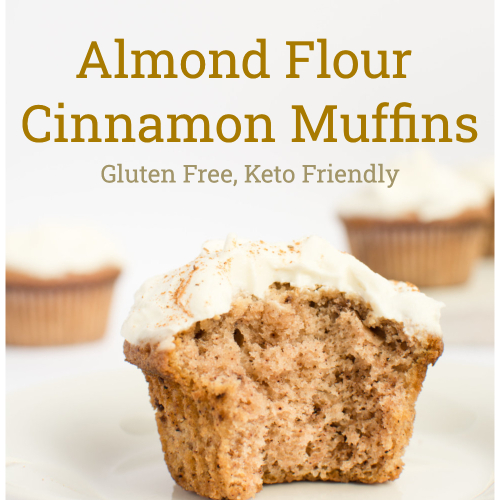 These keto-friendly almond flour cinnamon muffins will rival any bakery muffin. The muffins taste almost like cinnamon rolls with their cream cheese topping.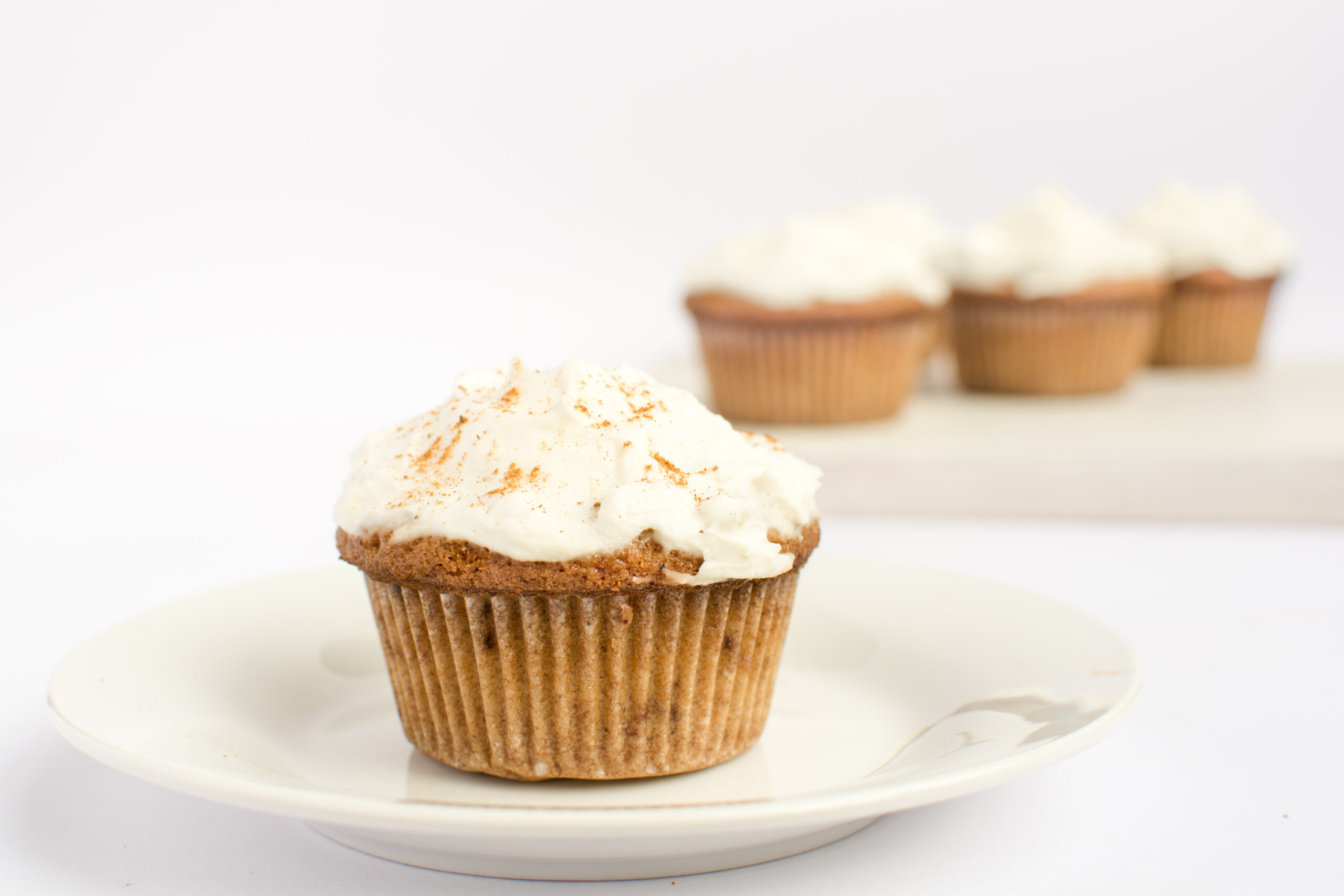 These keto-friendly homemade cinnamon muffins are as good as those sold in a bakery. They're moist, tender, and taste absolutely amazing! And they're something like a cross between a buttery muffin and cinnamon roll.
But what's really great about them is they're ready in less than half an hour with a couple of easy-to-find and low-carb ingredients. Perfect for a quick and simple breakfast snack!
When it comes to keto muffin recipes, I find that almond flour works best. It's light enough to create a fluffy muffin, but also rich in healthy fats to make them moist. That's exactly why this recipe excludes any oil, which you'll often find in muffin recipes to create that moistness we're all after.
I've included a cupcake-style frosting because I find it complements these muffins perfectly. But instead of regular cream cheese, I've used mascarpone. It's delicate flavor allows the muffin flavors to stand out while giving it a touch of creaminess.
About the Ingredients
To make these keto muffins perfect; meaning tender, light, and moist, you'll need to use the ingredients listed here. Substituting can and will change the taste and consistency of these muffins, so experiment at your own risk!
So, what ingredients will you need?
Super-fine almond flour: using almond meal will lead to denser muffins
Almond milk: to add moistness without the heaviness
Butter: gives lots of flavor and a rich texture
Egg: a binding ingredient that also helps these muffins rise
Baking powder: you'll need to add a teaspoon to give it enough rise
Powdered erythritol: browns like sugar and does not degrade when heated
You will also add flavorings, namely vanilla extract and cinnamon, which give a perfect balance of sweet and spicy flavors.
The two main ingredients in the frosting are:
Mascarpone cheese: an Italian cream cheese that's subtly sweet
Butter: to make the frosting extra creamy
The frosting is sweetened with erythritol and flavored with vanilla extract. It's really important to add it to the muffins after they've cooled.
How to Make Cinnamon Muffins
You really can't go wrong with this recipe. It's fairly simple and fail-proof if you follow the steps correctly. But just in case you want to make sure your muffins turn out perfect, here's what to keep in mind:
Use a standard-size muffin tin for six muffins.

Don't over-mix the batter! Although these are made with gluten-free flour, over-mixing can lead to a dense muffin. Light whisking helps create bubbles in the batter for fluffier muffins.

You can combine the dry ingredients in a separate bowl if you're worried about over-mixing.

Another problem is over-baking. Over-baked muffins are dry and brittle, and there's nothing good about that.

These are best eaten on the day they're made. Erythritol in baked goods tends to develop a minty, cool flavor after a while. One way to offset this is by substituting stevia for half of the erythritol.

If you'd like to kick things up a notch, a handful of frozen blueberries added to the batter will go well with this recipe.
And, of course, if you want to share these muffins with a large crowd, feel free to double or triple the ingredients. If you end up with leftover muffins, store them in the fridge for up to 2 days or freeze them for up to a month. Wrap each muffin in plastic wrap before freezing to keep them moist and tender.
Almond Flour Cinnamon Muffins
Preparation time: 10 minutes
Cooking time: 15 minutes
Serves: 6 muffins
Ingredients:
¼ cup almond milk, unsweetened
3 tablespoons salted butter, softened
1 large egg
½ teaspoon vanilla extract
¼ cup powdered erythritol
¾ cup Kiss My Keto Baking Mix (Shortbread Cookie or Snickerdoodle)
1 teaspoon baking powder
½ teaspoon cinnamon
Frostings:
6oz. mascarpone cheese
2 tablespoons unsalted butter, softened
3 tablespoons powdered erythritol
¼ teaspoon vanilla extract
Instructions:
Preheat the oven to 375F and line a 6-count muffin tin with muffin liners.

In a large mixing bowl, beat the almond milk, butter, egg, and vanilla extract.

Add the almond flour, baking powder, erythritol, and cinnamon, and mix until just combined.

Spoon the batter into the muffin liners, up to ¾ fullness.

Bake for around 15 minutes, then cool for at least 30 minutes on the counter.

In the meantime, make the frosting; beat the mascarpone cheese, erythritol, vanilla, and butter until smooth.

Top the muffins with the mascarpone cheese frosting, sprinkle with cinnamon, and serve.
Nutrition Info:
Calories: 269
Total Fat: 27.1g
Saturated Fat:15.9g
Cholesterol: 105mg
Sodium: 196mg
Total Carbohydrate: 2.6g
Dietary Fiber: 0.5g
Total Sugars: 0.2g
Protein: 4.9g
I hope you enjoy this delicious keto-friendly muffin recipe!