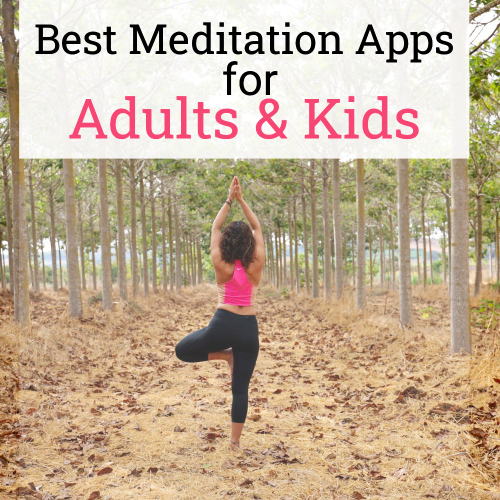 Meditation apps for adults and kids: Meditating is a great way to help train your mind to focus and redirect your thoughts. It can be used to reduce stress and increase focus and concentration. Here are some of our favorite mediation apps for adults and kids.
When you think of meditating, what's the first thing that comes to mind? My daughter would define meditation as "sleep, except way less fun." 🙂 But when it comes to it, mediation actually helps her relax and shut her brain off before she goes to sleep. For me, meditation brings about a sense of calm and relaxation.
During this crazy time we're living in, meditation can be extra beneficial for kids who may be suffering with depression from loss of activities and time with friends, anxiety about virtual school or wearing masks, and sleep struggles.
For adults, meditation may help with anxiety about a lost job, or stress having to be home with kids doing virtual school while still trying to work.
Meditating has a host of amazing benefits including
-increased self-awareness
-reducing negative thinking
-improves sleep
-focusing on the present
-increased patience
-manage stress and anxiety
-increase attention span
-may help with addiction and addictive behaviors
-may help reduce blood pressure
For more details on some of the benefits of meditation, check out this Healthline article.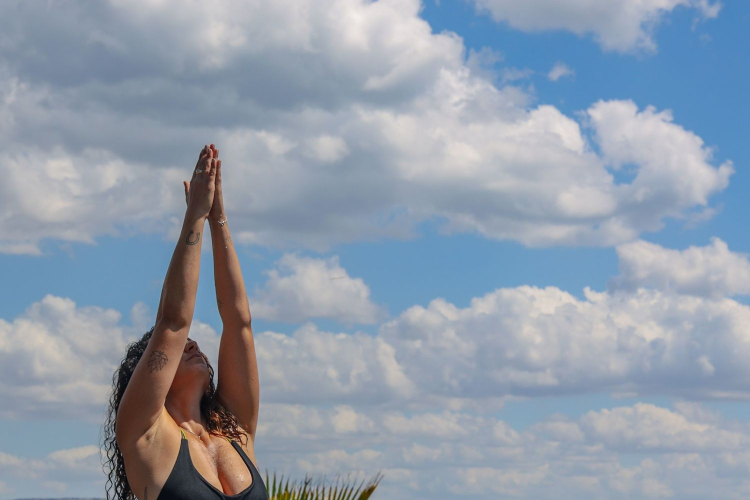 How do I start meditating?
There are a variety of ways to meditate, and there is no right or wrong way to do it. You don't have to sit criss cross applesauce and put your hands up and say "Ohhhmmmm" to meditate. You can meditate whenever and wherever you feel most comfortable. One of the easiest ways to begin a meditation practice, though, is with the help of a meditation app.
Meditation apps help guide you through a meditation. They have a variety of guided meditations including those for sleep, calming, stress, focus, and more.
Our favorite meditation apps for adults
Meditation Studio
Meditation Studio is a free app and includes guided meditations on mindfulness, sleep, happiness, stress, and more. Like most apps there are a few free guided meditations, as well as upgraded options for a monthly ($7.99) or annual fee ($24.99). Their deep sleep meditation is one of my favorites to do before bed.
Headspace
Headspace is probably the top rated app for meditation. It's very structured, and you move through the meditations almost like a course, which helps you build good meditation habits. Their app includes breathing exercises, muscle relaxation, and even movement and healthy living options as well! Headspace offers a 2 week free trial, then it is $12.99 a month, or $70 a year.
Calm
Calm is one of the top meditation apps for sleep. It tracks the number of minutes you spend each day meditating. It is less structured than Headspace, so if you're just looking for an app to use when needed, Calm is a great option. They have different themes, such as "7 Days of Soothing Pain," "Anxiety Release," and "Mindful Eating," along with sleep and mindfulness meditations as well. After an initial free trial Calm is $70 annually.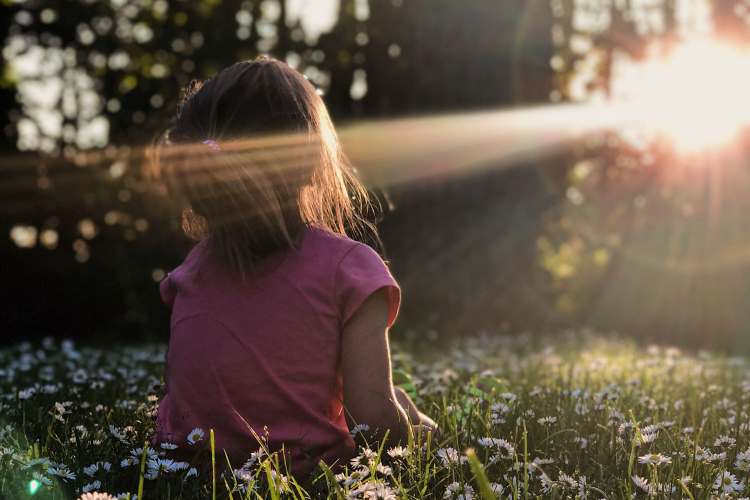 Our favorite meditation apps for kids
Good Luck Yogi
Good Luck Yogi is an interactive meditation device and app for kids. GLY (Good Luck Yogi) is a superhero that guides kids through a variety of meditation experiences. What we love is that it comes with an adorable device (Good Luck Yogi superhero), so kids are more exited to meditate. GLY's mission is to raise a generation of mindful children, which I couldn't agree with more. Children need quiet time in their life now more than ever, and Good Luck Yogi is the perfect device to help with that.
They are still in their Kickstarter phase, so go to their Kickstarter page and check out how you can get involved.
Stop, Breathe, and Think
This is a free app you can download, and it provides guided meditations for quiet, focus, caring & connecting, energizing, meltdown, open mind, and sleep. The options are limited with the free version, but you can upgrade for as little as $5 a month.
Sleep Meditations for Kids
This app is great for kids who struggle to go to sleep. You can incorporate it as part of your daily bedtime routine. As with other free apps, the free options are limited, but you can purchase more for a monthly or yearly fee.
One of my goals is to help people find ways to reduce stress and anxiety, get better sleep, and live healthier lives. Meditation is one of the easiest ways we can start to find our center and improve our overall health.