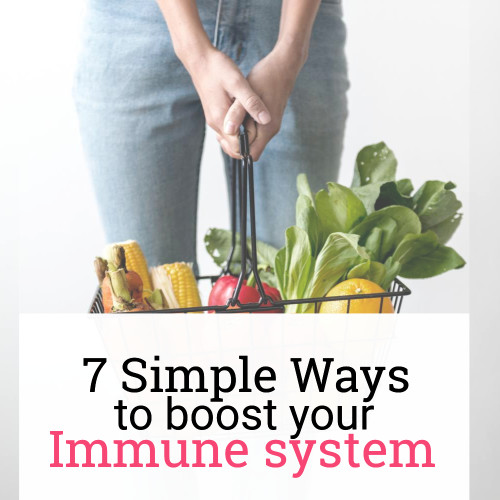 7 simple ways to boost your immune system to keep you happy and healthy all year long.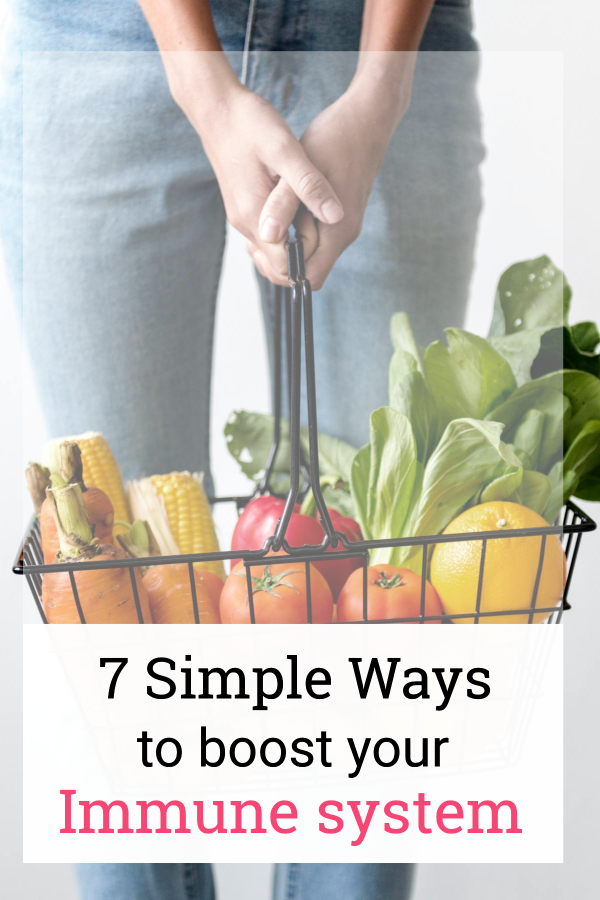 It is August 1st, which means school is just around the corner, which means germs. Yep, I said it. In a few months we will be hearing about all the runny noses, colds and more that will be going around schools, daycares and even the workplace.
The fall and winter months are when we tend to see sickness happen more often. There are a few reasons for this, but two of the main causes of the spread of germs are 1) colder temperatures bring us indoors, which means we are in closer contact with people, and we can more easily catch anything they may have, and 2) many viruses that cause the common cold and flu thrive in lower temperatures. There are a few easy ways you can boost your immune system to help protect you against these invaders.
Let's take a step back a bit first to understanding what our immune system does. The immune system works to protect our bodies against infection and helps maintain our overall health. It's like your body's defense system. Our immune system is made up of white blood cells, bone marrow, lymph nodes, and our spleen, which helps clean out old and damaged blood cells from the body.
In order to keep our defense system in tip top shape, there are a few easy things we can do to boost our immune systems, which will help us in the long run.
Here are 7 ways to boost your immune system
Get plenty of sleep
I feel like this is something most of us know, but don't fully understand the importance of. Lack of sleep has been linked to so many different issues, including weight gain, stress and more. It also reduces your body's ability to fight off bad bacteria you may come in contact with, thus increasing your chance of catching an infection. The amount of sleep one needs is still a highly debated topic, but I shoot for at least 7 hours a night. There is a group of people (roughly 5% of the population) that can function on 6 hours of sleep, but that is not the norm.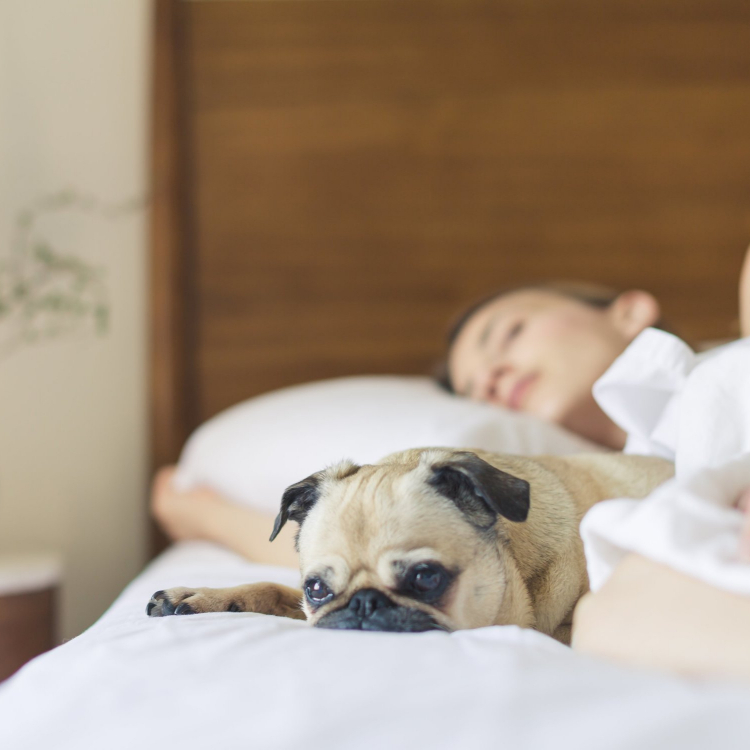 Focus on the positive
Yep, a happy and positive outlook can affect your immune system. Studies in the late 1980s and early 90s found that our brain is directly linked to our immune system (source). Stress and other forms of unhappiness can depress our immune systems. This is also why some people tend to get sick after a very stressful time in their life. Plus, who wants to be unhappy and negative all the time anyways? Think positive and be healthier. 🙂
Make healthy food choices
Things like refines sugar and carbs can repress our immune systems. They also don't provide any nutritional value. Make sure you are eating enough protein, as well as immune supporting foods like blueberries (high in antioxidants), sweet potatoes, spinach, broccoli, oily fish, garlic and almonds to name a few.
Get dirty
Being overly clean seems like a good way to avoid getting sick, but it can actually do more harm than good. When you make your environment overly clean, you can actually minimize the development of your immune system. Children especially need exposure to dirt and other microbes (make sure you check out my post on why dirt is good for kids), so their bodies can develop antibodies to fight off bad bacteria.
Antibacterial soap and hand sanitizer not only kills off bad bacteria, it kills off the good stuff too, so make sure you are using natural soaps and sanitizers without all the artificial ingredients.
Take immune boosting supplements
Supplements are especially important in our daily lives, as the fruits and vegetables we eat don't have as many vitamins and minerals as they did 100 years ago, due to farming practices and soil erosion. Our daily diets typically don't provide all the vitamins and minerals we need as well. Supplementing with a probiotic, vitamin B6, and vitamin E will give your immune system an extra boost to fight off those bugs. Look for a probiotic that has more strains, not just 20 billion active cultures of the same strain. I like this one you can get on Amazon.
A note on Vitamin C: Vitamin C is an amazing immune booster as well, but we usually get enough through the foods we eat. If you feel like you aren't getting enough vitamin C in your diet, I highly recommend taking a liposomal vitamin C supplement. This form of vitamin C helps the absorption rate of other vitamins and minerals, including iron. I take this one by Designs for Health and it has a good flavor.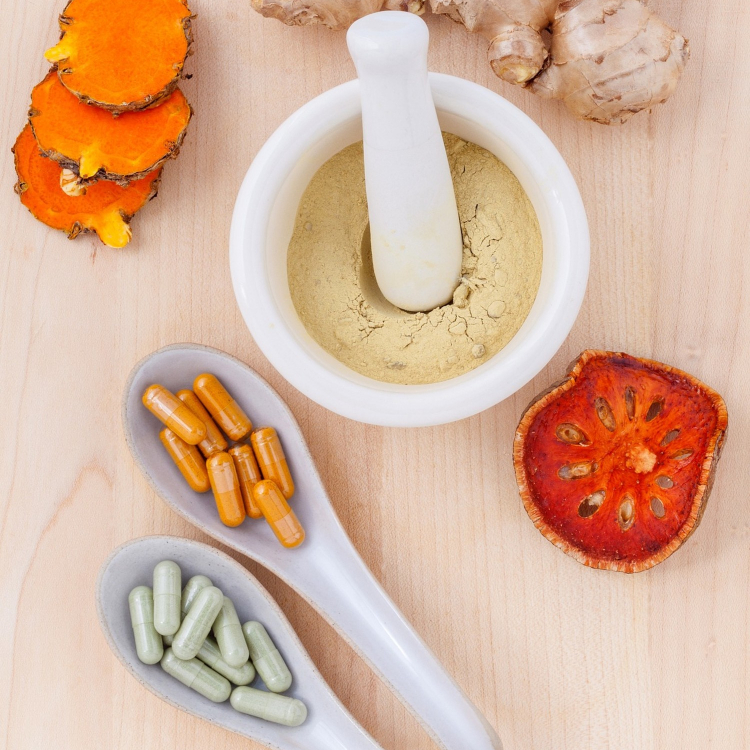 Use essential oils
Essential oils have become more popular over the last few years, and for good reason. They have amazing properties that can help support our body's systems. Many essential oils are great for immune support as well. A few of my favorites include oregano, Thieves, frankincense, lemon and clove. The bottoms of our feet are a great place to apply essential oils. I apply our immune boosting roll-on daily to my kids' feet in the fall and winter months to keep their immune systems supported.
Get active
Exercise is one of the easiest ways we can strengthen our immune systems. A strong body is a healthy body. If you aren't currently active, try for 30 minutes of walking a day. The weather is great right now so it is a fabulous time to working on making a new habit of being active.
Supporting our immune systems is so easy, it just takes a little time and effort. These 7 simple ways to boost your immune system will help your body do a better job fighting off any sickness you many come in contact with, especially during cold and flu season.