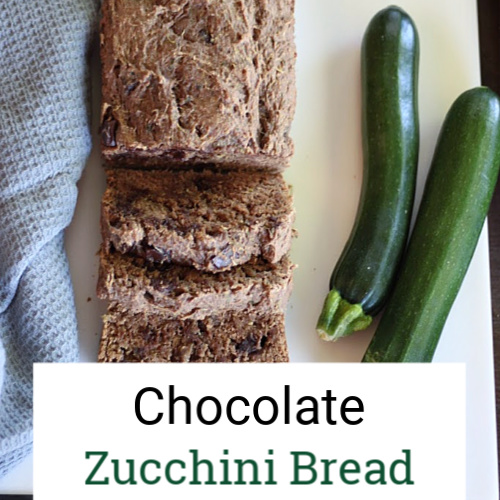 This gluten-free chocolate zucchini bread is paleo and refined sugar free. It is guilt-free, but doesn't taste like it.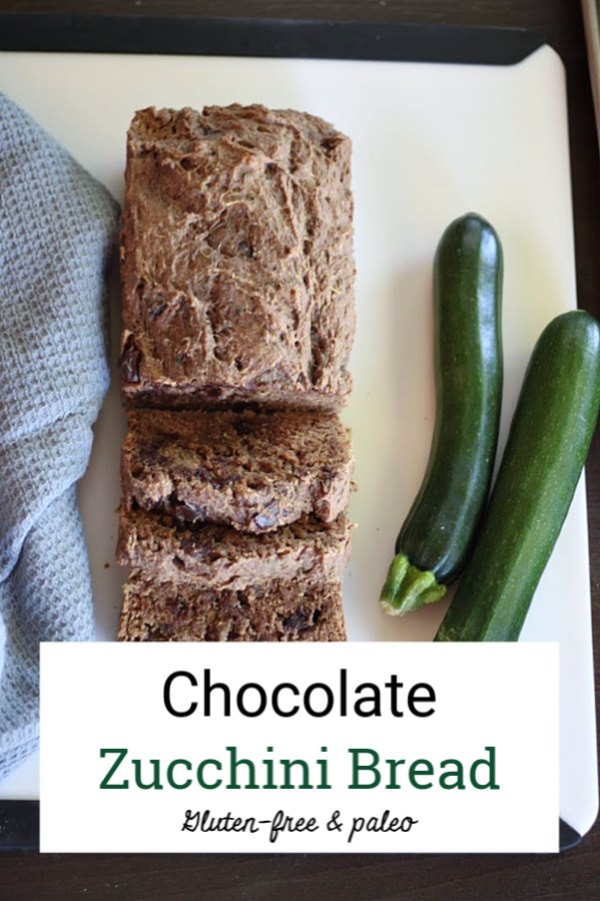 Affiliate links may be included in this post. Read my disclosure policy for full details.
A good, sweet bread is one of my weaknesses. You know like in Jumanji where Kevin Hart eats the pound cake and it makes him explode because cake is one of his weaknesses? Haven't seen that movie? You gotta watch it. It's a good comedy (plus The Rock isn't bad to look at either) 🙂 But I digress. Sweet breads are one of my weaknesses. They don't make me explode, but the do make me so happy. They are one of my favorite comfort foods.
After banana bread (like my paleo chocolate chip banana bread…oh my word!), I would say zucchini bread is my second favorite. And this gluten-free chocolate zucchini bread has become my new favorite zucchini bread. It is moist and full of chocolate and zucchini flavor.
One question I get asked often is how do we meal prep living in an RV. And my answer is "just like we would in a home." Yes our kitchen is 1/3 of the size of our old one, but we still have plenty of space to cook and enjoy all the same recipes we always have.
One requirement I had moving into the trailer was that I still wanted to be able to bake. My husband does a lot of the dinner cooking, but baking is my favorite. It's relaxing for me, and something I enjoy teaching my kids to do. They helped with this zucchini bread recipe, and we had a blast in the kitchen.
Zucchini is a great way to add moisture to a recipe. The flavor isn't overly strong, and it provides some great nutrition as well.
Zucchini benefits
Some of the health benefits of zucchini include:
-Improves digestion
-Good for eye health
-Boosts energy levels
-Slows aging
-Lowers blood sugar levels
-Improves circulation and heart health
-Full of vitamins C, A and K, as well as magnesium (something women are chronically deficient in) and potassium
As you can see, it is a powerhouse vegetable that we need in our diets. And this gluten-free chocolate zucchini bread is a fun way to get our vitamins and minerals in!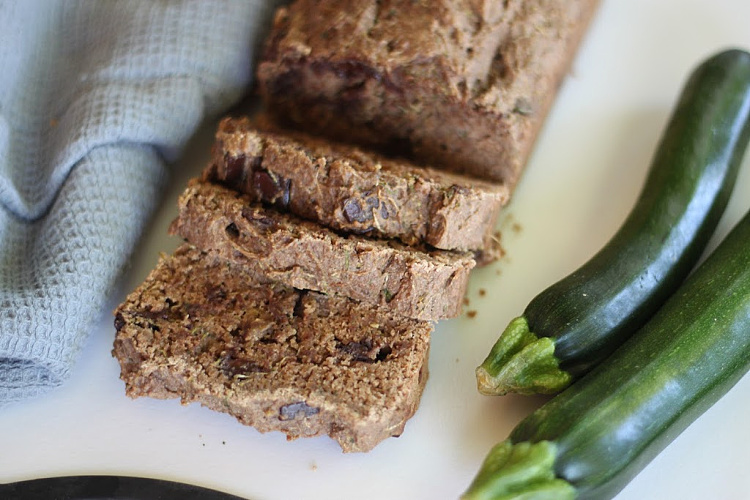 A few things you will need:
You will need a few gadgets before you get started. Since we have limited storage space, we use a small grater (like this one….I kid you not!) to grate our zucchini, but a box grater like this one, or a food processor would be a faster option. A good bread pan is must for me as well. I like these Farberware non-stick ones because they have an edge for you to grab onto when you take your bread out of the oven.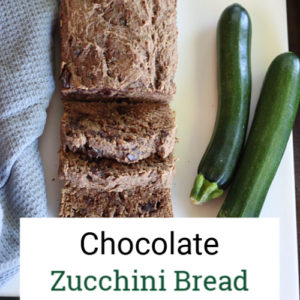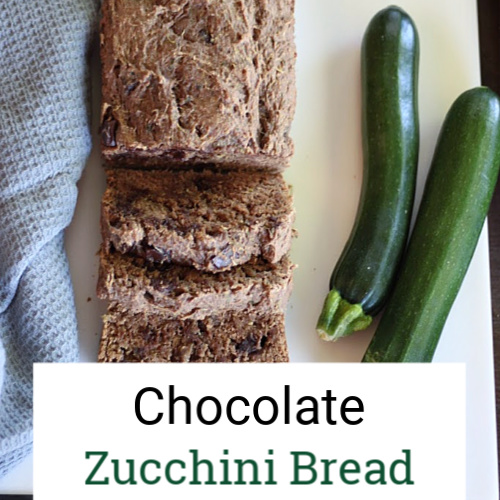 Gluten-free Chocolate Zucchini Bread
This gluten-free chocolate zucchini bread is also refined sugar free, but doesn't taste like cardboard.
Ingredients
1

large or 2 small zucchini

shredded or grated

1 1/2

cups

almond flour

1/2

cup

coconut flour

2

tbsp

cacao powder

1

tsp

baking powder

1/4

tsp

sea salt

3

eggs

room temperature

1/4

cup

pure maple syrup

1/4

cup

coconut oil

melted

1

tbsp

apple cider vinegar

1

tsp

vanilla, overflowing

Optional: 1/4 cup dark chocolate chips
Instructions
Preheat oven to 325 degrees F, and line a bread pan with parchment paper.

Grate zucchini, then use a cheese cloth, dish towel or paper towels to get most of the liquid out.

In a large bowl, combine both flours, cacao powder, baking powder and salt.

In a medium bowl, mix eggs, maple syrup, apple cider vinegar, vanilla and melted coconut oil.

Add the wet ingredients to the dry ingredients.

Add the grated zucchini and mix until just combined, then fold in the chocolate chips if using.

Pour the batter into the bread pan and bake for 50-55 minutes, until toothpick comes out clean.

Let cool in pan for 10 minutes, then remove and eat while warm, or let cool completely on a wire rack then store.
Notes
Do not use fractionated coconut oil. Just melt your coconut oil in the microwave in a glass or ceramic bowl.
Use organic ingredients where you can. They have better flavor.
Do not over mix the batter, as the dough will be tough and will result in a not so good bread.
Store bread in an air-tight container in the fridge for up to 7 days. You can also freeze for up to a month.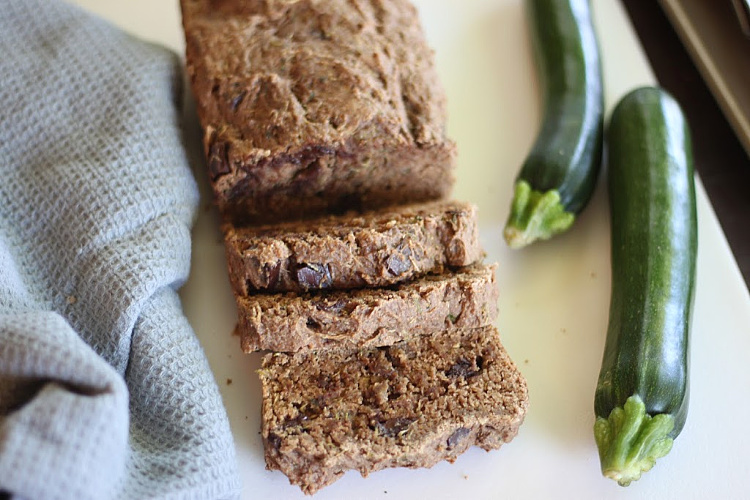 I may may have eaten two pieces right out of the oven. Supposedly. Allegedly. Okay fine I totally did! I told you before, bread is my weakness! And I didn't feel so bad eating two pieces because it was made with a bit healthier ingredients.