Let's just be real here. These aren't secrets. But what they are, are real ways that you can focus on your health while still nursing your babe.
I knew from the minute I had my daughter that I wanted to nurse her for a full year. The fact that she had a dairy and soy sensitivity also gave me no choice in the matter. We had a successful nursing relationship for 15 months, until she finally weened that last nightly feeding. So when my son came along, I knew I wanted to do the same. I was able to successfully achieve my fitness goals while nursing my girl, and I'd say I'm about 3/4 of the way to my goal body, while nursing my second child. I am a prefect example of how getting fit while breastfeeding is possible.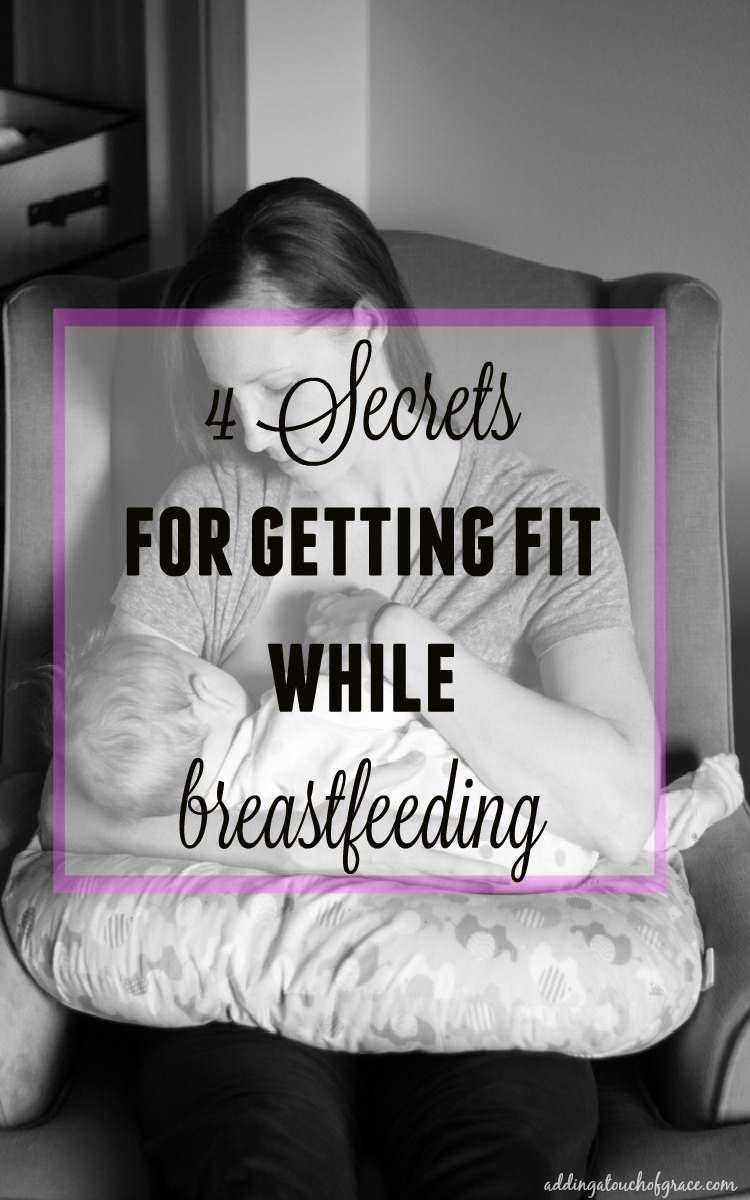 And yes, it is possible. Everyone has a different postpartum journey, and one question I get asked quite frequently is how I've been able to resume my usual workouts while still nursing my baby. Has my milk supply dropped? Not at all. I'm not a big producer; I basically produce enough for my son to eat and pump once a day if I want. But with the right foods and plenty of water, I'm able to keep my supply steady while resuming my intense workout routine.
Here's how I do it.
Hydrate
You know me and my obsession with drinking enough water. I say it all the time but it's worth repeating. Water is not just important for our bodies, but it is also so important for our babies! Breast milk is made up of about 50% water, so if you aren't drinking enough water your milk is going to suffer, and so is your baby (hello constipated baby!). We know from my post on sabotaging your fitness that water flushes toxins from the body, which will help you shed pounds as well. And remember, dehydration can be mistaken for hunger so drink a big glass of water before a meal to help you feel full longer.
I can't stress this enough. Drinking water before, during and after your workouts is imperative for successful breastfeeding. I shoot for a gallon of water per day because I'm so active. And yes, that is a lot of water, I know. Try for at least half your body weight in ounces.
Eat healthy fats
Personally, I think this is one thing women trying to lost weight forget to do. Did you know fat is good for you?! It is! Think avocado (my personal favorite), peanut butter, nuts, coconut and olive oil, even salmon (you need your omega-3s). Your body needs sufficient calories and fat intake for a healthy milk supply for your baby. It's recommended that a nursing mother take in an extra 300-500 calories per day.
Depending on what your workouts consist of (cardio only, weights, HIIT, yoga) you may need to consume more fat to keep your supply healthy. If you're doing more intense workouts, your body is going to burn more fat than say, just running. Keep that in mind and adjust your fat intake accordingly. It may take some time to find the right balance but it is doable.
I'll also add that eating a healthy diet consisting of mainly fruits, veggies, healthy fats and complex carbs is key to losing the baby weight. It also provides your baby with more nutrients than eating a diet full of refined sugar and flour. I attribute a lot of my success in losing the baby weight this time around to healthy eating. If you want to know what I eat most days for lunch check out my clean eating meal prep post.
Find a workout plan that works for you
Before you got pregnant you may have been doing heavy cardio 5-6 days a week, or maybe you were a HIIT guru and did 3-4 days a week of intense training. That may not work for you now. This is especially true when you first get cleared for exercise. I was so ready to jump back into running after baby, but the first time I tried to run 3 miles, I ended up in so much pain that I couldn't run (and could barely walk) for a week. Same thing goes for my HIIT workouts. I had to start slowly and work my way into a more intense routine; but it took time.
If your body will no longer allow you to do what you did 10 months ago, use this time as an opportunity to try something new! Maybe a group aerobics class is something you've always wanted to try. Or join stroller striders; I've heard nothing but great things about them! Don't let the changes in your body discourage you. Use this as an opportunity to branch out and find a workout plan that works for you.
4 secrets for getting fit while breastfeeding. It can be done and this mom proves it!
Click To Tweet
Don't compare
Everyone has their own story. It's just like when you were pregnant; people want to tell you what works, but what they really mean is what works for them. Just like each pregnancy is different, each baby is different and therefore each breastfeeding journey is going to be different. Do what's best for you. Listen to your body and your baby and do what you can to make it work.
Everyone's journey is different. Whether you're a part time nursing mama or exclusively breastfeeding (like myself), getting fit while nursing your baby is possible. It will probably take some trial and error when it comes to finding what works for you, but if you can keep these tips in mind, you will be well on your way to burning off those extra pounds. It's not rocket science, but it does take thoughtfulness and a little bit of discipline.
Although some women may struggle more than others, I do believe it is possible to get fit while breastfeeding. It just takes a little thoughtful planning and patience, but your body will respond. Just be sure to give yourself time and listen to what your body is telling you. And I can't stress enough: water, water, water!
Good luck!