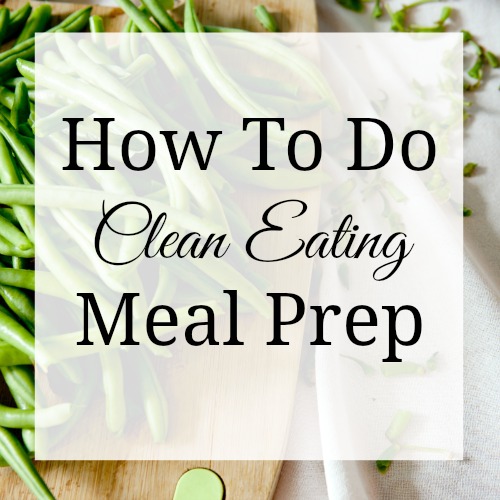 Think meal prep is hard? Think again! Here's how our family does meal prep using all clean, healthy foods.
I've been asked quite often about what the hubs and I eat, how much we eat and how we prepare our meals. So I thought it was time that I devote a post to our weekly meal prep. K and I both eat pretty similarly throughout the week; he just eats a lot more than I do. We started our clean eating journey a few years ago, but fell off a bit when I got pregnant and so many foods were not appealing to me. We restarted our focused clean eating about 2 months ago and have really hit it hard over the last few weeks, with some new recipes and ways we prepare our food.
Meal prep seems like a lot of work when you first think about it. And making healthy food choices can seem daunting to some. But if you take the time to write out a plan it's not as hard as it seems.
With the new fitness programs Kellen and I are on (he's doing MP45 and I'm doing the bikini body guide), we purchase all our food for the week over the weekend and prepare our lunches for the entire week on Sunday. It makes lunch time a breeze for myself, especially since taking care of 2 little ones leaves me little time to cook these days. And Kellen can just grab his pre-made lunch before he heads out the door in morning. Diet is key to a healthy lifestyle and I've already seen some amazing changes post-pregnancy just by focusing on what I'm putting into my body. Remember y'all, it's 80-90% diet, 10-20% exercise. If you want to lose weight and get in shape, focus more on what you're eating.
Not only has preparing our meals for the week on Sunday saved us a lot of time, it has saved us a ton of money! I thought buying all fresh, organic food would be expensive, but we've come in under our food budget the last few months since we started meal prepping. We still purchase different foods for Little A to have for lunch, but for the most part she eats what we eat for dinner.
In this post I'll be sharing our grocery list for all of our meals and I'll show how we meal prep our lunches.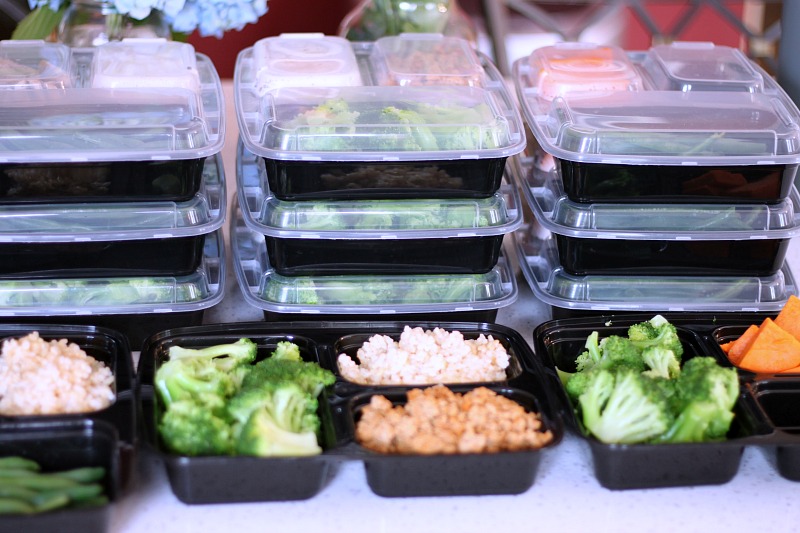 Here's what we do:
We usually grocery shop on Saturday then meal prep on Sunday. It's nice to break it out. But do what works for you. Each meal gets protein, veggies and carbs. We purchase most of our food in bulk and I'll try to share how much of each item we purchase so you have an idea of how much we eat each week.
For our protein, we usually switch between chicken and ground turkey, but this week we've added in flank steak, and next week we'll switch out the steak for fish. It's nice to change things up a bit instead of just eating only chicken week after week (which we've done….it gets old).
Here's what we purchase on a weekly, or bi-weekly, basis:
Protein:
16 chicken breasts (about 7 pounds)
5 pounds ground turkey
4 pounds flank steak
Fish and shellfish
Veggies:
Broccoli
Carrots
6 Bell peppers
Brussels sprouts
1-2 Onion
Normandy veggie blend (broccoli, carrots, cauliflower)
Fresh green beans
2 pounds of tomatoes
Carbs:
3 sweet potatoes or yams
Brown rice (we purchase a Costco size bag and it lasts us a while)
Add ons: These are the foods we have for snacks and breakfast.
Berries (2 pounds of blueberries and 12oz of raspberries)
Apples
Bananas
Oatmeal
Greek yogurt
Eggs: we purchase 5 dozen eggs every 2 weeks. I eat 2 eggs for breakfast and Kellen eats 3 plus 2 egg whites. Eggs are a great source of protein and healthy cholesterol!
Sprouted grain bread (only Little A and I eat the bread for breakfast, or I will make her sandwiches. If you must have bread, go for sprouted grain).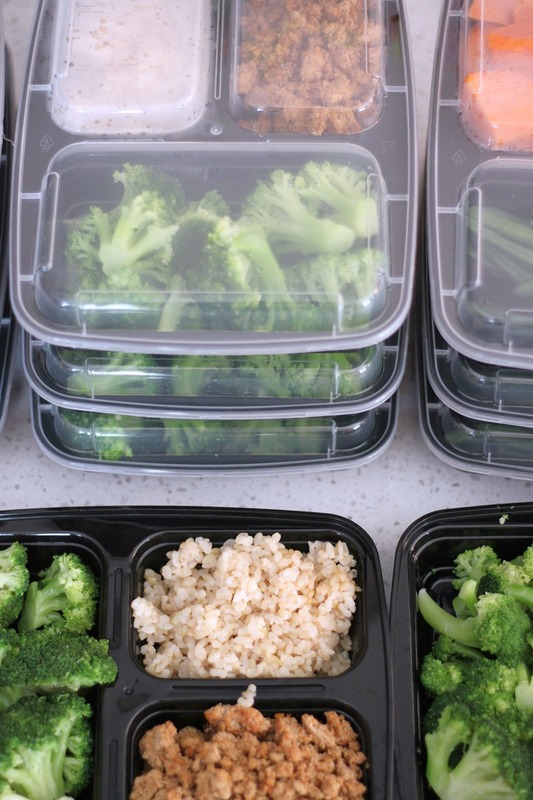 *Affiliate links included. If you click on a link I may get a few cents.
How we prep:
First, we get 2 cups (uncooked) of rice cooking. While the rice is cooking, we season and cook all the protein and set it aside. Spices are a great way to add flavor to the meat, especially since plain chicken and turkey can be really boring and bland. We will use part of the meat for lunches and save the rest for dinners. This time of year we like to BBQ the steak and chicken breasts, but in the winter we'll cook it in a skillet or the oven.
While the meat is cooking, I'll cut up the veggies if need be (peppers, Brussels sprouts, broccoli) and divide them into bowls. When the meat is done we'll put it into a bowl to cool a bit.
Finally, we'll cut and cook the sweet potatoes. We also save some of these for dinners.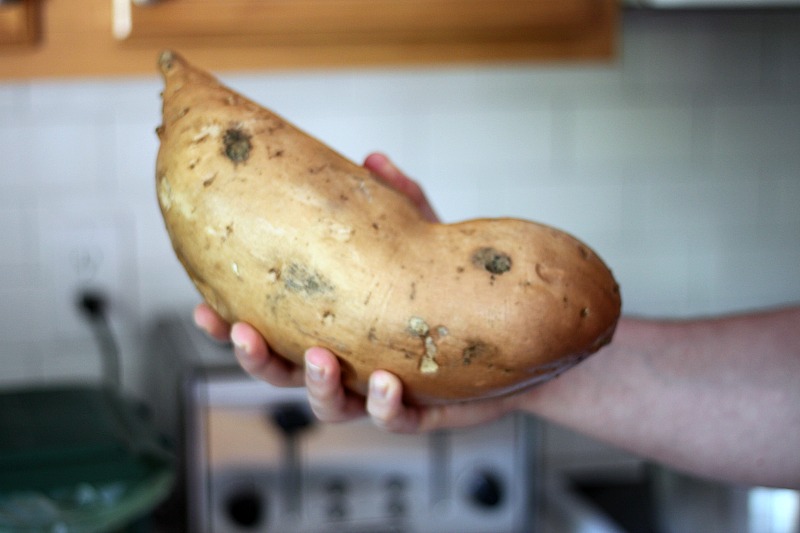 When all the food is individually prepped, we measure out our meals. We use this scale to measure our protein. We also use these bento boxes to store our meals. They are easy for the hubs to grab and microwave at work. He also purchased a lunch box with an ice pack from Costco that fits 3 of the bento boxes perfectly.
When it's time to portion out the food, each box gets:
4 1/2 oz meat
2 cups of veggies
1 cup of carbs
And that's it! Kellen takes 2 prepared boxes to work with him each day and I eat one for my lunch.
For dinners, we'll use the leftover meat to make fajitas, taco bowls and scrambles. It makes dinner preparation super easy.
For snacks, I eat berries with nuts, cottage cheese, energy bites, apples with PB fit and hummus with peppers and carrots.
For some meal prep can seem impossible, but really once you start the process it can be really enjoyable. I actually look forward to it each weekend. Plus, knowing what we're eating each week makes grocery shopping a breeze. There's no questions about what to have for lunch or dinner, and if we want to switch things up a bit (which we often do) it's simple to look up some clean eating recipes.
Do you meal prep? I'd love to hear what works for your family!