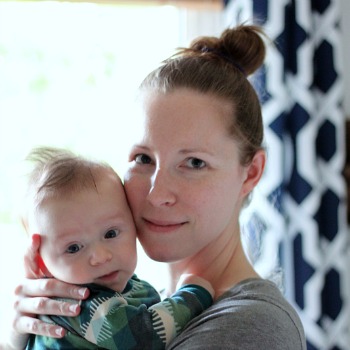 Lately, I've been feeling wrung out. I'm exhausted in the mornings and want nothing to do with getting out of bed, except for the fact that I have 2 little ones that need my attention. I'm maybe getting 5 or 6 hours of sleep each day. The dark circles are getting darker and I'm seeing some new lines appear on my face.
When I hear the baby start to stir in his bed next to me each night, I struggle to get out of bed to feed him. I go through the motions of trying to get him back to sleep (paci in his mouth, swaddle him back up), but it never works and I end up picking him up, taking him to the rocking chair in our room, and nursing him back to sleep. But it's in those moments while we rock in the dark that I try to remember that these days are limited. Soon enough he won't need me to feed him every 3 hours. He won't need mama when he's tired and trying to fall asleep. He won't need to be rocked and burped when he has an upset tummy.
It's in these moments that I try to remember that I'm going to miss these days. When I'm in the thick of it, completely exhausted and drained of energy, I can't wait to get EJ to sleep through the night. I forget that soon enough he will be sleeping through the night and I'll sneak into his room to watch him sleep, missing those quiet moments in the dead of the night where it was just him and me.
Right now I'm struggling to find a balance. I'm missing time for myself, time with my hubby. I feel like my blog is dying a slow death because I have no time to devote to it like I should. I feel guilty if I take the time to run up to the computer to check my email or type something up (mom guilt is a bitch). But this is just a moment in time. These days will be long gone before I know it and I'll be longing to get them back. So even though I'm worn out and wishing for a few hours to myself, wishing I had time to work on my business, I'm trying to slow down time as much as possible and cherish these days. I'm taking in all the baby smiles, all the coos and even all the sad lips. Because one day I'm gonna to miss this.