This protein rich overnight oatmeal recipe is perfect for those busy mornings when you don't have time to cook.
I'm super pumped for today's easy recipe. I've been making overnight oatmeal for about a year now, but felt like I'd been living under a rock until I discovered this simple and delicious recipe!
Breakfast is my jam y'all. I have to eat in the morning or I will turn into the hangry monster that's snippy and short tempered, and nobody wants to see that. But this recipe has seriously changed my breakfast game. Not only does it taste delicious, but it keeps me full way longer than my Greek yogurt with granola.
I usually stick to 3 breakfast options: Egg and sprouted grain toast with avocado, Greek yogurt with granola, and overnight oatmeal. This recipe recipe is dairy free, gluten free, sugar free and even vegan friendly! Phew, that's a lot of "frees!" Plus it's high in protein to keep you full longer. Plus it's darn tasty!
I can't remember where I discovered the original recipe, but I've been making this version since last summer and am loving the convenience of an easy breakfast. If you have to get out of the house quickly in the morning, this recipe is for you. Just grab the jar out of your fridge before you leave in the morning and you have a healthy, filling breakfast ready for you when you get to work. Even if you like to eat at home when you get up, this overnight oatmeal is ready and waiting for you.
It's so easy to make too. I prep for K and I each night before bed, then we just grab it and go in the morning.
Overnight Oatmeal
Ingredients
1/2

cup

oats

1/2

cup

almond milk

1/2

ripe banana

1

teaspoon

honey

1

scoop vanilla protein powder

1/4

cup

add ins of your choice

chocolate chips, blueberries, strawberries, dried cranberries, etc.
Instructions
Heat the banana in the microwave for 30 seconds. This allows the banana to break down in the oats, and releases the sugars.

Add all ingredients to a mason jar or Tupperware.

Shake really well.

Place in fridge overnight.

In the morning, combine your add ins, stir and enjoy!
The easiest overnight oatmeal you'll ever make!
Click To Tweet
Like it, Pin it!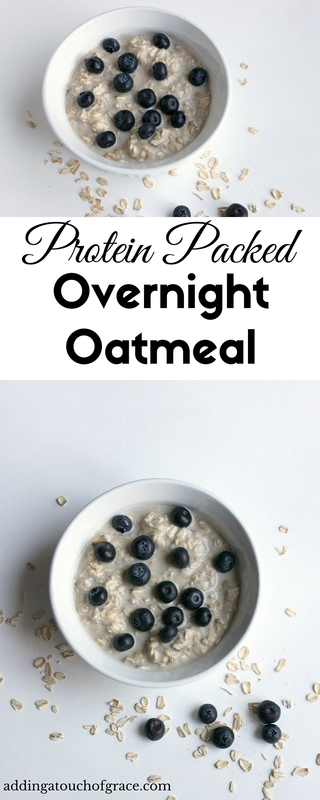 I eat mine cold, but you can heat in the microwave for 45 seconds. I like to add dark chocolate chips (you can get dairy free chocolate chips in the natural section of the grocery store) or blueberries, but you can choose whatever add ins you like. Or it's great by itself.
Enjoy!