If you're new to journaling, here are a few ideas of types of journals to keep to get you started.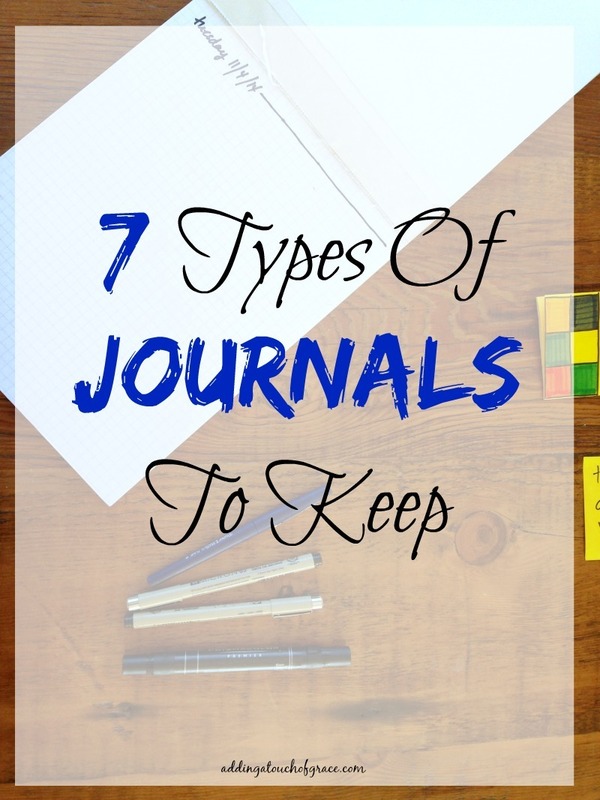 I've gotten some awesome feedback from folks letting me know that they too enjoy journaling and have seen a huge change in their lives from before they started. I've also had a lot of people share that they aren't sure what they would write about every day.
Well I'm here to tell you that the possibilities of what to write in your journal are endless! Everyone has their own idea of what a journal should be; or what it looks like to them.
Here are 7 different types of journals to keep.
Gratitude Journal // This is what my 5 minute journal is, basically. In the morning I write 3 things that would make the day great and 3 things I'm grateful for. At the end of the day I write 3 things that did make the day great and 1 thing I could have done differently to make it a better day. It's fast and makes me really reflect on my day and what took place. A gratitude journal is a great way to reflect on your day, your life, think about your future and really focus on the positive.
Stream of consciousness journal // This is the type of journal most of us young girls kept. It was blank and we'd write whatever was on our minds. Boys, friends, wrongs that were done to us. I think a stream of consciousness journal is fantastic if you want the freedom to write whatever it is you like. It's a blank canvas for your thoughts and can really be cathartic for you to get those thoughts down on paper!
Prayer Journal // I know lots of people who keep prayer journals. I've heard there are many ways to keep one, including writing out your thoughts to God, people who you want to pray for, or even versus from the Bible and other sources of spiritual inspiration.
Creative Journal // A journal where you draw, doodle, color, paint, whatever artistic thing you want to use it for. It's a great way to get the creative part of your brain working and can bring about a ton of inspiration.
Meditation Journal // With a meditation journal, you write down your meditation experience right after you do it. This practice helps you reflect on your meditation and see how it's supporting you. You could also write in the journal before you meditate, to help clear your mind of any thoughts that may inhibit your meditation time.
Memories Journal // This is a journal where you write down everything you want to remember from that day. I've known people to do this for their children, then give them the journal when they graduate from high school. It's a great way to get those special memories down on paper.
Bullet Journal // This one is new to me, but from my research it sounds like a great way to organize your thoughts on paper. You write down topics you want to focus on in an "index" of sorts, then each topic gets a page. You have a page for the future (future events possibly), monthly goals/tasks, shopping lists, illustrations, etc. You decide what topics you want to include in the journal. Then for each topic you have 3 bullets: task, event and note. This helps keep track of where you are for each topic. You can also migrate tasks at the end of each month. Move daily tasks to monthly and cross out irrelevant tasks. There are symbols for each area as well. It may take a while to get used to this type of journal, but it sounds like it could be a great resource.
[Tweet "Lost for what to write about? These 7 types of journals should give you some inspiration."]
If you haven't started journaling yet, what's stopping you? You can spend as little or as much time on it as you have. Just the process of journaling is so cathartic and can really bring a change to your mindset and outlook on life.
What type of journal do you keep, or want to keep?