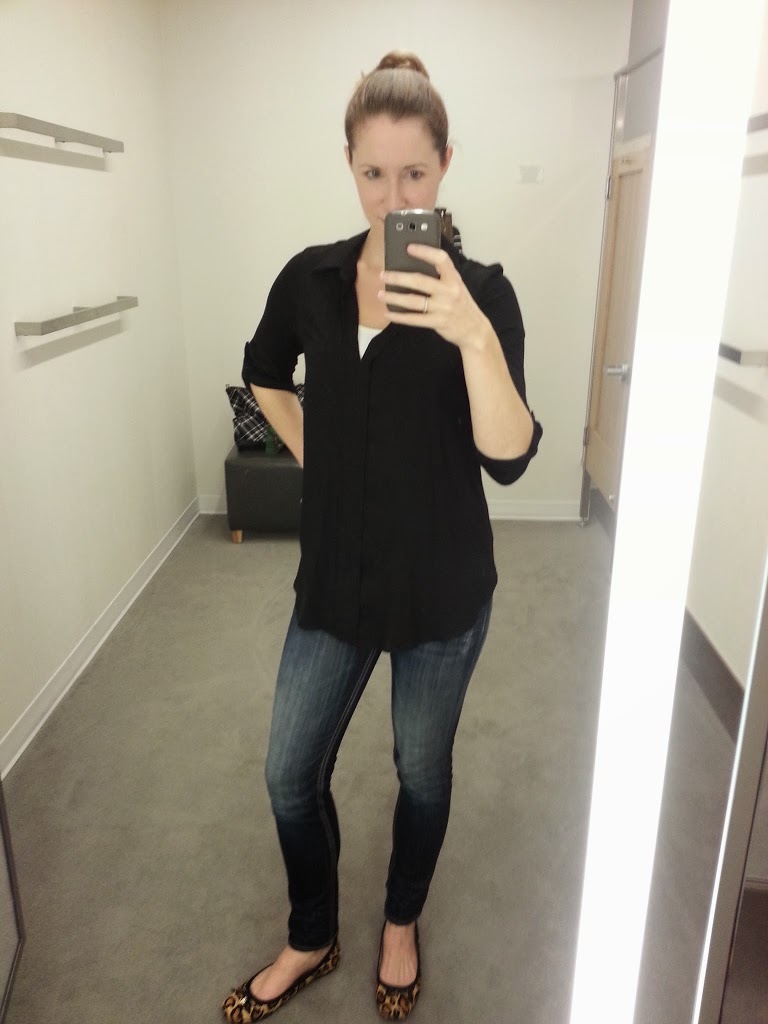 Happy Monday y'all. And Happy Veteran's Day! My dad is a Veteran so this day is always super important to me. Today especially we are reminded of all that our service men and women do for our country.
I hope everyone had a fun filled weekend with lots of sunshine. We had lots of fun this weekend.
Friday we shopped the sale. I picked up a few things that had been on my list for a few weeks.
I am so in love with this shirt:
I got the last pair of light blue ones they had in the store. And they were in my size! I was slightly offended when I asked the lady if I could order them and have them shipped (because I didn't see them on the rack) and she said "Oh I think we have a pair over here, but they're a size 4." I proceeded to tell her that was the size I needed and she was like "Oh, ok." like she didn't believe me! I must have looked like I'd put on a few lbs that day or something. Yes lady, that is my size.
I was planning on trying on other colors and figured I'd probably pick up the black one, but honestly, I loved the ombre! That is so not me, but the other colors were just blah compared to the ombre. I couldn't believe how much I liked it and even Huebie did too. And it really is so soft. Like a buttery, silky kind of soft. Yes, just like that.
We also went to Gap so Huebie could find some new work clothes. I nabbed a few sweaters that are super warm and cozy. I'm all about cozy these days.
Little A spent the afternoon goofing around:
This is her boat. She loves to just sit in it and talk to us. With her babies and as many stuffed animals and other objects as she can fit.
Little A had fun petting the buffalo:

And playing with the large snowballs:
And of course everyone thought she was the cutest thing ever. I have to agree 😉
She also tried on her first pair of ski boots! She loved them. She asked them gentleman helping us to put the other one on and she walked around in them pretty darn well! We're so excited to get her up on the slopes this year. We also picked up a ski jacket and pants for her. The girl is set!
Afternoon cuddles with Daddy:

Yesterday Huebie and I ran a 10k race. More details tomorrow but here's one picture from the race:

More afternoon shinnigans with Little A:
We went to dinner last night after spending some time at Target Christmas shopping and REI trying on new ski boots. Little A scarfed down her broccoli. Made mama so happy (she's been lacking in veggies lately).
What did you do this weekend?
Have you picked anything fabulous up at the sale?