I'm sure all or most of you have heard of Serendipity in New York City. And it's likely you've heard of them because of their famous Frrrozen Hot Chocolate.
It's been featured on Oprah, every celebrity and their mom has visited and boasted about it's greatness. And let's be honest, it looks freaking amazing.
Since I won't be heading to NYC any time soon to try one of these bad boys, I decided to try my hand in making my own and let me tell ya, it turned out pretty darn good.

FROZEN HOT CHOCOLATE
Ingredients:
* 2-3 tablespoons hot cocoa mix
* 1 1/2 cups milk
* 1 tablespoon sugar
* 6-8 ice cubes
* Semi-sweet chocolate for shavings
* Whipped Cream
Directions:
* Add the first 4 ingredients to a blender and blend until smooth; like the consistency of a milkshake.
* Pour in your glass and add whiped cream topping.
* Using a cheese grater, grate your chocolate over the top of the whipped cream.
* Add straw and drink up!
It was so delicious! My hubby kept drinking his too fast and getting a frozen headache. I'm considering making this again tonight. And maybe tomorrow night. And possibly a few more nights this winter. Even though it's cold, it's a really good drink to have by the fire.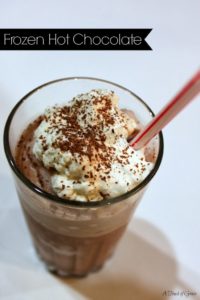 Enjoy!