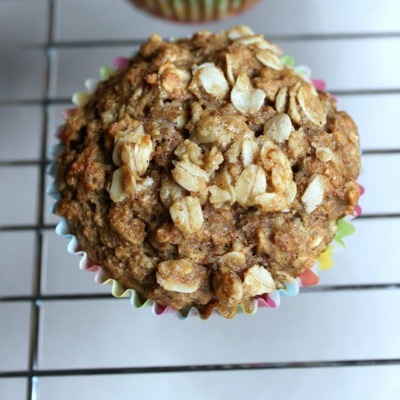 These applesauce oatmeal muffins are the perfect breakfast muffins and have no refined sugar, so you can feel better about feeding them to your little ones.
It looks like I'm on an every other week posting schedule for my muffin series. Such is life I suppose.
Today's muffin is semi-healthy, with no refined white sugar and using whole wheat flour. These applesauce oatmeal muffins aren't too sweet and really are a great breakfast muffin. They are a little drier than my other muffins, and I think that helps them keep really well in an air tight container.
My daughter isn't a big oatmeal fan. Have I told you that yet? Well she isn't. Everytime I use oats in a recipe, she balks and tells me she's not going to like it.
Then she forgets I used oats, eats the baked good and raves about it. Well, most of the time. And that was the case with this applesauce oatmeal muffin. She even asked for a second! I felt like giving myself a pat on the back after that. And maybe I did. Maybe….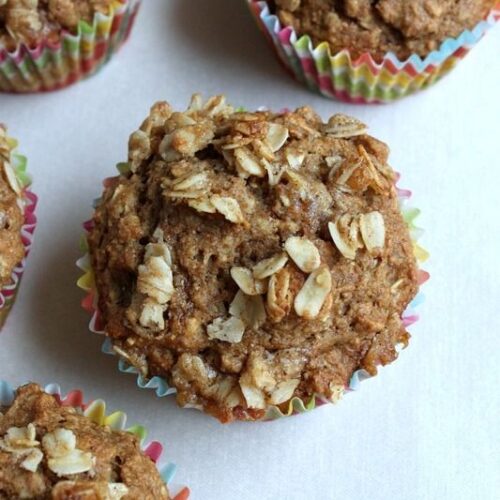 Applesauce Oatmeal Muffins
These lightly sweet muffins are a healthy crowd pleaser.
Ingredients
1 1/2

cups

oats

1 1/4

cups

whole wheat flour

1/2

cup

brown sugar

1

teaspoon

baking powder

3/4

teaspoon

baking soda

3/4

teaspoon

cinnamon

1/2

teaspoon

salt

1

cup

applesauce

natural

1/2

cup

milk

I use almond milk, but 1% or 2% would work fine

3

tablespoons

vegetable oil

1

teaspoon

vanilla

1

egg white

**Topping

1

tablespoon

melted butter

1/4

cup

oats

1/4

teaspoon

cinnamon

1

tablespoon

brown sugar
Instructions
Preheat oven to 400 degrees. Line muffin tin with cupcake liners and lightly spray.

In a large bowl, combine oats, flour, baking powder, baking soda and salt. Set aside.

In a medium bowl beat applesauce, milk, oil, vanilla and egg white until thoroughly combined.

Pour the wet ingredients into the dry ingredients and mix until the dry ingredients are just coated.

Fill muffin liners 3/4 full.

For the topping, combine all ingredients into small bowl and sprinkle over each muffin.

Bake 15 minutes, or until toothpick comes out clean.

Let cool in pan 5 minutes, then remove to wire rack to cool completely.
Notes
Adapted from My Recipe Magic
I hope you enjoy these as much as we have.
Cheers friends!