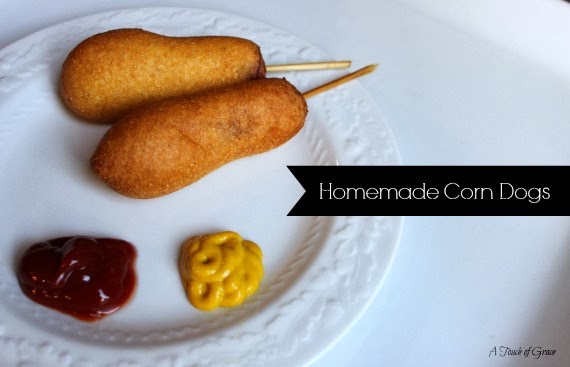 We had such a wonderful day yesterday celebrating Little A's 2nd birthday. For her birthday dinner she requested corn dogs. I was totally blown away by the request as she hasn't ever really had a corn dog before. But if she wanted corn dogs we were going to have corn dogs.
I loved corn dogs as a kid, but I think most kids do right? I'm always reminded of the Krusty Pups you can get at the fair. The real, homemade corn dogs.
These corn dogs are good for kids of any age, including us since we had corn dogs last night as well. The recipe is super easy to make and you can freeze them for later (think after school snacks).
Ingredients:
* 1 package Nathan's All Beef Franks (You can use any type of hot dog you like, but we used Nathan's and cut them in half to get twice the amount)
* 1 cup cornmeal
* 1 cup flour
* 1/4 cup sugar
* 1/4 tsp salt
* 1/4 tsp pepper
* 4 tsp baking powder
* 1 egg
* 1-1 1/4 cups milk
* Wooden skewers
* 1 quart vegetable oil for cooking (if you have a deep fryer you could use that as well)
Directions:
* Combine cornmeal, flour, sugar, salt, pepper and baking powder in a large bowl.
* Add 1 cup milk and egg and whisk well. If the consistency is too thick, add more milk, 1 tablespoon at a time, until you get the right consistency.
* Heat oil in large pan to 350 degrees.
* Insert wooden skewers to the hot dogs.
* Roll the skewered hot dogs in the batter until completely covered.
* Cook in oil approximately 3 minutes, until golden brown. You can cook 2 or 3 at a time.
* Set on paper towel to dry and drain off any excess oil.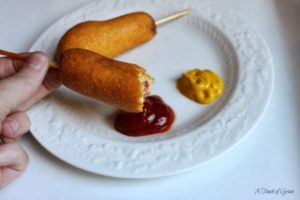 Enjoy!