The post title is legit y'all. I went upstairs to take a quick shower and the hubs was done with dinner by the time I came back down; 15 minutes later. K has made many fried rice dishes in the past but this was by far my favorite. It tastes like authentic, from a restaurant fried rice. If you want to make the easiest fried rice ever, just follow this recipe.
It was one of those nights where we weren't sure what to eat. We didn't do meal prep because K was going to be gone for 3 days on business, and I don't really cook for myself when he's gone, so we were stuck for ideas. We had leftover pork chops in the fridge from the prior week that needed to be eaten, and by some stroke of genius at the same moment we both thought fried rice. Lucky for me, when I come up with an idea, the hubs is quick to execute.
Have I mentioned before that K does most of the dinner making in our family? And on the weekends he cooks breakfast as well. I am a very lucky woman in that respect. My idea of cooking is boiling pasta and putting some sauce from a jar on top. I never was a fan of cooking. When I lived alone my staple meals were (in no particular order): pasta, lemon pork chops and chicken breast with frozen veggies. And I'd always have a bag of salad in the fridge. I could never justify spending hours in the kitchen. In college I was lucky to have roommates that cooked a lot, so I was able to benefit from their kitchen prowess. Every now and then I'll get a wild hair and go on a streak of trying new recipes, but for the most part I leave the frying pans others. I'm the baker of the family (obviously). Baking is a science, which I love, whereas with cooking you have the ability to get creative and use your imagination, which the hubs loves. And the hubs' recipes never disappoint.

If you like fried rice I promise you will love this recipe.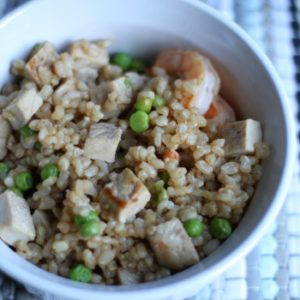 Simple Fried Rice
Ingredients
3

cups

cooked short grain brown rice

4

small pork chops

cooked and cubed

2

cups

shrimp

50-70 count

1 1/2

cups

frozen peas

2

tablespoons

olive oil

2

tablespoons

ponzu sauce

1

tablespoon

oyster sauce
Instructions
In a skillet over medium high heat, add olive oil and cook shrimp until just pink.

Add in pork chops and peas and saute for 2-3 minutes.

Add brown rice and mix to combine.

Add ponzu sauce and oyster sauze.

Saute all ingredients for 3-4 minutes until heated through
Notes
You can use the precooked, frozen shrimp in place of the uncooked shrimp.
We cook the pork chops ahead of time and keep them in the fridge as part of our meal prep. If you don't have already cooked pork chops, those will take about 10-15 minutes to cook, then cube, prior to starting the fried rice.
If you don't have ponzu sauce, you can use soy sauce as an alternative.
We use a rice cooker for our rice, which takes about 20 minutes to cook the rice in.
This simple fried rice recipe is legit and takes no time to make.
Click To Tweet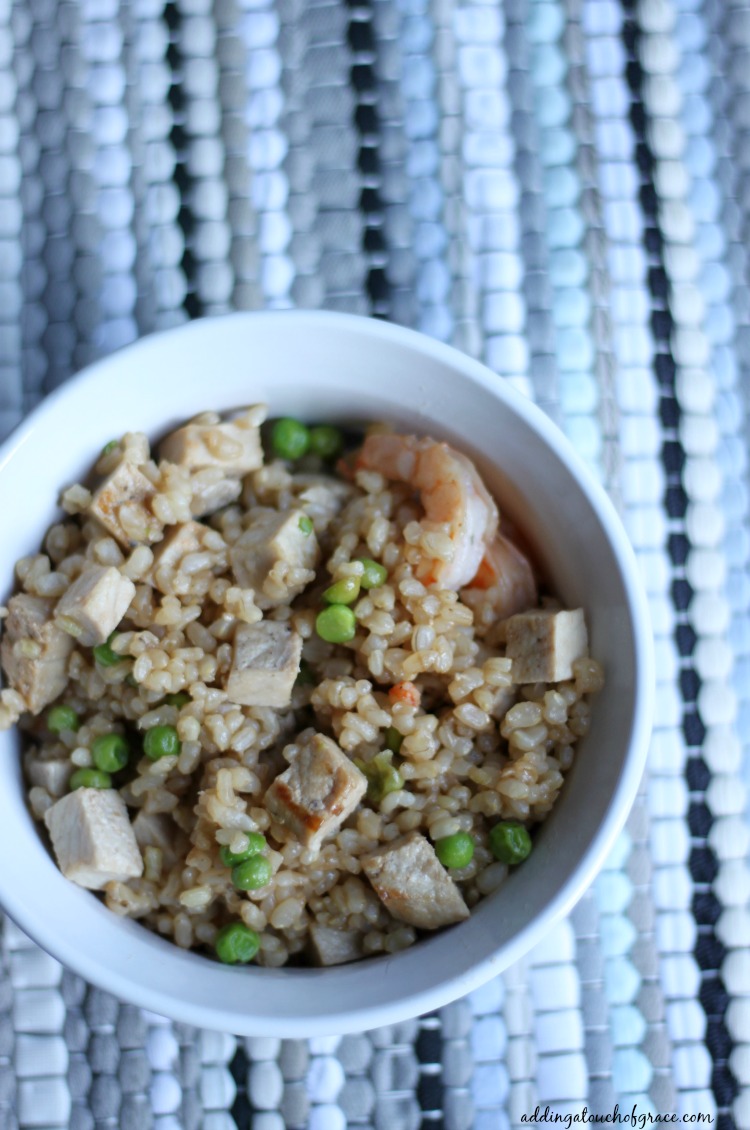 Enjoy!