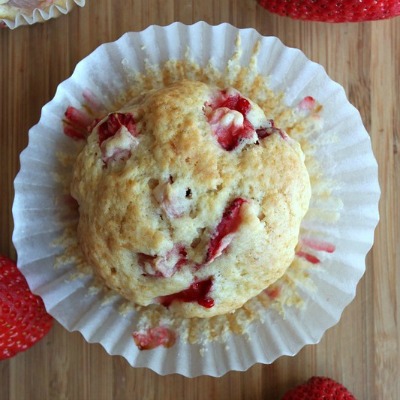 These fresh strawberry muffins are a family favorite. They are so simple to make and something everyone will enjoy.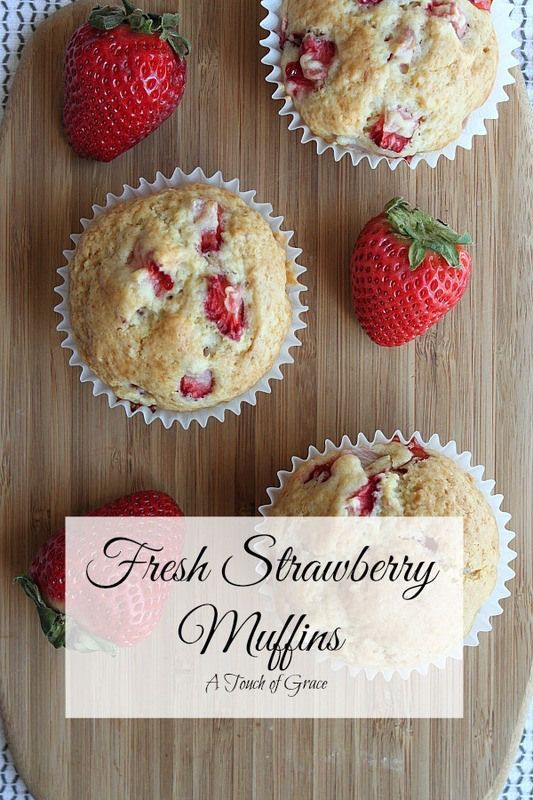 Do you ever taste something and you're like, "Oh. My. Word. This is the best thing I've ever had?" That's what happened to me when I tried these muffins for the first time. Yep, that's right. These fresh strawberry muffins are that good! And I would definitely recommend using fresh strawberries. You can use frozen, but there's nothing like the taste of a fresh strawberry. Costco had a 4 pound flat for $5.99 last week, so I knew I'd be trying to make strawberry muffins at that price!
As a kid, strawberries were my favorite fruit. We didn't get them a lot because my mom thought they were expensive (vs apples, we always had apples. The little tiny red ones that have very little flavor. And green grapes. To this day I still dislike green grapes.). But when I did get them, oh boy was it a treat. I remember dipping them in a little sugar and just devouring them. They were really a favorite summer treat of mine.
This was my first time every trying a strawberry muffin recipe. Yep, first time. And I'm so happy with how they turned out. So, so good!
I may have eaten 2 right out of the oven. I could not stop at one they were so tasty! And I may or may not have had one with my coffee yesterday morning as well because why not? I just can't quit you strawberry muffins!
I diced my strawberries pretty small, but left a few bigger pieces in there to get a good burst of strawberry flavor.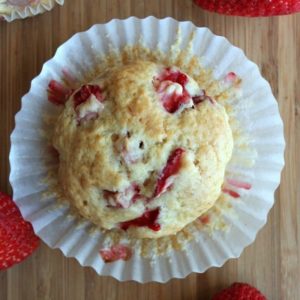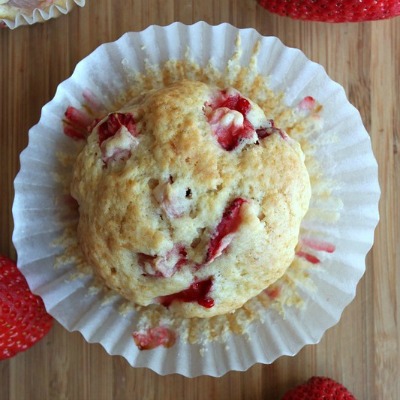 Fresh Strawberry Muffins
By far my favorite muffin to date, these fresh strawberry muffins are the perfect "right out of the oven" muffin.
Ingredients
1

cup + a little extra fresh strawberries, diced

1 3/4

cup

flour

1/2

cup

sugar

2

teaspoons

baking powder

1/2

teaspoon

salt

1

egg

1

teaspoon

vanilla

1/2

cup

milk

1/4

cup

vegetable oil
Instructions
Preheat oven to 350 degrees and line your muffin tin. This recipe yielded me 11 muffins.

In a large bowl, combine flour, sugar, baking powder and salt. Set aside.

In a small bowl, mix milk, oil, egg and vanilla until well combined.

Add the strawberries to the flour mixture and gently mix to coat.

Pour the milk mixture into the flour mixture and stir to combine. Make sure all the flour gets mixed in.

Fill your muffin cups 2/3 full and bake 20-25 minutes, or until toothpick comes out clean.

Let cool in pan 5 minutes, then remove to wire rack to cool completely, or enjoy warm with a cup of coffee or glass of milk.
Notes
Muffins served fresh are the best, but these can be stored in an air tight container up to 5 days.
These are the perfect muffins for a brunch or for breakfast. Or really anytime.
They come out the perfect size thanks to my go to muffin pan. I may or may not have 3 of these pans. And a smaller 6 cup pan as well.
These are my absolute favorite measuring cups. They have been with me for years and always measure everything perfectly.
The perfect strawberry muffin recipe that will have everyone asking for seconds.
Click To Tweet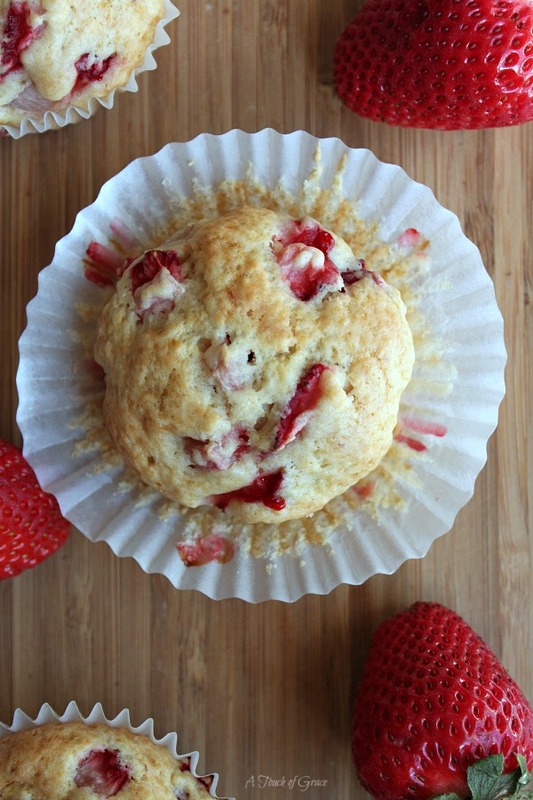 If you like this recipe, check out our Raspberry Chocolate Chip Muffins, and our Homemade Blueberry Muffins. You can find all our muffin recipes HERE.
Enjoy!