There was a time in my life when I was unstoppable. I knew exactly what I wanted to do in life:
Major in business. Check.
Get a good job before I graduate college. Check.
Get my master's degree. Check.
Be a successful businesswoman. Check.
I truly believed in myself and my goals in life. I knew exactly what I wanted for my future and was confident in myself and the fact that I knew I'd get to where I wanted to go.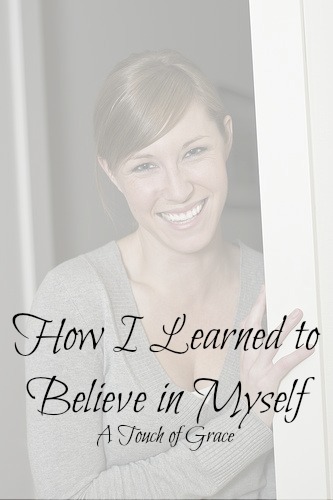 Then something changed. I had my daughter. And I no longer had that drive to be a corporate executive. I no longer wanted to work the long hours and climb the corporate ladder. I wanted to be with my sweet girl. I just didn't know how to make it all work. I knew I was a good businesswoman. I knew how to be successful in the corporate environment. I knew how to survive with the men at my company and was racing them to the top. But I didn't know how to just be a mom, even though that's what I wanted more than anything. I felt like I had no direction in my life. My outlook and what was important completely changed. I decided I wanted to stay home with my daughter, but I didn't know how. That was so foreign to me, being a stay at home mom. And so I just stopped believing that I could do…..anything.
I stopped believing in myself.
I stopped being Tiffany and started being Little A's mom. And K's wife. I'd lost my identity and didn't know how to find the me I wanted to be.
I was so afraid of failing at everything that I just stopped trying. I went to work because I had to, but my heart wasn't in it like it used to be. I did the best I could at home, but my baby was unhappy and so needy that I felt like I was failing at motherhood.
This went on for a long, long time. Until one day, I just couldn't do it anymore. I couldn't wallow in my self pity, wondering if life was going to go in the direction I wanted it to. I realized that if I didn't take accountability for my life and start believing in myself then who would? And why should they if I don't? Then and there I decided that I had to take things into my own hands. I had to start being accountable for my actions and start believing in myself again.
I stopped the pity party and started setting goals for myself, based on my dream of being home with my daughter. I laid out small goals of how I could achieve that dream and still be somewhat of a business woman.
[Tweet "I stopped the pity party and started setting goals for myself. I started to believe in myself again."]
And I'm back to believing.
I'm running down the path I laid for myself, stopping along the way to accomplish small goals I've set that will get me to my end game and my ultimate goal in life: Be an amazing wife and mom. And I've finally learned to believe in myself again.
That doesn't mean I'm not making mistakes as I go. I've made a lot. And I continue to make them. But mistakes aren't always bad. We learn from them. Life is one big trial and error. Those mistakes we make help us learn what to do the next time and hopefully we get it right. If we don't, we keep trying. That's the only way to get where we want to go.
But first you need to believe. You need to believe in yourself and believe that you can. And that you will.
– Know that you are responsible for your own happiness. It doesn't get much more straight forward than that. We are the makers of our own destiny. It took me a very, very long time to realize this and take responsibility for my own happiness.
– Set goals for yourself. In order to believe in yourself you need to set stretch goals that when accomplished, will boost your confidence and give you motivation to set more goals. I've started setting 30, 60 and 90 day goals. It has really helped me regain confidence in myself.
– Take on challenges. The only way you're going to grow to believe you can is by taking on that challenge that you may not want to. Only by challenging ourselves can we start to believe in our abilities. "What comes easy won't last. What lasts won't come easy." If you want your happiness to last you must challenge yourself.
– Make small changes. Small changes have a snowball effect if you stick with them. Making small changes now can lead to something great a year from now. It may seem insignificant at the time, but think of the impact that small change could have on your life 12-18 months from now. It looks pretty good doesn't it? Just start small.
– Know that you're going to fail, and that's okay! Yeah it may suck at the time, but we continue to learn and grow if we make mistakes. You think the Wright brothers didn't make mistakes when they were trying to build the first airplane? It's learning from those mistakes that will help us grow and believe in ourselves and our abilities.
I think that unhappy people are people that don't believe in themselves. They don't know where they are going in their life and are just going through the motions everyday. That's no way to live.
If you're a non-believer I challenge you to take accountability for your happiness and start believing in yourself today. You know you can, you just have to take that first step.