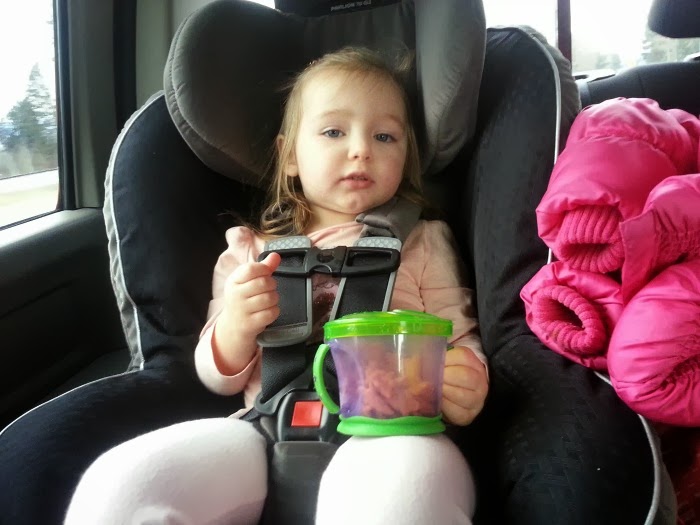 It's Monday. I'm usually ok with Monday's, but we had such a wonderful, relaxing weekend I don't want it to end.
We left around nap time on Thursday to head to our condo in Chelan. It's about a 3 hour drive from our house, so usually Little A can sleep in the car most of the drive.
After a little snack of course. When we left it was around 30 degrees at our house and around 20ish degrees in Chelan, on the east side of the mountains. We were hoping for snow, but as cold as it was the whole weekend (6 degrees in the mornings) it never appeared at the lake.
We love spending as much time as we can over there, even in the winter. It's wine country so we always do some tasting while we're there. And in the summers we have the boats out on the lake and the pool to swim in as well (the lake is freezing cold, even in the summer).
We did a little swimming Thursday night:
Little A is such a water baby. We really need to get her back into swim lessons.
They drain the lake a bit in the winter:
But the view is still beautiful. A little bit of snow on the high hills.
Friday we stopped at 2 of our favorite wineries to pick up our wine and do a little tasting before heading to Leavenworth to meet our new niece!
If you aren't local, Leavenworth is a little Bavarian town in the mountains. It is a favorite place of many to visit, especially at Christmas. The whole town is just magical.
Little A was so excited to meet Baby V.
She was completely enthralled with her, and even got to hold her. She really wanted Baby V to sit in the high chair with her, but we thought that was probably not such a good idea.
It was a short visit, but we'll be seeing them again in a few weeks for Christmas.
On our way back to Chelan we stopped and picked up Huebie's BFF at the airport. Uncle T has been out of the country for 6 years, only coming home to visit every now and then. We're hoping he's here to stay this time.
So we got to spend Saturday with him, swimming in the morning, then doing some manly things:
Like puzzles.
We also had breakfast at our favorite spot, Blueberry Hills. This is my all time favorite breakfast spot. We go at least once every time we go to Chelan. The food is fantasic and it looks out over there blueberry fields, so you can watch them shake the berries off the bushes in the summer. Pretty cool process. And this time we got there early so we were the only ones in the restaurant!
They have a play area under the stairs for the little people:
Little A loves her some horses! She's her mother's daughter that's for sure. I stocked up on my blueberry jam while there as well.
We did some more wine tasting after Little A's nap:
She's a great wine taster. 😉 Luckily most of the wineries we frequent have places for her to sit and read or watch a movie.
And the views once again:
Benson Winery is up on the top of a hill and looks out over their vineyard and down to the lake.
We left early yesterday to get home in time for the Hawks game. We took a loss, but we're still 11-2, so I can't be too upset. I got in a few miles after that, running to meet Huebie and Little A at the grocery store.
I love quiet, uneventful weekends.
And the winner of my favorite things giveaway is Jessica!
I'll contact you, Jessica, and get your prize to you.
Have a great day y'all!