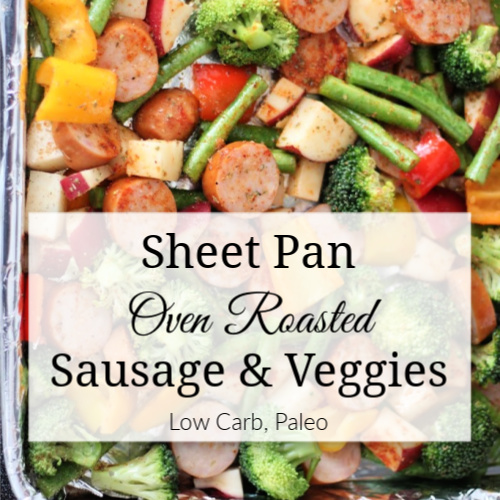 This oven roasted sausage and vegetable recipe requires only one pan, is quick to make, and will keep your family satisfied.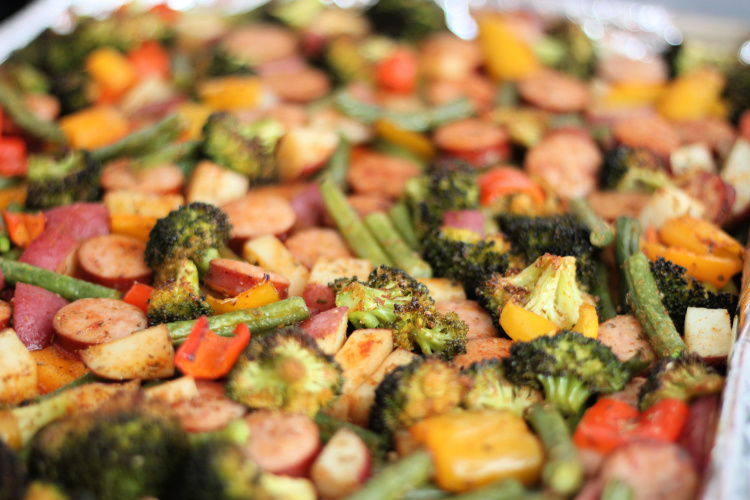 I've been wanting to make this recipe for a while. I love easy to make recipes that require little time, and few dishes. The fewer dishes I dirty in the kitchen the better. I'm sure you agree. You'll notice that a lot of the recipes I make are like this. One pot-or pan in this case- meals are my jam.
I've been craving sausage lately. I don't know what it is, but sausage mixed with veggies or rice has been on my mind most days. I love recipes that have complex flavors. Years ago, I was a chicken and broccoli girl, when the hubs and I first started meal prepping. But now, I just can't do that every day anymore. I need a variety of flavors in my meal. That's why this sausage and veggie sheet pan dinner is perfect for my needs.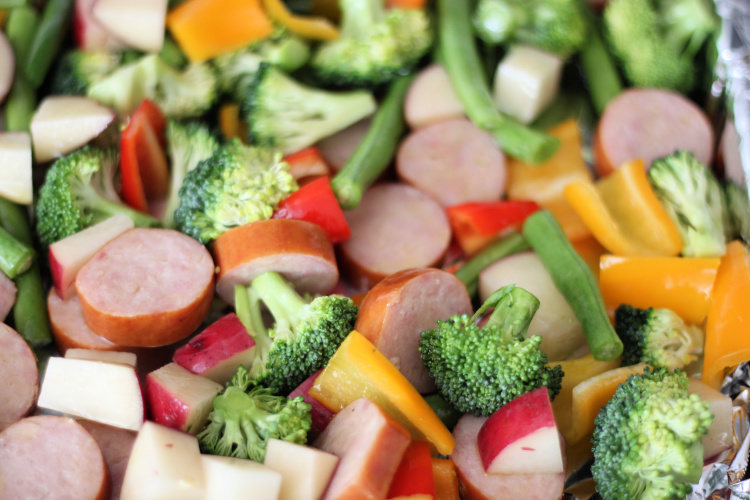 This oven roasted sausage and vegetable recipe takes 10 minutes to prep, 30 minutes to cook, and you're ready to eat! Honestly, the less prep time the better, in my opinion.
What I do recommend before you get started is to get yourself a 15×21 inch sheet pan. I went to the store with every intention of grabbing one….and walked out empty handed. I totally forgot the sheet pan! So my veggies were a little crowded. A larger pan (like this one that I have already ordered) is really a must. The more space on the pan the better roast you will get on your vegetables.
This oven roasted sausage and vegetable recipe is so tasty. I may make it again tomorrow.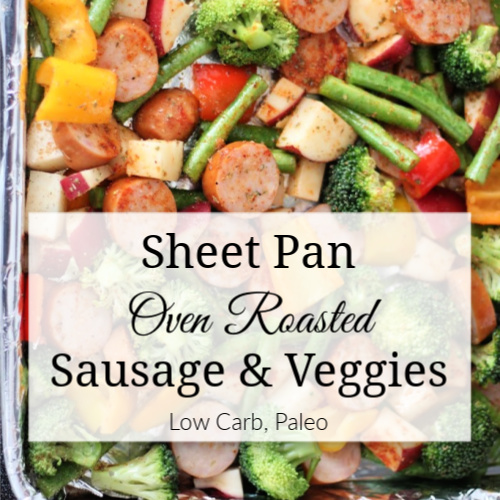 Oven Roasted Sausage and Vegetables
Ingredients
13

oz

chicken sausage

I prefer smoked, but get whatever chicken sausage you like

2

small baby red potatoes

3/4

pound

fresh green beans

1

head broccoli

7-8

mini sweet bell peppers

or 1 large red bell pepper

6

tablespoons

olive oil

1

tsp

garlic powder

1

tsp

smoked paprika

3/4

tbsp

dried oregano

1/2

tsp

salt

1/2

tsp

pepper
Instructions
Preheat oven to 400 degrees. Line 15x21" sheet pan with aluminum foil or parchment paper.

Chop red potatoes into small chunks.

Trim and halve green beans.

Chop broccoli and peppers.

Coin the sausage into ~1/4" thick slices.

Place all ingredients in a large bowl.

Add olive oil and toss to coat.

Place ingredients on sheet pan.

Sprinkle spices onto the sausage and veggies. Toss again to coat.

Bake for 15 minutes. Remove from oven and stir. Put in oven for another 15 minutes, until veggies are crisp and slightly tender.
Notes
You can serve as is, or over rice or quinoa.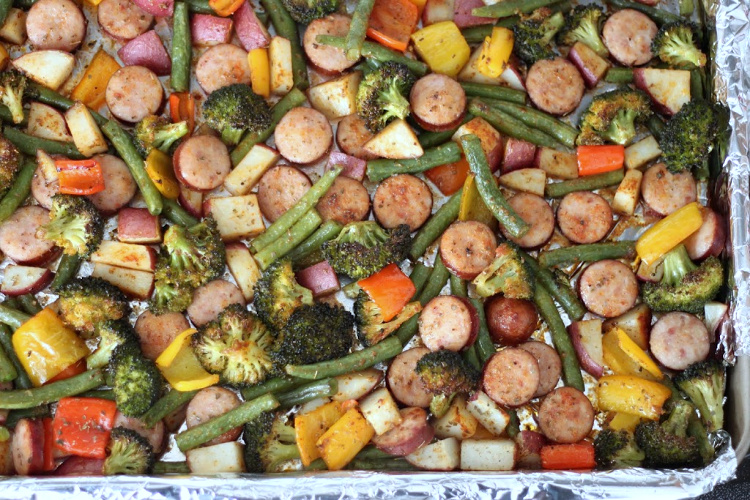 I may or may not have eaten half the pan when this came out of the oven. Okay I totally did. It was so good. The smoked paprika gives it a little smoky flavor, which I love. It's like a smoky/garlic-y flavor to the meal. So tasty! If you just have regular paprika that works fine as well. You just won't have the smoky flavor. Unless you get a smoked sausage, which you totally can. 😉
Like It? Pin It!
Enjoy!