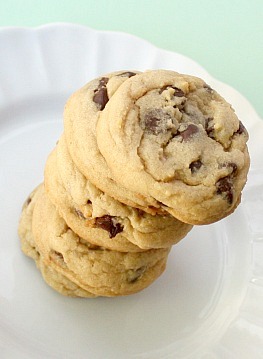 I really didn't have a post ready for today. The table and chairs I'm redoing for baby A are taking longer than expected. I just need about 4 or 5 more hours in a day and I'd be good. I think we all feel like that at times though right?
So I decided to share with you my very favorite chocolate chip cookie recipe! Over the years I've made me a few chocolate chip cookies. I think in college I made them on a weekly basis (thank GAWD I walked to class. I don't want to know what my a*s would have looked like otherwise). I consider myself somewhat of a chocolate chip cookie aficionado. I have tried countless recipes to find the best one. I have tried a few of my own recipes but I just couldn't get them as fluffy as I'd like.
But now, thanks to Kelsey over at Apple A Day, I have found what I consider THE BEST, fluffiest, chocolate chip cookie recipe on the planet!
I bring you:
Best-Ever Chewy Chocolate Chip Cookies!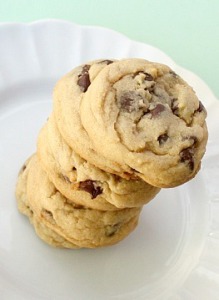 I promise this recipe won't fail you. These cookies have the perfect amount of soft chewiness and the perfect amount of chips. I don't like a pound of chocolate chips in my cookies, but I like a decent amount of chocolatey goodness. This recipe delivers people!
Click HERE for the Best-Ever Chewy Chocolate Chip Cookie recipe.
Kelsey has a few other chocolate chip cookie recipes on her blog that I have yet to try, but these Competition Chocolate Chip Cookies look fantastic!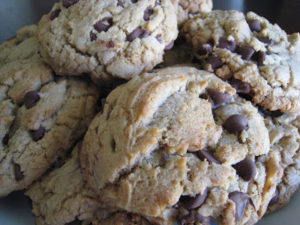 You can get this recipe
HERE
.
And if you like cookies with nuts (I'm usually a no on this, but hey, it's a cookie, I'll try anything once…..or twice) her Chocolate Chip Cookies with Hazelnuts look thick and delicious.
You can get this recipe
HERE
.
Now go my children and make some chewy chocolate chip cookies! I promise they will be one of your go to cookies from this day forward!