Good morning! I was really really hoping to have baby A's table and chairs done once again last night. But (surprise, surprise) it just isn't quite finished. Story of my life this week I swear. So I thought I'd prep you before I do the final reveal. This adorable table and chairs……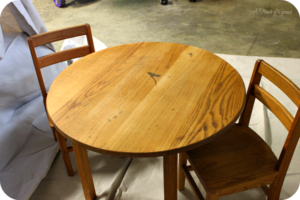 Was mine when I was a kid. Thanks to my parents' affinity for saving everything, I have quite a few items from my childhood that I've been able to pass to baby A. This table and chairs included. Although it is super cute in all it's oak glory, I was a little marker happy as a kid and left a beautiful black mark, or 2, on the table top that just won't come off. And I noticed a few old crayon marks on the legs as well. Woops!
So I thought it would be cute to paint the table and chairs a fun color!
Check back next week. I really really hope I'm able to show you the final product!