Friday is upon us again. And the first Friday of the fall season. I think today calls for a pumpkin spice latte.
We're finally getting all of our fall decor put up around the house! There are still a few things I need Huebie to get down for me, but I wanted to show you the super easy wreath I made.

It only took me about 10 minutes or so to put this together. You can find everything you need at any craft store. I got my wreath and flowers at Michaels. The burlap and letter H are from Hobby Lobby.

I first tied the burlap bow so I could then stick the flowers and berries around it. Using the burlap runner was much easier than trying to cut burlap fabric to size.
I then cut the flower bunch apart so I could place each flower individually where I wanted. The flowers just stick right into the wreath. No need for glue or wire to keep them in place.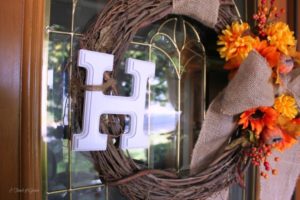 I spray painted the H and wrapped twine around it and the wreath to hold it in place. I think the twine gives the white H a little fall touch as well.
I used some of the extra burlap runner to hang the wreath from the top of the door.
I really wanted to keep it simple this year.
Happy fall y'all!