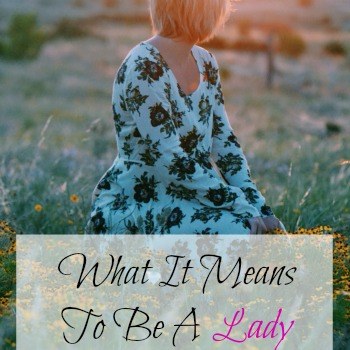 Tradition seems to be lost on young women today. Here's what it really means to be a lady.
I've been reading the book Bringing up Girls by Dr. James Dobson, which focuses on raising a daughter that is healthy, happy, secure in her identity and prepared to face the challenges that young woman face today. It's a Christian-based book and has some really great lessons that I wish I'd been taught as a young girl.
One chapter in particular struck a cord with me. Dr. Dobson shared an article that a columnist for the Wall Street Journal wrote about being a lady and how she felt on the topic. She gave her opinion on how, in today's society, it's creepy to be a lady, and shared some experiences she's had that would embarrass the angels, as her op-ed piece is so properly entitled.
There are some things in there that I have to say are just part of living in the 21st century (security screenings at airports for example), but for the most part I couldn't have agreed more with her assessment.
Merriam-Webster's Dictionary defines a lady as a "woman who behaves in a polite way." It also says a lady is a "woman of refinement and gentle manners." Dictionary.com defines a lady as a "woman who is refined, polite and well-spoken."
For me, the definition of being a lady is having self-respect, class and etiquette, which includes good manners and politeness.
So why is being a lady so lost on today's generations? I want my daughter to have self-respect, be polite, well-spoken and have good manners. And I would hope that most parents would want that for their children as well. So why is it considered old-fashioned to act like a lady? Why do we view women we consider ladies as weak, or meek? And why is it so lost on men to treat a lady with respect and act like a gentleman?
Now I'm not saying I think women need to be 2nd to men, or that a woman's voice and opinions shouldn't be heard. I think being polite, well-spoken and having good manners is something we all should do! Not just ladies. And I think raising our sons and daughters in this way will keep our children from becoming rude, inconsiderate a-holes honestly (I know, that was so unladylike like of me to say. My apologies).
Because we all know ladies are not born. They are made. Children and young adults are shaped by their parents and grandparents and those they look up to and respect.
My senior year of high school I was a princess in a county-wide festival. It has always been a more conservative festival, just recently having stepped out of it's more traditional ways of dressing (think hoop skirts and pleated khakis with polos.). Besides a scholarship and friendships, the best thing I gained during that year was learning proper etiquette. We had etiquette class and learned proper place settings, how to eat, how to hold a glass and sit properly. We learned lady-like manners.
I'm also very traditional when it comes to the way a man should treat a woman. I think a man should open the door for a woman, walk on the sidewalk closest to traffic and pull out her chair at dinner. That's the way I was raised and what I was taught to expect from a man.
My grandma and grandpa were the perfect examples of a lady and a gentleman. Growing up they had what you would consider traditional gender roles. My grandpa was the one who went to work and my grandma stayed home with my mom and 2 uncles. That's what my grandparents wanted for their family. But my grandpa never treated my grandma like she was beneath him. He treated her with respect, kindness and love. And she expected it of him. He always opened the door for her. He valued her opinion and they were equals when it came to making decisions on the kids, home and finances. They had good morals and a strong foundation for a relationship built on mutual respect, trust and love.
I say we need to embrace those "old-fashioned" traditions and start acting like ladies. Elegance and confidence and treating others with respect, as well as having self-respect, isn't something that should be lost on women today. I'm not saying these things because I'm some virtuous woman and I behave like a lady 100% of the time. Lord knows I've embarrassed the angels a few times in my life. But I do think learning the basics of how to act like a lady is something all of us women should strive for, and something we should teach our daughters as well. Take a cue from Kate Middleton ladies.