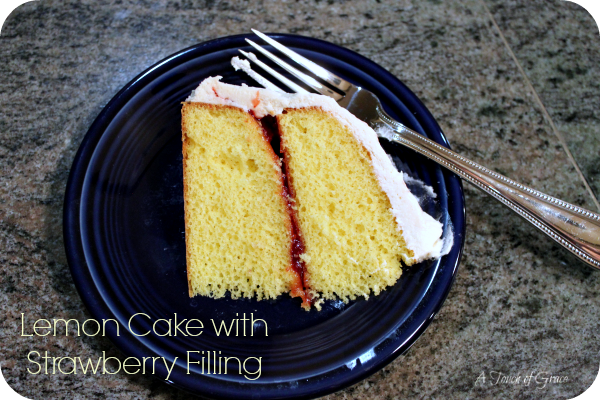 I realized last night that I haven't posted a recipe in quite some time. Shame on me! So instead of my usual Weekend Rewind, I'm going to share with you a yummy, super easy cake that I made last week.
I don't usually use box cake, but I was making this to see if I like the flavor for Baby A's 2nd birthday. And it actually turned out pretty good!
Ingredients for cake:
* Lemon cake mix
* Eggs
* Vegetable Oil
* Water
* Organic Strawberry Preserves, chilled
Ingredients for frosting:
* 4 cups powdered Sugar
* 1 cup unsalted butter
* 1 tbsp pure Vanilla
* 4 tbsp milk
* 1/4 tsp salt
Directions for cake:
* Follow instructions on box for the cake. I used 8″ round pans.
* Let cake cool completely so the preserves don't run when you start layering.
* Cut the top off one of the rounds so the layers will sit flush together.
* Spread the chilled preserves over the bottom layer of the cake. Spread it thick so you get a good amount of filling.
* Add the top layer and let the cake chill in the fridge while you make the frosting.
Directions for buttercream frosting:
* Beat butter in stand mixer with paddle attachment (hand mixer works as well) for 2-3 minutes.
* Add powdered sugar and mix on low until sugar is incorporated.
* Add vanilla, salt and milk and mix on medium speed for 2-3 minutes.
* NOTE: If frosting is too soft, add 1/2 cup more sugar. If the frosting needs to be thinned out, add 1 tablespoon of milk.
* Frost cake and you're done!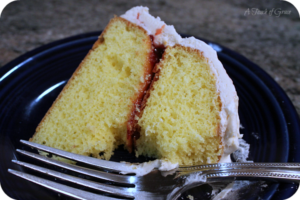 I hope everyone has a wonderful week!