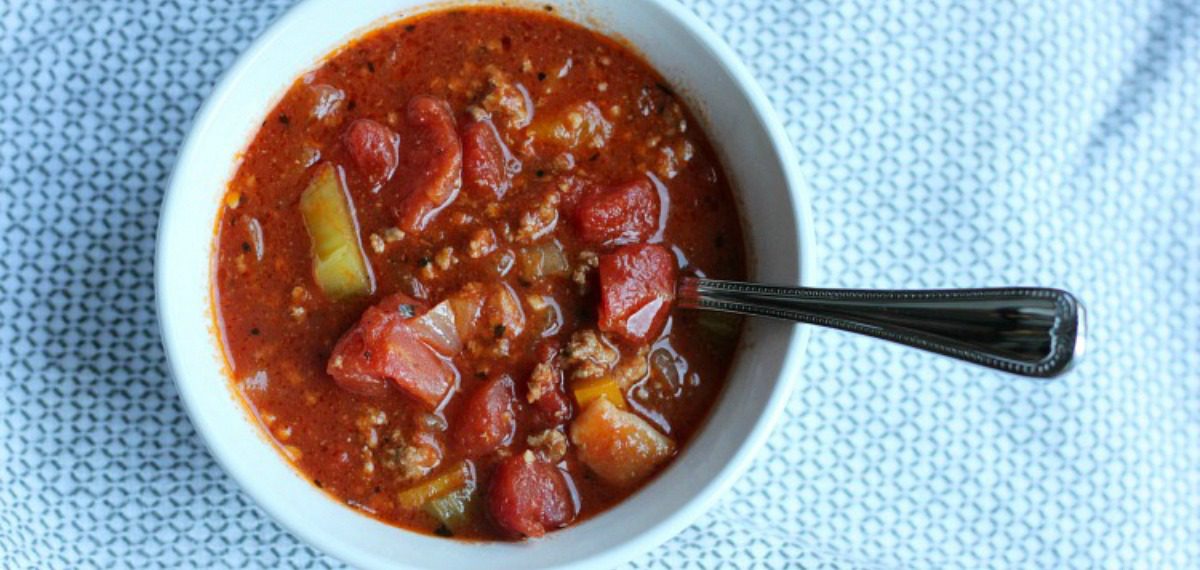 This paleo chili recipe will have you begging for seconds, and is great leftover the next day. Plus it's Whole30 approved!
When we started eating paleo a few months ago, I was nervous about what I would cook. I think I was just overwhelmed with the limitations at first, but once I started trying new things, I realized how easy it is to eat this way!
I've discovered a few recipes that I have as my go to. Recipes I can easily make that the whole family will enjoy, and I can adjust to my liking. This paleo chili recipe is by far my favorite paleo recipe to make. It takes little time, the ingredients are things we have on hand, and it makes a ton of leftovers that we can enjoy for a few days!
You know how there are some foods that taste better the second day? Well, this paleo chili is one of them!
I also think the longer cooking time for this recipe is a must. We use both our stock pot (we have one similar to this), or we sometimes use our Crock Pot (THIS ONE). The longer cook time really brings out the flavors in the meat and veggies.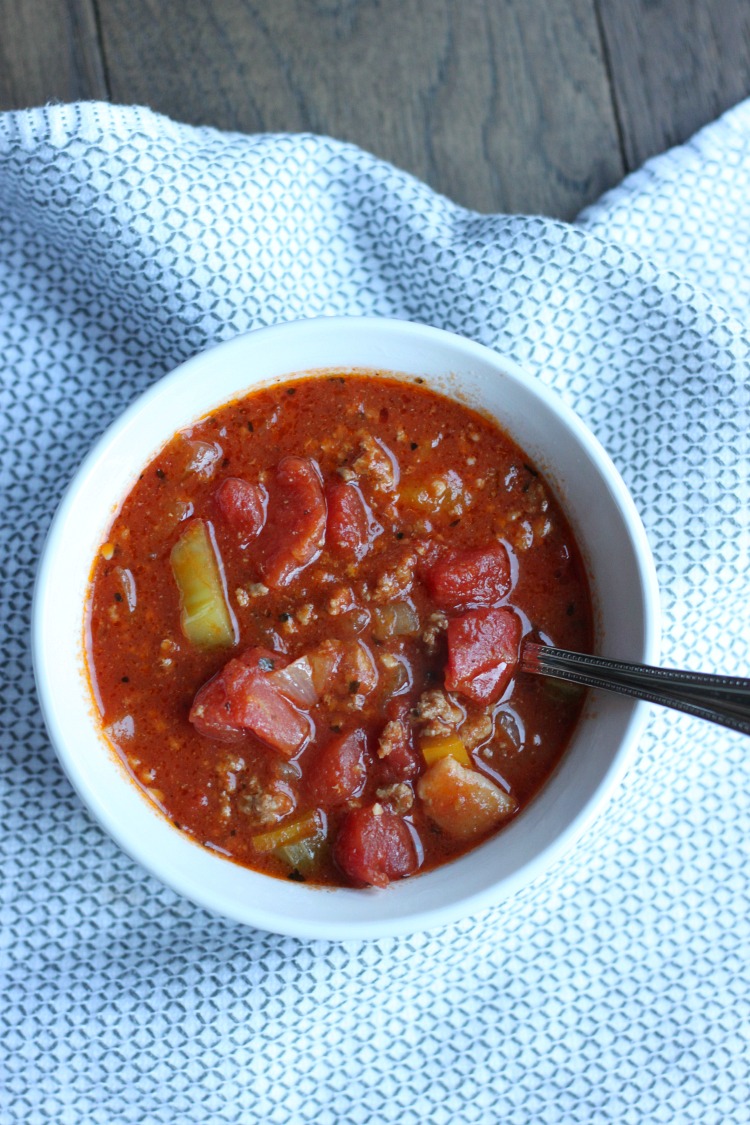 I love that it has a variety of meats, but if you don't happen to have one of them on hand, it doesn't detract from the flavor. But the bacon. I feel like the bacon is a must. Everything really is better with bacon, isn't it?!
We love to use this paleo chili recipe as meal prep for the week. It makes enough for both the hubs and me to have a few days worth of lunches.
This recipe is also Whole30 compliant for my Whole30 friends out there!
Here is my absolute favorite paleo chili recipe.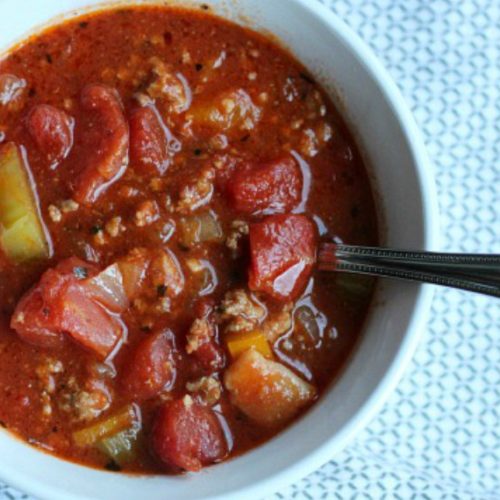 Paleo Chili
Ingredients
1

pound

grass-fed beef

1

pound

ground sausage

1/2

pound

bacon

make sure there's no sugar added, chopped

2

16 oz cans diced tomatoes in juice

1

6 oz can tomato paste

1

yellow onion

diced

1

bell pepper

your choice of color, diced

3

celery stalks

chopped

2

cups

beef broth

homemade or use a compliant brand

1

tbsp

minced garlic

1

tbsp

paprika

1

tbsp

ground cumin

1

heaping tsp dried basil

1

tsp

onion powder

1

tsp

garlic powder

1

tsp

Pink Himalayan sea salt

1

tsp

fresh ground black pepper

1/4

tsp

cayenne pepper

more if you like it really spicy
Instructions
In a stock pot on medium-high heat, cook beef and pork until brown and crumbly. Drain excess liquid.

In a frying pan, cook chopped bacon until crispy. Add to stock pot.

In the same pan you cooked the bacon, cook onions, bell pepper and celery, until onions are translucent, about 5 minutes.

Add to stock pot.

Add canned tomatoes, tomato paste and beef broth to pot. Stir.

Add minced garlic, paprika, cumin, dried basil, onion powder, garlic powder, salt, pepper and cayenne pepper. Stir to blend.

Cover and simmer on medium-low for 1 hour.

After 1 hour, taste and adjust salt and pepper to liking. You can simmer longer if desired. The longer it cooks the more time the flavors have to meld together.

Remove from heat and serve.

Refrigerate any leftovers.
I omit the cayenne pepper sometimes if I know my daughter will be eating it. She is still not a fan of spicy foods, but someday I know she'll love the spice!
If you like it extra spicy, I'd up the cayenne pepper to a 1/2-3/4 teaspoons. That will give it a little more kick!
Even my parents loved this recipe! I've made it for them a few times now and they both asked for seconds! I think this paleo chili recipe may have helped convert them over to the paleo lifestyle. I call that a win!
LIKE IT? PIN IT!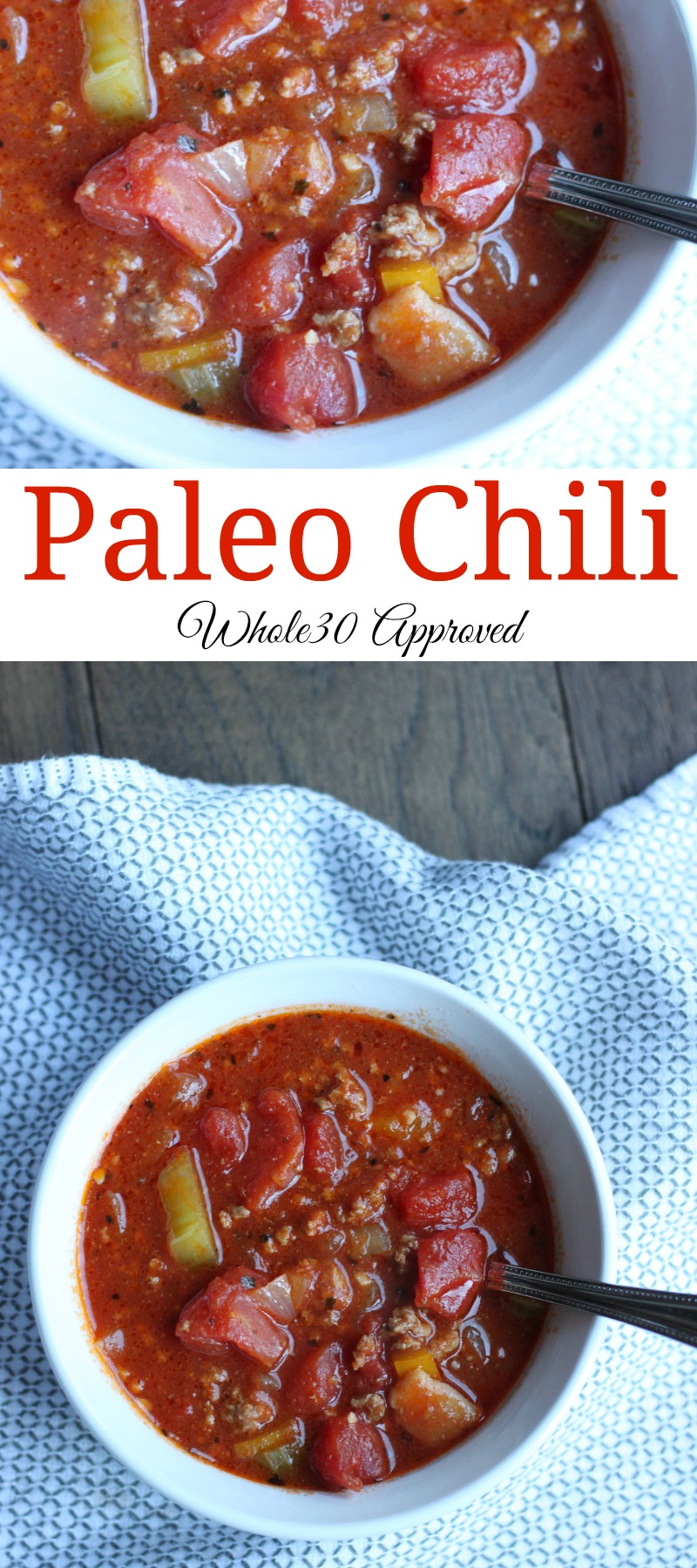 Paleo chili is now on our weekly menu rotation. If you try it let me know what you think!
Have a great week!