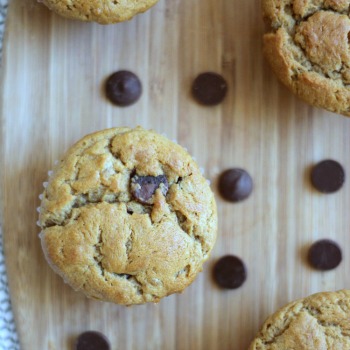 I am slowly but surly baking more these days. My muffin recipes won't be a weekly thing; hell they may not even be a monthly thing. I'm on a kick with all things chocolate chip, banana and peanut butter (did you see my chocolate chip banana muffins, and my peanut butter banana muffins?). So it only made sense that I combine all three into one muffin recipe, right? Okay maybe not, but that's what I did! These peanut butter banana chocolate chip muffins are a new family favorite.
Here's the thing about banana: it's a natural sweetener for so many things! I use bananas in smoothies, overnight oatmeal and in baking all the time. The natural sugars in banana are easily released when mashed or heated and it makes for sweet perfection.
The other thing I like about bananas is if you do use them in cooking, but don't want the recipe to taste like banana, their flavor profile is so subtle that you can hide the flavor if you want. My peanut butter chocolate protein smoothies almost always have a banana but you can barely even taste it.
Also, both my hubby and my daughter enjoy banana flavored baked goods, and peanut butter, and chocolate, so everyone in our house was satisfied with this recipe.
I obviously have a thing for muffins (maybe it's an addiction, I dare not go for a diagnosis), but I make them for everyone to enjoy. If my hubby doesn't like them, I probably won't make them again. Same goes for my daughter. Because lord knows I will not be eating them all myself. And most of the time I send them to work with the hubs. I send all my goodies to work with him. It helps me gauge how good the recipe is. If a stranger will eat a peanut butter banana chocolate chip muffin and rave about it, then the recipe is probably a winner. My hubby is usually pretty honest about what he likes and doesn't like, but I know his palette. So I always like to get an outsider's opinion.
Oh! And did I tell you that I'm only using dark chocolate chips or chunks in my baking now? They give my recipes a great chocolate flavor and they are wayyyy lower in calories than semi-sweet chocolate chips, so it was a must for me. If you haven't made the switch I highly recommend it!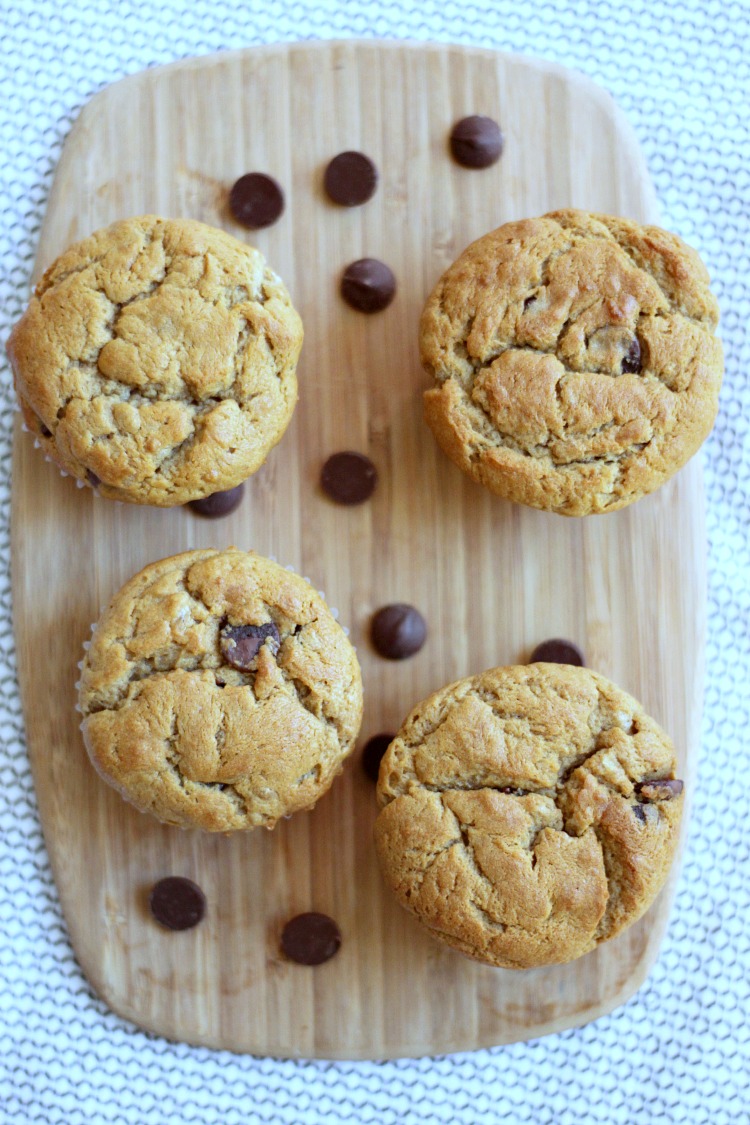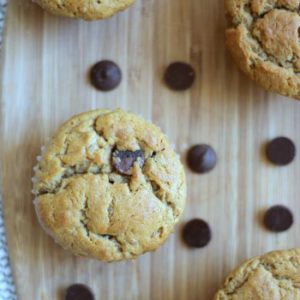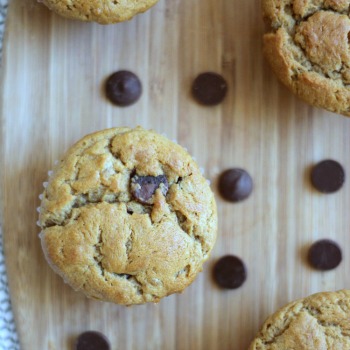 Peanut Butter Banana Chocolate Chip Muffins
Ingredients
3

ripe bananas

well mashed

1/2

cup

creamy peanut butter

6

tablespoons

butter

softened

3/4

cup

light brown sugar

1

egg

1 1/4

teaspoons

vanilla

1 1/4

cup

flour

1

teaspoon

baking powder

1

teaspoon

baking soda

1/2

teaspoon

salt

1 1/4

cups

dark chocolate chips or chunks
Instructions
Preheat oven to 325 degrees. Lightly grease muffin tin or line with cupcake liners.

In a mixer with paddle attachment, combine mashed bananas, butter, peanut butter and brown sugar.

Add in egg and vanilla and mix.

Add 1 cup flour, baking powder, soda and salt. Mix until just moistened.

In a small bowl, mix chocolate chips and 1/4 cup flour, just to coat the chocolate chips (this keeps them from falling to the bottom of the muffins.

Using a spatula, fold in chocolate chips.

Divide batter evenly among the 12 cups. Batter should fill the cups all the way full.

Bake 22-25 minutes, or until tops are golden brown and toothpick comes out clean.

Allow muffins to cool 10 minutes in pan, then remove to wire rack to cool completely, or serve warm.
Notes
If you don't have dark chocolate chips you can substitute semi-sweet.
If I know I'll be using my mixer, I first add the bananas and let the mixer do the mashing!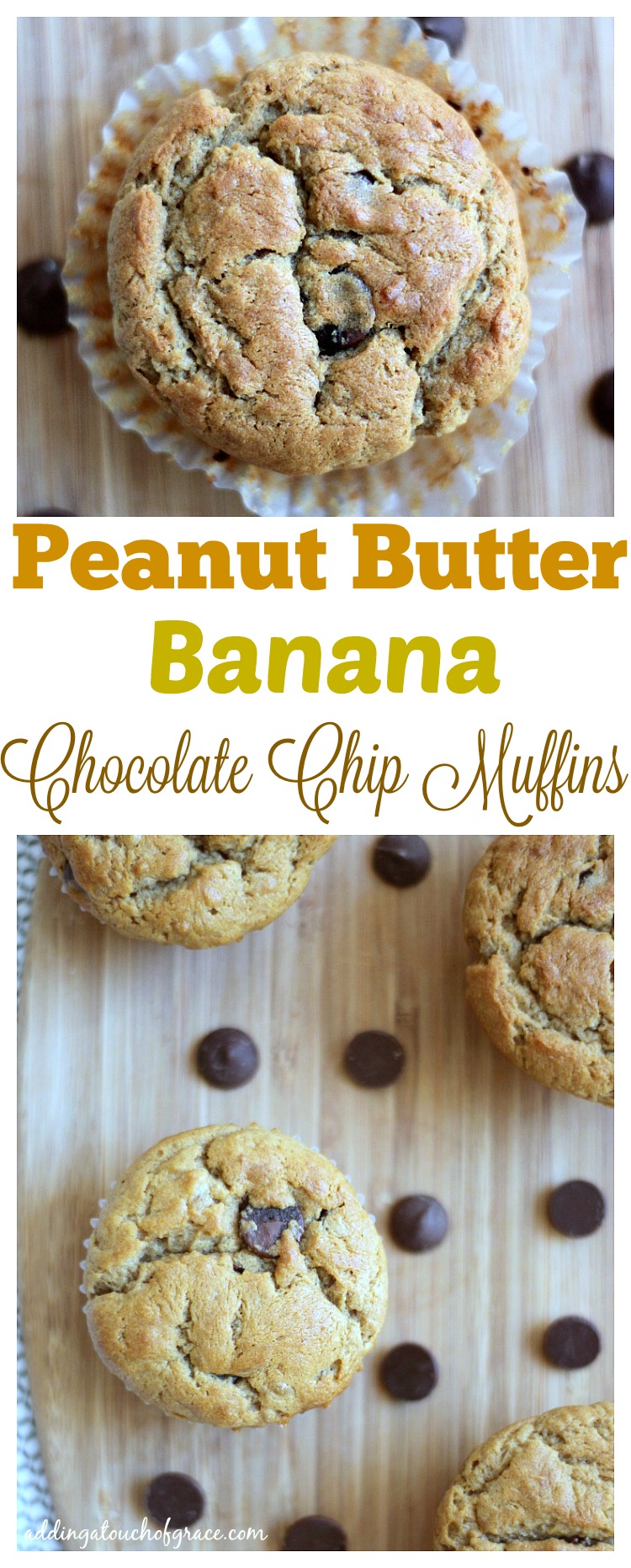 Enjoy!