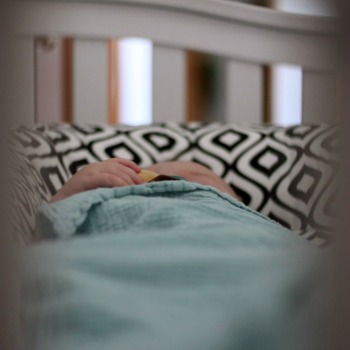 Yesterday EJ turned 5 months old! 5 whole months have gone by with this little stinker bringing us smile and coo after smile and coo. We have been so fortunate to have such a happy and content baby.
When I was pregnant with him, one of my biggest worries was that he would be a terrible sleeper like his sister. Little A didn't sleep through the night until after her first birthday. For the first 6 months she woke up every 45 min-1 hour. When we transitioned her to her crib and started sleep training, that number jumped to about every 2-3 hours. It wasn't until 15 months that she slept through the night.
When we brought EJ home from the NICU, we were told to set an alarm to wake him up every 3-4 hours to eat, until he regained some of the weight he lost (he lost about a pound the week we were in the NICU). I left there chuckling to myself thinking, "Yeah right, I'm sure we're not going to need the alarm." But after night one, the hubs and I would wake up to the alarm going off, and a soundly sleeping baby.
This continued each night until he'd regained the weight and we no longer had to wake him. At 3 weeks old he slept from 7 PM to 4 AM before he woke to eat. Not only was I in shock but in pain; my boobs were killing me!
Ever since then he's been our champion sleeper. We transitioned him to his crib at around 2 months because he seemed so uncomfortable in the pack n play in our room. This broke my heart at first because I wanted him in there with us a bit longer, but he slept so much better in his crib (and so did we) so in the end it was the right decision.
Then around month 3 he started to wake up more during the night. He'd go down around 7 PM, then wake up around 11 or midnight, again around 3-4 AM, then at 6 AM where we were so exhausted we'd bring him into our room until around 7:30. I cursed the dreaded 4 month sleep regression, worried that he'd turned into his sister and that it was just going to continue like this.
Around this time was when we got the Dock A Tot. I'd seen reviews of it floating around the blogosphere so I figured I'd give it a shot and see if it would help us get our wonderful sleeper back.
Now, I can't say that the Dock A Tot was 100% the reason EJ started to sleep better. The first few nights we put him in it his sleep didn't improve. I was worried we'd wasted our time with trying this thing out. But slowly he began to sleep more and more each night and finally, after a week or two, he was back to waking just once a night to eat.
The thing I love the most about the Dock A Tot is that we can easily take it with us when we travel. This was a big selling point for me. We seem to be away from home quite a bit, so anything we can do to alleviate any "sleeping away from home" issues is something I am on board with.
We decided to go with the Dock A Tot Grand, in hopes of getting longer use out of it. I'm glad we did as think this will be a great sleep solution for him for the next few years.
Not only does he enjoy sleeping in it, but he loves to kick it when I'm working. I'll haul it into our room or the office and he'll chill while I get some work done. He is totally content watching mama from his little nest.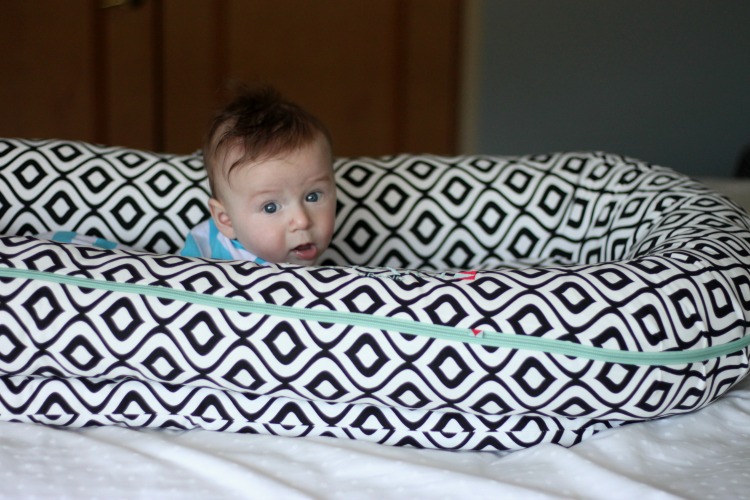 So do I think the Dock A Tot lives up to the sleep miracle hype? I think it depends on the child. EJ was already a really great sleeper, but we do have nights that he wakes up multiple times; albeit not like I was worried we would. I do love the portability of it and how it keeps his sleep consistent, especially when we're traveling.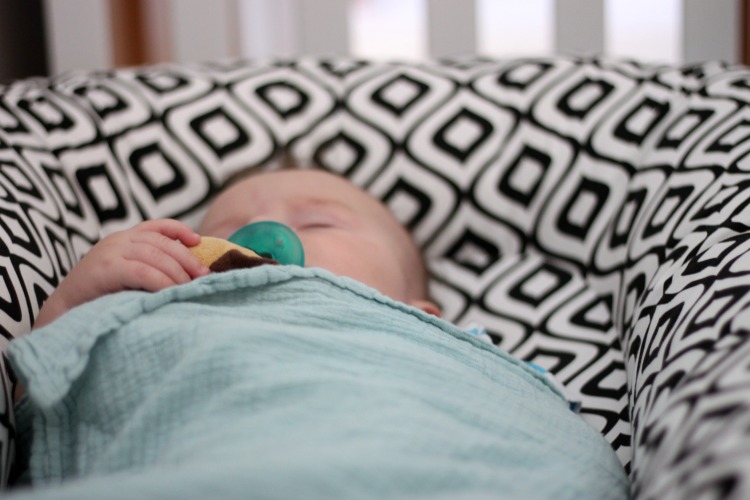 *I was provided the Dock A Tot in exchange for this review. All opinions are 100% my own.
Do you have a Dock A Tot? Has it helped your kiddo sleep better at night?