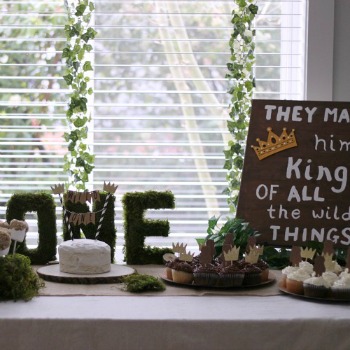 A few weeks ago we celebrated our sweet baby boy turning one with a Where The Wild Things Are birthday party. Here's the details!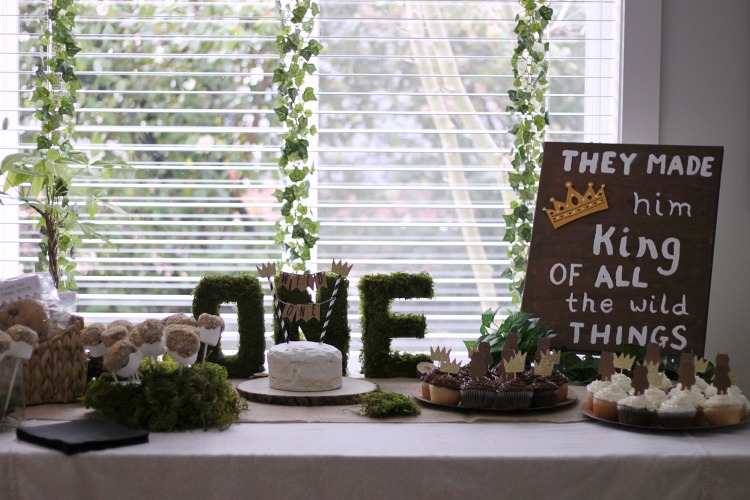 I still can't believe our boy has been one for almost a month now. We celebrated his first birthday surrounded by our family and friends and it was perfect. We all know birthday parties the first few years of a kids life are more for the adults than the kids. So I always make sure I focus on the details that the adults will love and enjoy.
I've been feeling like this may be my last big party, so I wanted to go all out. Although, my daughter keeps planning out the themes for her next 5 birthdays, so there may be more big parties in my future…
I chose a Where The Wild Things Are theme a while back, and instantly started scouring Hobby Lobby, Michael's and of course Etsy for some great inspiration. Luckily I was met with a plethora of ideas and the most adorable accessories you could imagine. My goal with most parties is to let everyone know the theme with the invitation.
*There's a complete list of sources at the end of the post.
I went with a black and gold, and green and brown color scheme. I know, it may seem sort of weird, but it all turned out fabulously! I love the book "Where The Wild Things Are" and all the little quotes. I was able to incorporate quite a few into the party decor.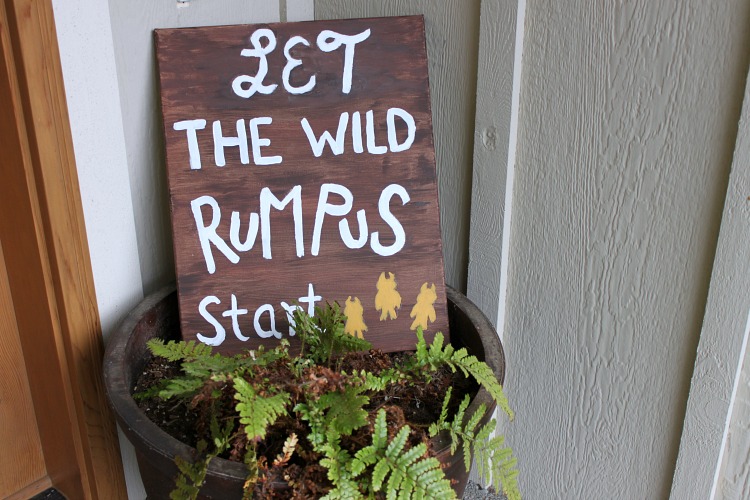 Guests were greeted with this sign as they walked up to the house. My mom made both this sign and the one on the dessert table. She is super talented.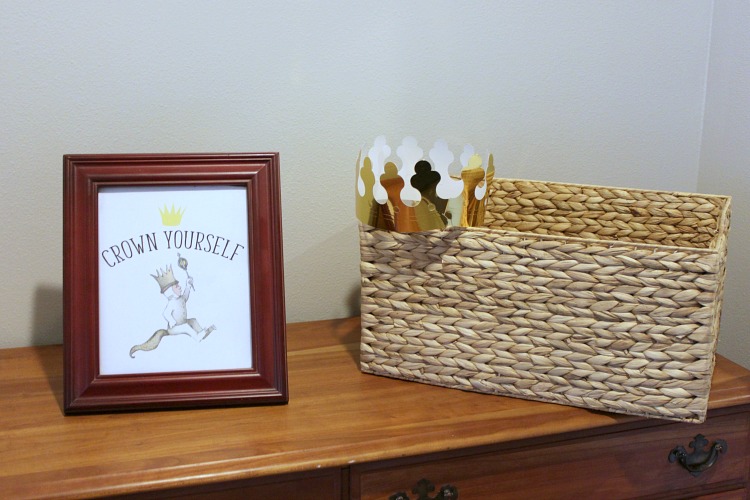 Guests were also asked to crown themselves upon entry. The kids loved this part! I also had an area for them to make monster faces on paper plates with popsicle sticks that they could hold up and play monster games with.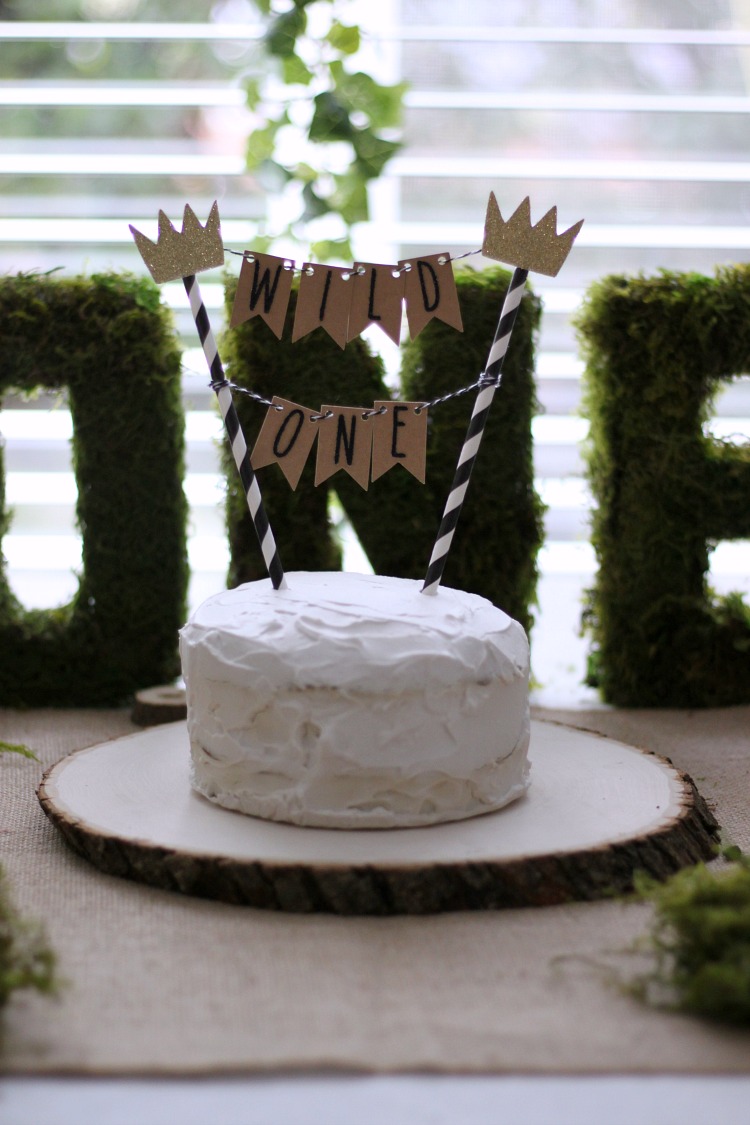 How cute is this little cake bunting?! Candace from Glitter Designs Co. was gracious enough to send it to me for the smash cake. She also made the adorable monster and crown glitter cupcake toppers!
I made both the smash cake and cupcakes myself. I chose a healthy smash cake recipe for EJ, which included a coconut cream frosting.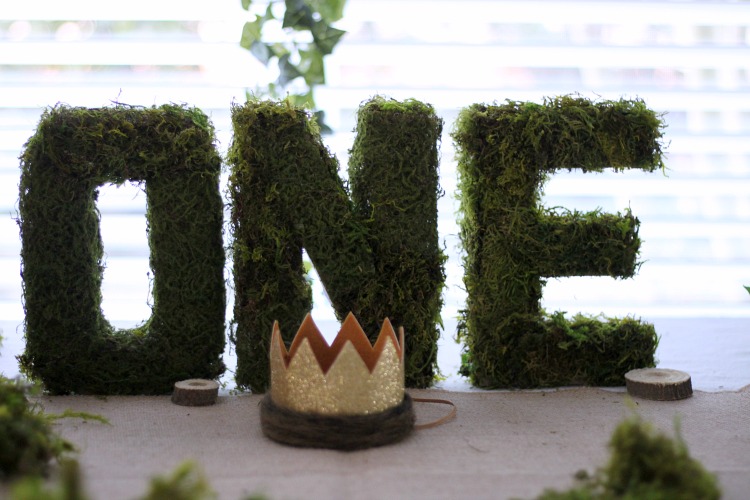 It took me a sweet forever (and a fight with the hot glue gun) to cover the letters in moss. But they were my favorite detail from the party.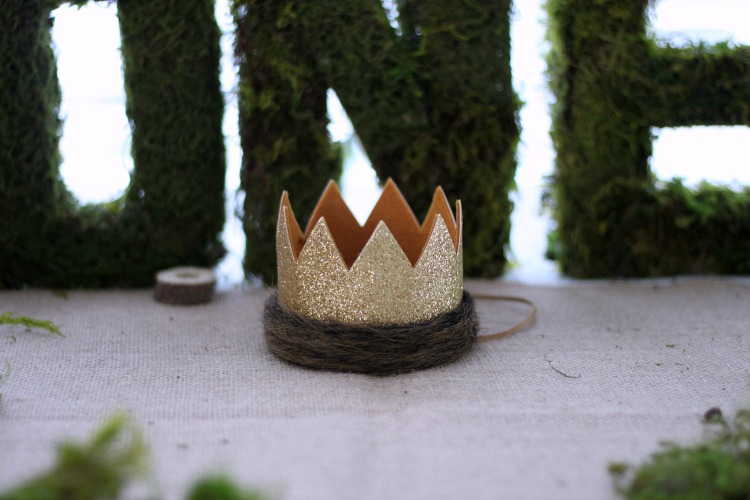 Seriously, how adorable is this little crown?!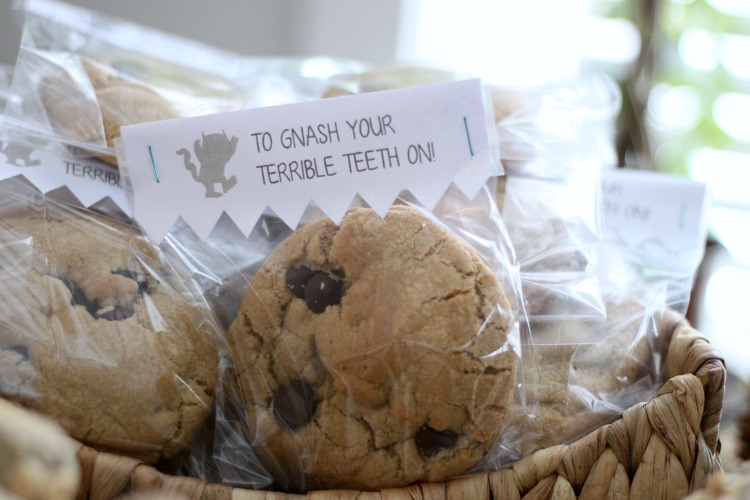 Guests were able to take giant chocolate chip cookies home with them as favors. They tasted amazing! I'll share the recipe on here at some point.
I went with a Hawaiian theme for food, and did Hawaiian ham & cheese sliders and Hawaiian macaroni salad. We also served wild fruit and veggies, along with a "moss" ball, aka a cheese ball covered in parsley, and crackers.
The swamp water was delicious, a combination of lemonade, pineapple juice, lemon-lime soda and lime sherbet. There was also beer and wine, because there's no way I'm having a birthday party without enjoying a glass or two of vino.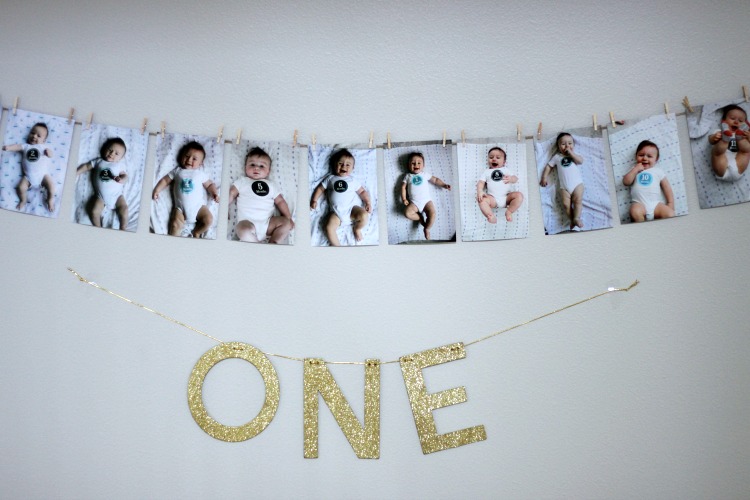 I made a banner like this for my daughter's shabby chic first birthday party, and she still has it hanging in her room. I see this and think after month 4 EJ looks exactly the same, just bigger.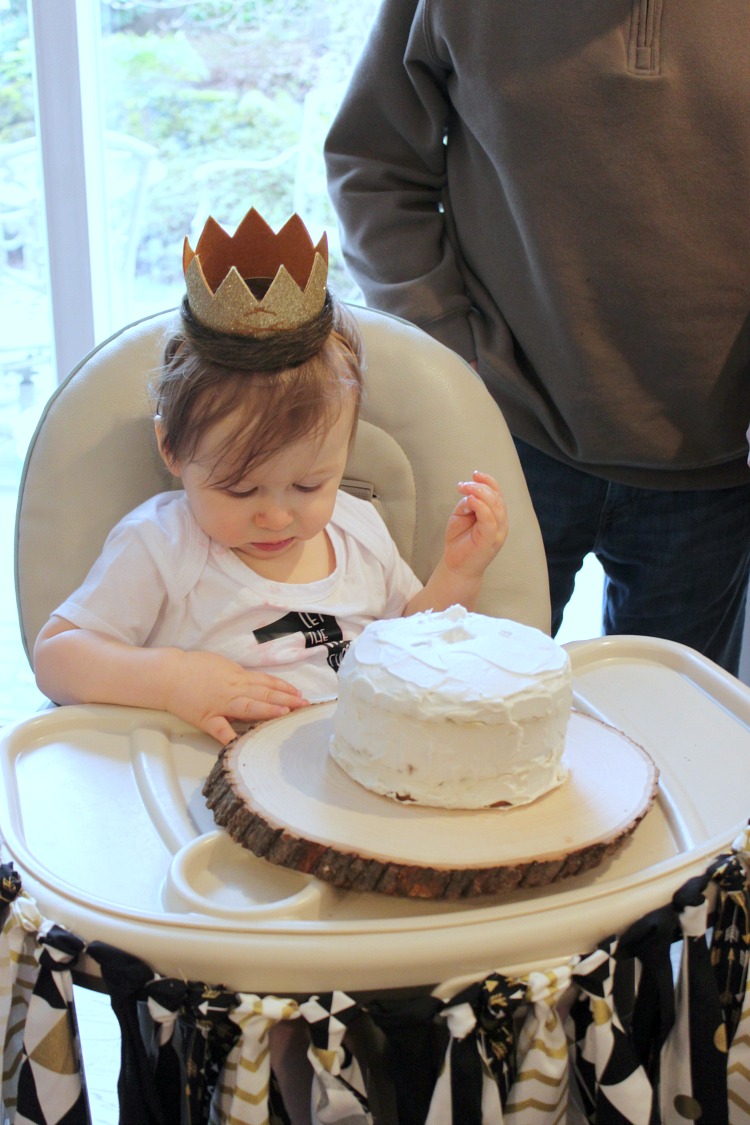 This photo pretty much sums up what he felt about the cake. Not a fan at all. Good for you kid, avoid those sweets as long as you can!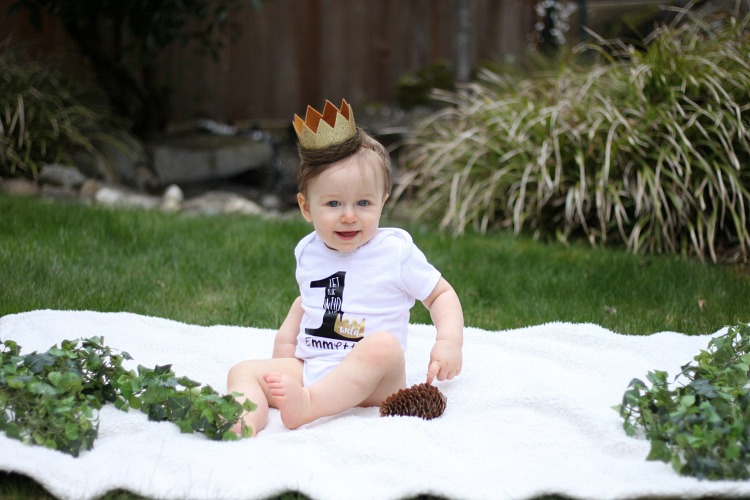 EJ in this onesie. I die. The sweet Jodie from Shop Southern Baby sent us this custom onesie and it was perfect for the party.
Our little king of all the wild things had the best time at his party. He was surrounded by people who love him and basked in all the attention like the true ham that he is.
Like it, Pin it!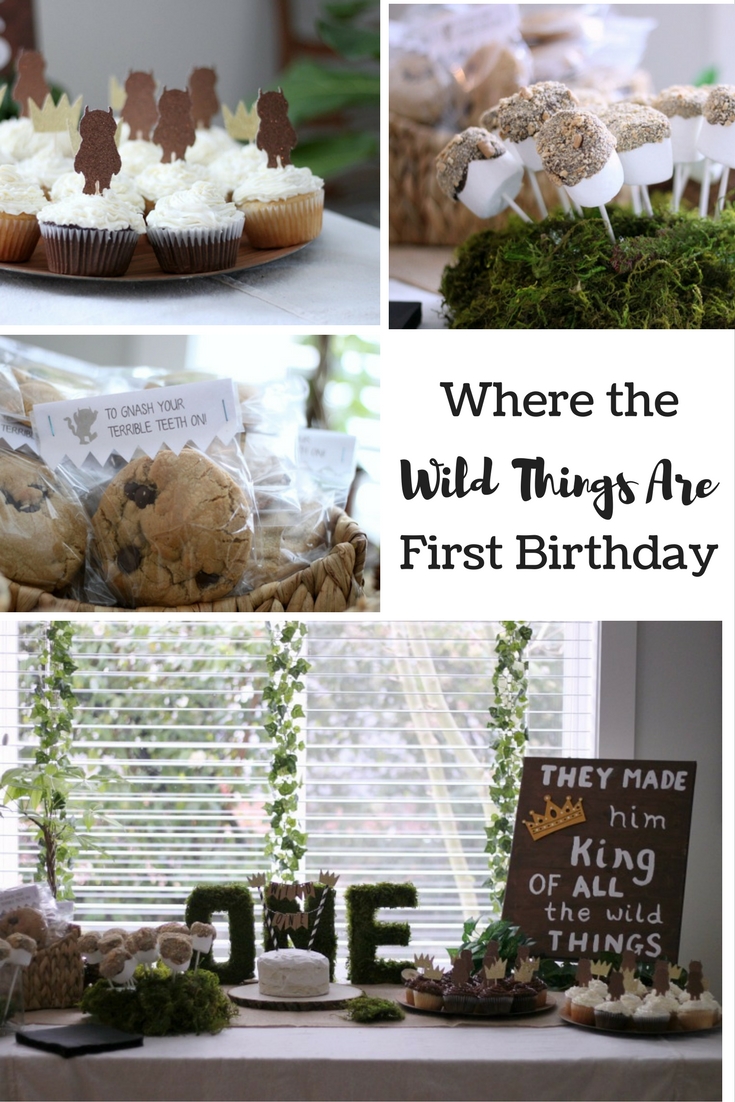 Source List
Cake & Cupcake Toppers: Glitter Designs Co.
Onesie: Shop Southern Baby
Crown: Fortune Favors the Gold
Moss covered letters: Custom (cardboard letters & faux moss from Hobby Lobby)
Wood rounds: Hobby Lobby
Gnash Favor Tag: Crowning Details
High chair bunting: Custom (fabric from Hobby Lobby)
Signs: Custom
Gold Crowns: Amazon
Crown Yourself Printable: Scheidt Designs (no longer on Etsy)
Birch paper straws: Creative Expres
I really enjoy party planning, and coming up with the theme is probably my favorite part. I love that we chose a Where the Wild Things Are theme for our sweet boy's first birthday. It was the perfect party to describe his sweet yet wild personality.