These savory breakfast roll-ups are so good you won't be able to eat just one.
We are one of those families that are always on the go, especially around the holidays. I think all 3 of us are home a total of 14 days this month. Either the hubs is traveling or we're traveling as a family. And while I love taking trips and visiting our loved ones this time of year, I always feel bad showing up empty handed. I much prefer to bring something to eat or drink that can easily be shared with everyone. Food is the way to my heart and I know I'm not alone when I say that.
I knew I needed to have something I could easily transport some goodies in this season. So when I saw the Rubbermaid Party Platter at Fred Meyer, I knew it would make the perfect platter to transport a few dishes I plan on making including appetizers, desserts and these easy to make savory breakfast roll-ups. Breakfast is my favorite meal of the day, so I always try to have a special breakfast ready for my family on Christmas morning. I love how quick and easy it is to make these roll-ups so that I don't interfere with family time on Christmas. Especially when traveling to visit family for the holidays, I always like to have something easy to take with us. My family likes variety for their Christmas morning breakfast, so these roll-ups pair perfectly with the sweet dishes I usually make as well. Plus, we need our energy for all the joy that emanates from a 4 year old that morning!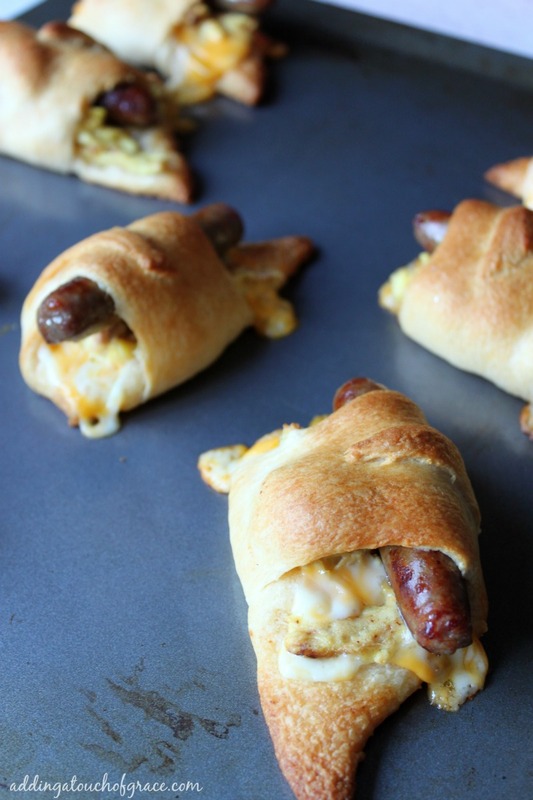 My daughter is a sausage lover, and always requests sausage as her special breakfast food. So I try to make sure we have sausage on hand for her special holiday breakfast requests.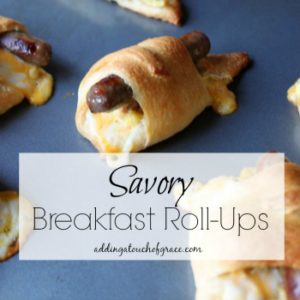 Savory Breakfast Roll-Ups
Ingredients
1

can crescent dough

4

eggs

scrambled

1

package breakfast sausage links

cooked through

8

small slices of cheese

1

container fresh restaurant style salsa
Instructions
Preheat oven to temperature specified on crescent dough package.

Roll out each individual crescent onto cookie sheet.

Place slice of cheese, 2 tablespoons of scrambled egg and 1 sausage link at large end of dough.

Roll up the dough and place all 8 rolled crescents on baking sheet.

Bake 8-10 minutes, or until dough is cooked and golden brown.

Dip in salsa and enjoy!
I love that the tray has a container for dips as well. I was able to use it for my favorite restaurant style salsa to dip the roll-ups in. My family loved the roll-ups and they were so easy to make. Simple and easy when you're traveling is the only way to go.
Do you have a favorite recipe you like to bring to gatherings with family and friends?