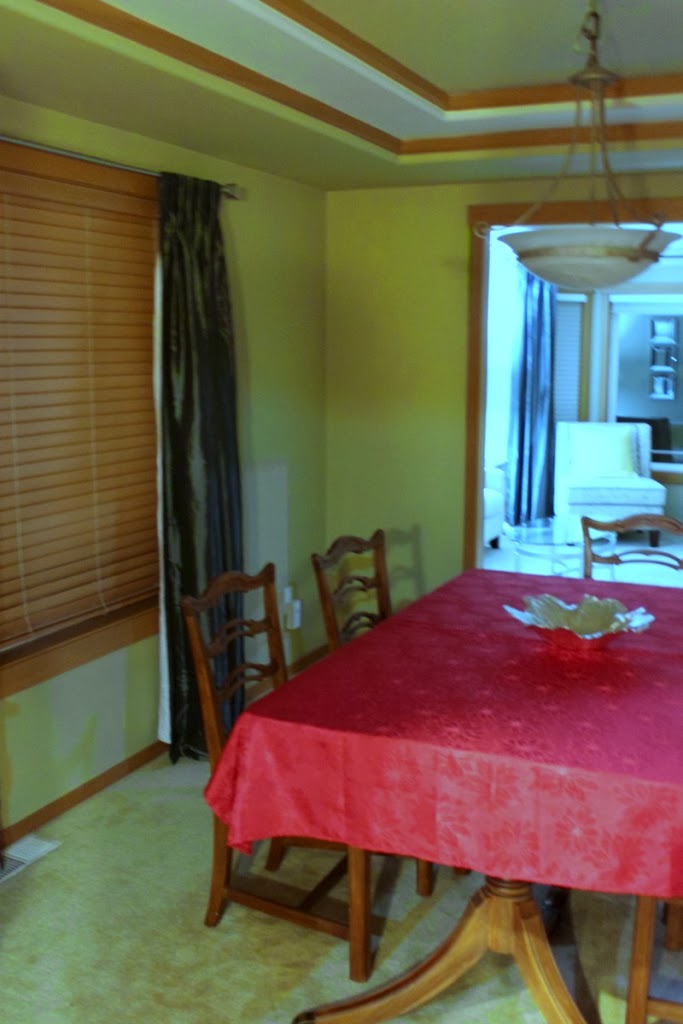 Phew! What a weekend we had! We were up at our cabin again this weekend with my best friend and her family. The kids had a blast sledding and it was so good to spend time with them. They live about 5 hours from us so we don't see them as much as I'd like to. And after our 5 hour drive home turned into an 8 hour drive due to 2 road closures (which meant 2 detours), we were ready to be home.
Today, I'm so excited to finally show you our finished dining room! This room has been 2 months in the making. Not because it was a huge project that took a lot of time, but because we just didn't have a lot of time to devote to it in January and February.
I've said it before, but the colors in our house are just…..blah. All the walls and ceilings are painted this light brown/puke green color (depending on the light) and it just makes the house look really dark.
These before pictures aren't great, but it gives you an idea of the wall color. And the brown trim in the coved ceiling made me cringe.
We used Frosted White by Sherwin Williams for the walls. It's a very very light gray. I didn't want anything too dark since we have the dark gray curtains in there and I wanted to lighten up the room. I also I wanted to stick in the gray family.
The table is an antique Duncan Pfyfe.
Ah. So refreshing. We used untinted ceiling paint, and untinted semi-gloss for the trim in the coved ceiling.
What took the longest amount of time was the cutting in around the trim. There are 3 doorways and one large window in this room. Not a lot of wall space but a very large amount of trim. We chose not to paint the door and window trim for a few reasons.
#1 because if we did one room we would have to do them all (which is an enormous project itself. Our house is about 2,800 square feet. There are a lot of windows and doors.). #2 because we just don't have the time. And #3 because we aren't sure how long we're going to stay in this house, so we don't think we could do all the trim in the house before we move.
We also chose not to paint it because I really wasn't sure how it would look once done. I'm not a huge fan of this style of trim, so taking the time to paint every last piece (and the window trim as well) didn't seem like the best idea. I'd rather just replace it with something I like.
I actually didn't like the coved ceiling before. But now I absolutely love it. Bright, light, and fresh.
In this photo you can sort of see the old wall color in the living room on the right. HUGE difference!
My parents got us the chandelier for Christmas.
It matches the lamps in our living room, which have glass bases with black shades.
I love the medallion. It really finishes the chandelier off nicely.
My mom and I recovered the chairs last summer. They were previously pink with a large flower in the middle.
I do need to find something to go on the wall over the antique sewing machine that my mom gave me.
I was thinking a sunburst mirror would look nice. What do you think? I previously had 2 photos on this wall, but they don't really fit the room anymore.
It feels SO good to have one room complete! I can cross this one off my list of 2014 projects. Now I love walking by the dining room. Sometimes I'll just stop and admire the room. The lighter color feels so fresh, and the room looks much more polished.
Now, onto the next room: the play/bonus room. 🙂