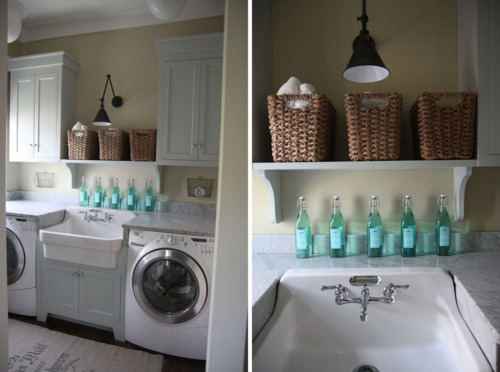 It's finally Friday! Woohoo! Huebie comes home tonight so Baby A and I are keeping busy in hopes the day will go by quickly.
In my quest to find some budget friendly projects to update our house, I've landed on the laundry room. We have a decent size laundry room with lots of cabinet space and not so much counter space, but I really don't like the layout. We have a stacking washer and dryer, which is nice because they are full size, but they seem awkward in the space. They would be so much better under the cabinets to allow for more counter space. We could definitely use more counter space. A laundry room upgrade is definitely in our future.
Yes, these are not super budget friendly ideas, but once I start dreaming….well….you know.
No one likes doing laundry, so I want a cheerful, inviting space that makes you happy when you walk in.
Some of my inspiration for an upgrade to our laundry room:
Love love love the farmerhouse sink. I think I actually want one of these in our kitchen. I also like how they separated the washer and dryer. We have a window over our sink, but I do love the baskets on the shelf. Makes things easily accessible. This would work with our laundry room layout perfectly.
See here's a budget friendly idea! I really like this drying rack. I'm always laying my clothes on the counters, taking up valuable space.
I love the clean crisp feeling of this space. This would definitely be an upgrade to our existing laundry room.
The separated washer and dryer would work well with our laundry room layout. And I actually don't mind the green cabinets. It has a little bit of a country feel to it.
And don't we all need a chandelier in our laundry room! I love the blue walls and black accents. This is a cheery, bright space that I would mind spending some time in.
Have a great weekend!