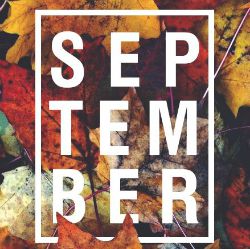 Happy first Friday of September! I know I'm not alone when I say that September is my favorite month of the year.
The new school year, the first day of fall, cooler temperatures (for us in Seattle at least), leaves falling and of course football. There's just something about September that makes me want to hunker down at home with the hubs and baby girl and watch movies while drinking spiced cider, or tailgate at the stadium before a Seahawks game. All good things I suppose. 🙂
I wasn't planning on doing a Friday post this week, but a few things came to me that I just had to share with you. My usual randomness, ya know.
1 // Did you know that September is childhood cancer awareness month? I didn't until I read Caroline's post, where I learned some shocking, and sad, statistics about how cancer affects the little ones in our lives. 41 children in the US alone will be diagnosed with cancer every day. And only 4% of federal funding goes to childhood cancer research. 4%!! I was totally blown away by that statistic. You can read more in Caroline's post HERE, but I encourage you to donate to St. Jude's to help with childhood cancer research.
2 // Along with this, September 26th is Mesothelioma Awareness Day. Mesothelioma is an aggressive cancer that affects the lungs and is mainly caused by exposure to asbestos. I knew asbestos was bad, but had no idea that it was a leading cause of cancer! It really made me think about my family's older homes, our children's schools and how many times we're potentially exposed to asbestos without even know it. My dad is the Executive Director for a local school district and is in charge of rebuilding schools. I remember many times where they've encountered asbestos and had to take major precautions to keep it contained when removing it. I also learned that there is no requirement to remove asbestos. So it can just be left as long as it's contained and managed. Our kids could potentially exposed to it daily while they are at school (if they attend an older school). There's just something very unsettling for me about that. Mesothelioma can be hard to diagnose as the warning signs are similar to other respiratory illnesses. If you'd like to learn more about Mesothelioma and Mesothelioma Awareness Day check out the Mesothelioma Cancer Alliance's website. I also encourage you to contact your child's school to see if they do asbestos testing annually (I asked my dad and he said this is a federal requirement of all districts, public or private).
3 // I survived my 2nd week as a stay at home mom! Last week had some challenges, but this week was much better. I'm looking forward to taking her to school next week. I didn't get to do that last year and I'm really glad I get to be the one to drop her off and pick her up. It's the little things.
4 // Little A starts dance next week. We went to her studio's open house on Wednesday evening and were totally blown away. Like this is a serious dance studio! They had performances by the students for over an hour (or longer, we only stayed to watch for about an hour) and they had some amazing dancers! She was enthralled and didn't take her eyes off the kids the whole time. I'm excited to see her out there in her little leotard, tap and ballet shoes.
5 // Willow Crown's came out with their fall collection of bows and headbands and oh my gosh they are adorable. I love this plaid bow headband and of course still love their lace headbands. I think Little A needs a few of these in her collection for sure. The girl has the longest hair right now (almost to her behind) and hates having it put back so it's always in her face. Headbands and clip bows are my bff right now.
And I think that's all I got. I'm sure y'all are looking forward to the 3 day weekend as much as I am. We don't have much planned except getting the yard ready for the cooler weather and cleaning out some more "junk."
Have a great weekend love bugs!