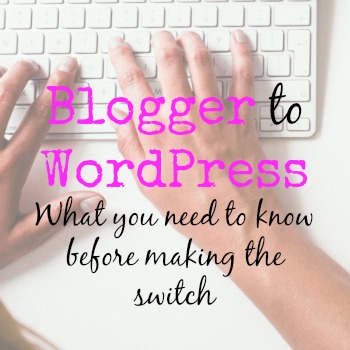 Things to know before you decide to switch from Blogger to WordPress.
Hi friends! I'm super pumped about today's post! I rarely share anything blogging related here, but today I've got a treat for you! I've partnered with some fabulous ladies to bring you our Better Blogging Blog Tour. We're sharing tips and tricks on everything from Twitter and Facebook, to Vlogging and blogging with another person. Lots of goodness going on! We are by no means experts, but between all of us we've learned a few things about blogging that we are excited to share with you!
Making the switch to self-hosted WordPress was one I never thought I'd do. Blogger worked just fine for me and I didn't see the point in paying for my own site when I wasn't making any money. But just like most hobbies, if you want to get better, you need to invest. And I'm so glad I did.
Even though I still feel like I have a lot to learn, I want to share with you a bit about why I decided to switch and some simple tips to get you started before you decide to dive into the deep end. This is just the tip of the iceberg friends. WordPress has endless possibilities and capabilities and once you switch (if you ever decide to) you'll be so glad you did.
*In this post I'm only referring to self-hosted WordPress.org, not WordPress.com.
Why I chose to switch
Ultimately, having full control over my blog was the big reason I took the plunge. This is how I look at Blogger vs. WordPress: WordPress is like owning your home, and Blogger is like renting it. You don't own the content on your Blogger blog, Google does. And we all know that when times get tough, free usually goes first. Google has dropped some much loved services in the past and I just didn't want to take that chance. I wanted the security of knowing that I own my site, I own the photos and I have full control over what happens on my blog.
Also, growing my blog is something I'd like to do in the future. SEO (search engine optimization) is the best way to get your blog seen. WordPress SEO is leaps and bounds better than what Blogger has to offer in the SEO arena.
Tips and what I learned
To say I learned a lot when I made the decision to switch to WordPress is an understatement. Here are a few things to consider before making the switch from Blogger to WordPress.
Buy your domain now
If you don't already own yours, I highly recommend purchasing one now. Even if it takes you years to switch, buy your domain ASAP. Someone could have come along at any time and bought "addingatouchofgrace.com" and I would have been a bit screwed. For less than a grande latte at Starbucks you can own your domain name. I purchased mine through namecheap.com a few months before I made the switch.
Pick a reputable hosting provider
This is probably one of the most critical things to consider. This is where your site will be housed, so you want a provider that has experience hosting blogs, a maintenance schedule that satisfies your needs and great customer service. Do your research before you settle on a provider! I chose Bluehost because a lot of bloggers I follow use them and have had a good experience with them, their maintenance schedule wouldn't interrupt my blog and their customer service ratings were great. Their lowest price hosting package starts at $3.49/month. I chose to go with the middle of the road package. So far I've had zero issues with them and am very happy with the service they provide.
If you plan to redesign your site, now is the time to do it
I knew I wanted to redesign my blog before I knew I wanted to switch to WordPress. I started gathering color palettes, looking at different blog designs and designers, and more designers and more designers. When I finally made the decision to switch to WordPress as well, I contacted Designer Blogs, who did my redesign, and told them I wanted to switch to WordPress as well as have my blog redesigned. They recommended doing it at the same time to save on the cost. The cost to transfer an already designed blog can be high, so there's no sense in transferring your old design if you know you will want to change it once you've moved. Which brings me to my next point….
Hire it out!
This one was big for me. I knew right off the bat I wanted to have someone do the transfer from Blogger to WordPress for me, for multiple reasons. 1) I always mess something up….always. I didn't want to do something to compromise all the work I'd put into my blog over the last year and a half. 2) I knew that if something did go wrong, they would know how to fix it right away, and they would be accountable for doing so. 3) It took a lot of pressure and stress off of me.
Now, if you're a newer blogger wanting to make the switch, I've heard doing it yourself isn't too painful. But I had a lot of content, photos and comments that needed to be transferred and I did not want to compromise losing those.
Be prepared to invest a little
All the things I mentioned above cost money. I was able to bundle my theme, framework, redesign and migration into one package since I hired it all out with one design company. The only things I paid for separately were my domain name and hosting. If you aren't doing a redesign, or you go with a designer that doesn't include your framework as part of the design fee, framework and theme are separate costs you'll need to take into consideration. Do your research and figure out which framework and theme works for you. Most everyone I know is on the Genesis framework. It's awesome!
Host your photos externally
This is HUGE you guys. Owning your own site comes with space limitations and more space = more money. I learned quickly that hosting all your photos on an external provider like PhotoBucket or Flickr saves you so much space. I won't go into details about how to do that in this post, but if you have any questions please leave them in the comments or feel free to email me and I can go into greater detail about how to do this.
Be patient
Learning WordPress takes time. You're not going to log into your new dashboard for the first time and know exactly how to use WordPress, how to add plugins or even how to update your side bar. Navigating the dashboard, tools, plugins, etc. is a lot at first. I wanted to jump in and start loading plugins when I first got on my WordPress site. But I soon found out that learning the basics first can really help you in the long run. You don't have to be a tech-savvy person to use WordPress. Lord knows that I am not. I think I've emailed a few of my blogging friends that use WordPress on multiple occasions asking for help and recommendations. But if you're patient, take your time and know that you won't break anything, you'll be fine.
I could go on and on about everything I've learned since making the switch, but these are your big hitters coming out of the gate. Making the switch was probably the best thing I could have done for my blog and I am so happy that I did.
Now, be sure to check out all the other fabulous posts from some very awesome ladies that are part of the Better Blogging Blog Tour!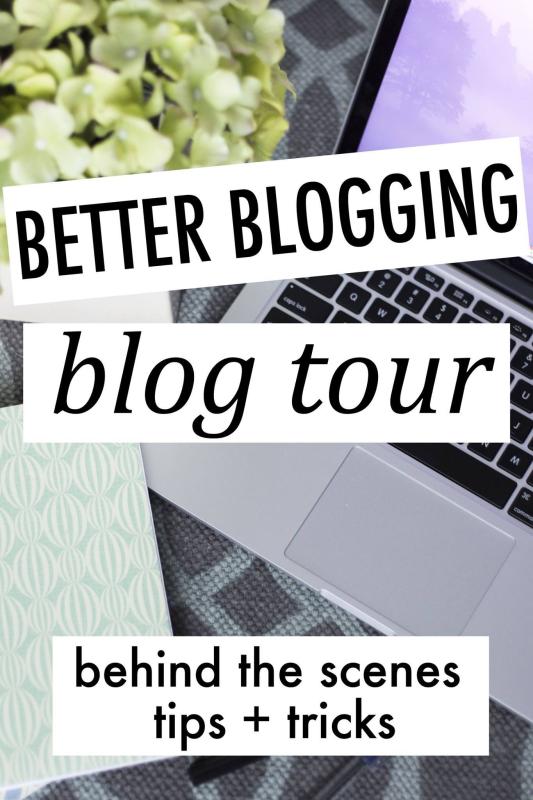 7 Twitter Tips to Increase Your Following and Grow Your Brand || 5 Tips to Keep Your Facebook Page Alive || 10 Tips to Using Instagram More Effectively || 8 Must Know Pinterest Tips for Bloggers || My Favorite Vlogging Tips and Tricks || How I Got on the Huffington Post || Blogging with a Partner