Every day I have hundredes, literally hundreds, of ideas swimming around in my head. Whether it be ideas for new recipes (probably the most rare thought I have these days), activities to do with Little A, a new workout routine, or projects I want to do around the house, I'm always thinking of something. This is probably part of the reason why I'm always stressed these days. My creative side is in competition with my work side for space in my brain. It's a constant battle I tell ya.
This year I'm going to try to do things differently, and lay out my goals at the beginning of the year. I'm hoping this will give me a baseline to start with, then I can modify from there, but I will know starting January 1, what I want to accomplish this year. And this will help hold me accountable, which I really need these days!
I have a lot of other personal goals to accomplish (new job, sled business, time with my family) but the things I lay out here are what I'll be bringing y'all along on the ride for.
Let's get started shall we?!
Family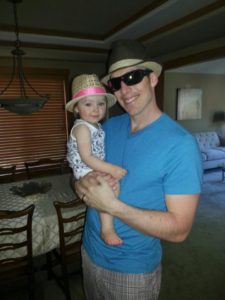 This is of course my most important set of goals. I try to share a bit of my family with you here, and will continue to do that next year.
Goals for 2014:
1) One family vacation to somewhere we have to fly. I don't care if it's just California, I want us to get away for at least an extended weekend in 2014.
2) One vacation for Huebie and I alone. We were supposed to go to NYC this year, but never made it. So I'm itching for a romantic getaway for us. I'm thinking we either try to make it to NYC or possibly Hawaii (I've never been). Really anywhere would be great.
3) Continue quality time with Little A. I feel very fortunate that I get to work part time so I have more time to spend with my sweet girl. But that could be coming to an end this year, and I may have to go to work full time. 🙁 Absolutely breaks my heart. So I want to make sure that I'm spending as much quality time with her as I can. Playing, learning, going on adventures. I want to continue to nurture her free spirit.
I'll be starting a Grace Everyday (name is still TBD, but Grace Everyday sounds pretty good) post in 2014 where I take a photo each day to document our year. Most of these I'm sure will end up being photos of Little A. 🙂
4) Do one project with Little A every week. For some that may be simple, but we are a very busy family so fitting in time to spend on projects can sometimes be hard. I want to make this a bigger priority.
——————————————————————————————————————–
Health Goals
I am a very health conscious person who has been in a bit of a rut this month post half marathon, so I want to hit 2014 with a bang and get back into a solid routine (said every person ever).
Goals for 2014:

1) New routine every month. That means switching things up and incorporating new exciting exercises into my daily gym or at home workout.
I want to start my health and workout posts again for you guys too! My goal is always the biggest bang for your buck when it comes to exercise. I don't know too many people who have hours to spend in the gym, so I'm going to post about some really good workouts you can do in 45 minutes or less.
2) More veggies! I am the worst about veggies. I'm great at fruit, protein, healthy fats. Really good. But veggies are not my thing. I'm not very adventurous when it comes to trying new veggies (or cooking them mostly) so I want to venture out of my comfort zone this year and try new things! Turnips? Sure why not. Haven't jumped on the kale bandwagen yet? Give it a try! I just want to have more veggies in our diets.
3) Tone. I know trainers really don't like this word, but it's a word most of us women understand. We want to be tone. We want our skin to be tight; not loose and flabby. We don't want our thighs to rub together when we walk. We don't want giggles when we raise our arms up to wave. We want to be fit. Along with my new routine every month, I want to make sure I stick to it. I want to be back to where I was about 6 months after I had Little A (see photo above). I was in the best shape of my life and I'm using that as my goal.
4) Possible goal: Run another half marathon. I'm calling this a possible goal because I'm not sure if I will want to run another half this year, but if I do it will end up changing some of these other goals I have listed above.
———————————————————————————————————————-
Home

Oh our house. Have you ever gone to look at a house, thought "Oh, I really like this. These colors are so nice. Custom paint, fabulous." Then moved in and after about 6 months hated it? Well, that's the boat we're in right now. It's a perfect case of "those people's belongings and furniture sure looked better in the house than ours does" syndrome. Our house faces north so we don't get a ton of sunlight into the right areas of our home, and the paint color makes it feel just…..dull.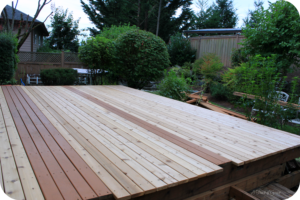 We're further along then this, I swear!
Goals for 2014. This is by far my biggest goal list.
1) Finish the deck! This is our #1 outdoor goal once the weather gets nicer. We just need to get the steps and skirting on and we're done, I swear 🙂
2) Paint living and dining room
3) New light fixture in dining room
4) Paint bonus/play room
5) Get rid of Little A's baby stuff and clear out bonus/play room.
6) Paint guest/Little A's bathroom
7) Finish laundry room
8) Shelves in garage for storage
9) Paint ceilings in all of downstairs
10) Re-caulk master bath shower
11) Hardware on kitchen cabinets
12) Purge the house!
At the pace we've been moving over these last 2 years these are some lofty goals. Maybe not for some, but for us they are. I have many, many more things I want to change/update in our house, but this is a pretty realistic list, I think. Some of these are half finished projects I want to finish (hello half finished deck!) and some are all new (bonus room being the largest).
If you follow me on Pinterest I have lots of home ideas and will be pinning new ideas all the time.
Like I said at the top, I have lots of other personal goals and things I want to accomplish this year. 2013 was a great year, but it was also a tough year. I'm looking forward to 2014 and getting back on track with our family, home and future. Things are looking bright!
What are your goals for 2014? Do you plan out what you want to accomplish at the beginning of the year?