When I started this blog I had zero idea of what I was doing. All I knew was that I wanted to share recipes with the world. I never thought that I'd become friends with people I'd only ever known through blogging.
I was so wrong.
When we were in Phoenix this last weekend I was able to do what I'd only read about other bloggers doing. I actually met another blogger. In real life. Yep, we actually got out from behind our computers and met in a real life place. And it was awesome.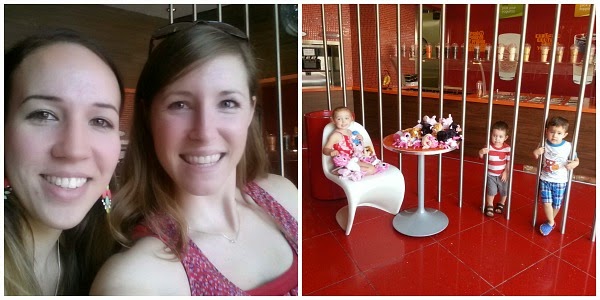 I was so excited to meet Jessica from Pig & Dac. She was as fabulous in person as I expected her to be. And freaking tiny too! The girl is so skinny! After 2 babies I was impressed. And she had on the most gorgeous earrings!
Jessica is hilarious and so honest and sincere in her posts. I get so excited to read what she has to say each week. So to actually meet her was a real treat. And yes, she is just as witty, open, and transparent in real life as she is on her blog.
We met at a splash pad to let the kids play. Her 2 little boys are adorable! Little A was loving the water and could play in it for hours. Her boys were loving the animals, and just watching other kids play. She did have to run after her youngest a few times (which cracked me up. He is so fast!). He is a professional bird chaser. 🙂
By the time the fro-yo place opened up I had sweat through my shorts and tank top. While Jessica and I chatted inside the kids managed to grab all the stuffed animals off this little turnstile thing and pile them up on the table. At least it was just the stuffed animals they got into and not the toppings bar.
It was hard to say goodbye when I felt like we'd just gotten started chatting, but it was so good to finally put a voice to the name and face I'd only seen online. I guess I'll just have to go back to reading her posts with her voice in my head.
This little blog world of ours can be powerful. So powerful that it can bring people thousands of miles away together. You rarely think about the distance when you're sitting at your computer or reading a blog post on your phone. But when you start to make real friendships it sort of makes it a bummer that you're so far away. But when you finally get the opportunity to meet some of those far away people, it makes the distance between you seem that much smaller.
Question of the day: Have you had the opportunity to meet any virtual friends in real life?