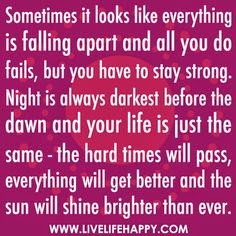 I read a post by another blogger a few weeks ago about how to connect with your readers. One of the things she says to do is blog about the hard stuff. Not everyone's life is flowers and roses and puppy dogs all the time.
So I thought. And I thought. I thought about the hard times I've had in my life. Challenges I've faced. Frustrations I've encountered. And I thought about some hard times we're going through right now. And honestly, our hard times really aren't that hard. I mean yes, they are hard for us, but compared to what I know other people are going through (or have been through), I feel like we are very very blessed.
In May one of my girlfriends was diagnosed with Leukemia. She's in her early 30s and just got engaged a few months ago. She's now in remission and home, but it was a tough battle and she's on the donor list for a bone marrow transplant. She lost her hair. She was in the hospital for weeks. And all the while she was in good spirits. I can't even imagine going in to the doctor for a persistent sore throat and being told you have Leukemia.
After I read Renee's story about her adopted son's lack of care from the state (the state I live in), I was in tears. My hardships are nothing compared to what Renee and her family have been through in getting proper care and support for her son.
I've read so many posts from bloggers struggling with infertility, adoption woes, cancer scares. I have nothing like that to share. This doesn't make me better, or happier, or indifferent. It just makes me realize that I am very lucky and fortunate.
I shared our debt free journey with you back in May, and while it has been hard and we've struggled and fought and I've wanted to give up, in the grand scheme of life this is just a moment in time. We will get through it and come out the other end better for it.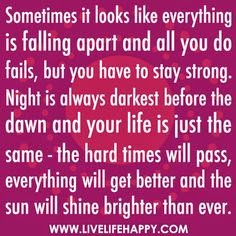 How true is this quote? The hard times will pass and the sun will shine brighter than ever. Even though I feel like sometimes we'll never get through our hard times, I know we will and I know it won't last forever. It won't always be this hard, right? And I know that my hard times are nothing compared to others'.
My family has had struggles over the years. I told you a little about my brother passing away 2 years ago and the years of turmoil my family endured. It was HARD. Years and years of hard times, but there was some good. There were good times and not every day was a struggle.
And while hard times are all relative, I feel very blessed to have my health, my family, my friends, a roof over my head, food to eat. I feel blessed to have the life I do.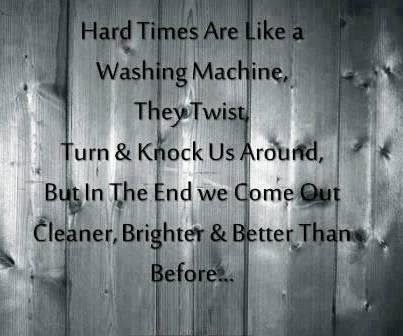 So you probably won't see me blogging about the hard stuff very often. My life isn't all roses and puppy dogs and when it's not I'll share it with you. But I feel like I've been very fortunate in my 31 years.
And I'll leave you one of my favorite quotes. It says, "God didn't promise days without pain, laughter without sorrow, nor sun without rain, but He did promise strength for the day, comfort for the tears and light for the way. If God brings you to it, He will bring you through it." – Unknown
I don't care what you're beliefs are, that quote makes me hopeful.
We will always come out cleaner and brighter than we were before. 🙂